While a lot of people don't bother with them, most seasoned campers will agree that you shouldn't overlook the footprint.
Using one can prolong the lifespan of your tent by quite a bit. Plus, you can make one yourself for next to nothing. So, there's really no reason not to use a footprint.
In this article, I'll give you a detailed explanation as to why using a tent footprint is important. I'll also talk about what you need to look for when selecting a tent footprint, and how you can make one yourself without spending any money.
Want to find out more?
Let's get started!
What Exactly Is A Tent Footprint & What Does It Do?
A footprint or groundsheet is a piece of fabric that you lay down on the ground underneath your tent. It goes between the ground and your tent, creating an extra layer of protection and minimizing the possibility of your tent floor getting damaged.
OK, so maybe you don't technically need a footprint.
Sure, you can pitch your camping tent directly onto the ground, and there's a good chance it'll be fine.
But, over time, the hard, rough ground will wear the tent fabric and waterproof coating down.
Guess what happens if you use a footprint?
That's right – the footprint gets worn down instead of your tent body.
Moral of the story: if you've got an expensive tent and you want it to last you a long time, you should definitely be using a footprint.
Some tents come with footprints included, but more often than not, you're left to figure it out on your own. And there are a few things you can do:
Buy a specially designed tent footprint
Make your own footprint using a suitable material
If you choose to buy a footprint, you can get one specifically designed for your tent. This makes it super easy to use, as it's the perfect size, and they're usually fairly lightweight.
That being said, using a camping tarp or making a footprint on your own can honestly work just as well, as long as you use the right kind of material. Plus, you can make one for a fraction of the price, and you've probably already got a tarp, which is great news for campers on a budget.
Factors To Consider When Buying A Tent Footprint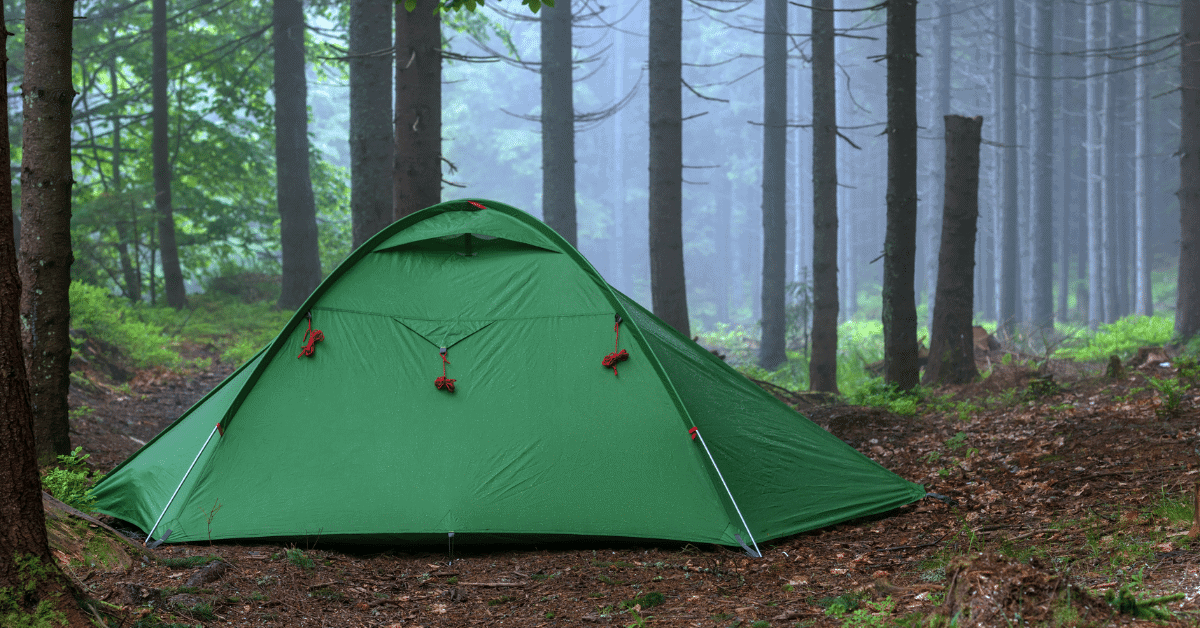 If you can't be bothered fiddling around with a DIY project and you've got your heart set on buying a footprint, don't just order the first one you stumble upon.
Take these criteria into consideration when you're shopping, to make sure you get a footprint that's going to work for you.
Compatibility
It might go without saying, but the most important thing is that you get a footprint that's compatible with your specific tent.
If you have to modify the footprint to fit, you may as well have just made a DIY footprint to begin with.
Compare the dimensions of your tent floor to the dimensions of your footprint. You want to make sure that the footprint is just slightly (around 2 inches or so) smaller than the base of your tent, so that there aren't any bits and pieces sticking out from underneath.
Material
Most footprints that you can buy from tent manufacturer brands are made of either polyester or nylon, much like tents themselves.
It's important that the fabric your footprint is made of is waterproof and durable. As far as the latter goes, checking the fabric's denier rating is a good way to get an idea of how strong it is.
The higher the denier rating, the thicker the fabric. The thicker the fabric, the more resistant it'll be to wear and tear.
Look for a footprint with a denier rating of 30 or more, ideally.
Portability
If you're an ultralight backpacker trying to keep your load as light as possible, you'll definitely want to pay attention to the weight of your footprint.
Some footprints can up the total weight of your tent by as much as 20%. That's a fair amount of extra weight if you're backpacking and you need to carry your camping gear long distances.
Affordability
And, of course, you want to make sure you don't end up spending too much money on a footprint.
After all, you can easily make one yourself dirt cheap. So, if you can't find one that fits your tent at a reasonable price, it's worth putting in the tiny bit of effort it takes to make one.
Budget Friendly DIY Footprint Alternatives
Honestly, there's really no reason to go spending a bunch of money on a fancy tent footprint. It's literally a groundsheet that's meant to take a battering, so it doesn't have to be anything flashy.
Some of the best things to use as a footprint include:
A ground tarp
Polycryo
Tyvek
Shrink film
If you're using a camping tarp, you can just fold it down to size. If you're using another tent footprint material like tyvek or polycryo, you'll want to cut it so that it fits underneath your tent floor.
Here's how.
How To Make Your Own Footprint: Step By Step
To make your own DIY tent footprint, here's what you'll need to gather:
A piece of fabric that's larger than the base of your tent
A marker
A sharp pair of scissors
Your tent (or the dimensions and a ruler)
Once you've collected all of these things, you're ready to get started.
And this is how you do it:
Take a piece of whichever fabric you'll be using
Place your tent on top of the piece of fabric
Take a marker and trace around the edges of your tent
Now, make a second line that's around 2" narrower on each side than the first one
Next, take your scissors and cut along the 2nd line
And there you have it!
Your footprint is all done and ready to go.
How easy is that?
Whichever material you choose to make your footprint out of, make sure to cut it so that it's around 2" smaller than the base of your tent. If there are any bits of footprint sticking out from underneath, it'll collect rain water, and you don't want that.
What Now?
So, what have we learned?
First off – tent footprints are always a good idea. They're a very useful piece of camping equipment that provides extra protection for your tent, and keeps it clean as well.
Secondly – they need to be durable, waterproof and slightly smaller than the base of your tent.
And, finally – you can easily make one yourself out of inexpensive materials.
So, there's no excuse not to have one.
Take good care of your tent, and it'll serve as your home away from home for years to come.