From digging out catholes to setting up a campfire, a camping shovel has many uses around the campsite.
I think I speak for every camper when I say that a camping shovel makes your life easier.
And once you purchase one, you'll wonder how you ever managed without it.
But what model is best? Well, it depends on what you need it for. Which is why we have picked some of the top camping shovels and reviewed them for you.
But if you're quickly trying to make a purchase, here are the top options for each kind of shovel:
Keep reading, and we'll go over the best camping shovels on the market right now, including the pros and cons of each, plus the important features to look for.
Best Camping Shovel
–

Our Top Picks

Best Folding Camping Shovel

Best Backpacking Shovel

Best Backcountry Snow Shovel
Best Folding Camping Shovels
Rhino USA Folding Survival Shovel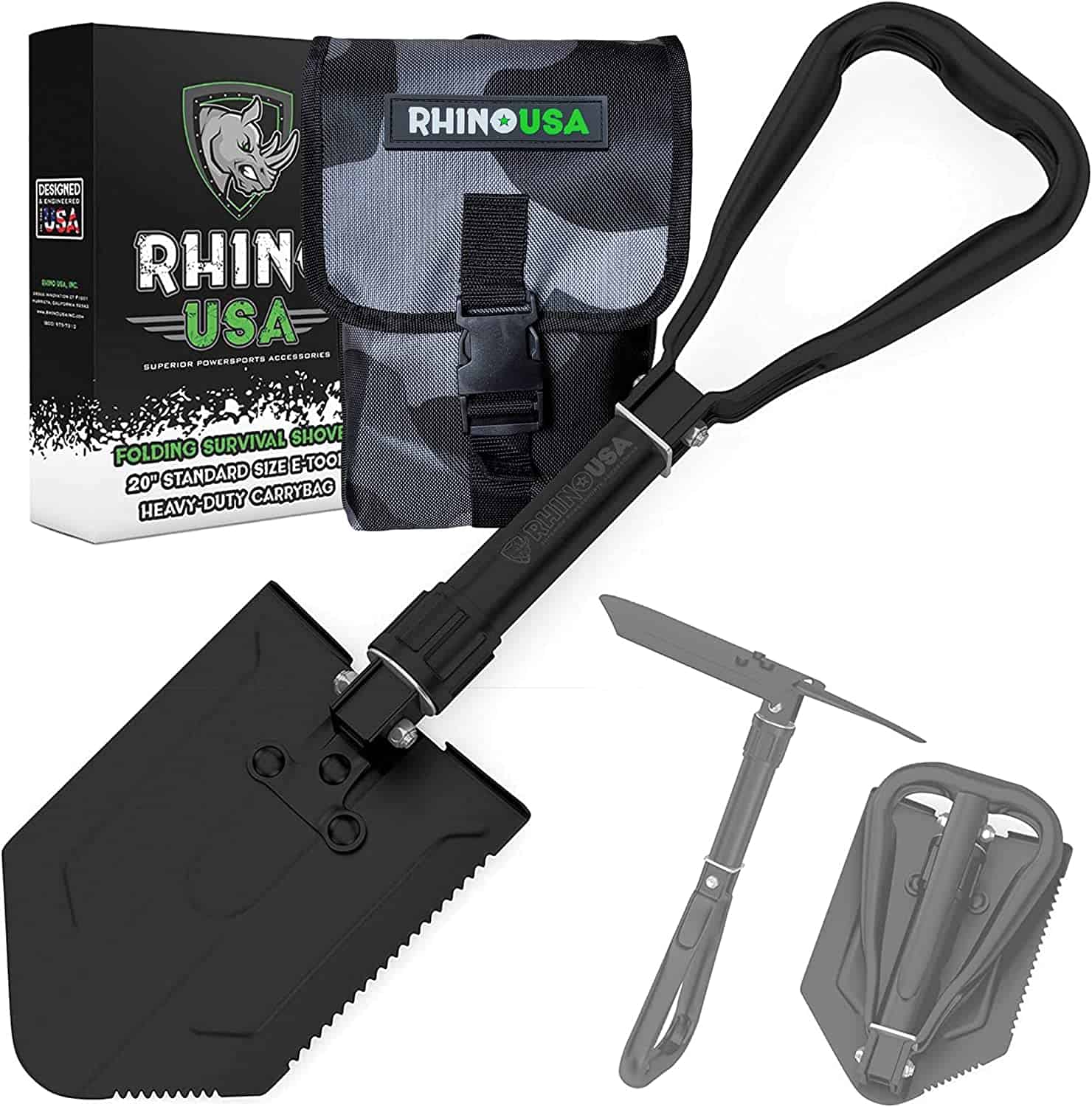 Shovel Type: folding | Weight (lbs): 2 lbs | Folded Dimensions: 9″ x 6″ | Unfolded Dimensions: 24″ x 6″ x 3″ | Material(s): carbon steel
This model by Rhino USA checks all the boxes: it's affordable, multifunctional, compact, lightweight, and durable.
What more could you want from a camping shovel?
Made of powder-coated carbon steel, this shovel can handle anything.
The head features a sawtooth edge, which allows you to cut through lumber, and it can also be rotated 90° to serve as a pick.
This shovel packs down pretty compactly too. It can fit into a 9" x 6" carry case made of water-resistant canvas that can also be attached to a backpack so it doesn't take up interior space.
Finally, it's worth noting that this product comes with a lifetime warranty. If you experience any defect or damage, the manufacturer will send a replacement.
You can rest assured you get your money's worth!
Pros
Made of powder-coated carbon steel
Can also work as a saw or a pick
Comes with a water-resistant carry bag
Has a lifetime warranty to cover defects and damage
Cons
Twist lock is somewhat difficult to tighten down
Best for: campers looking for the best value shovel
Folding Shovel Multitool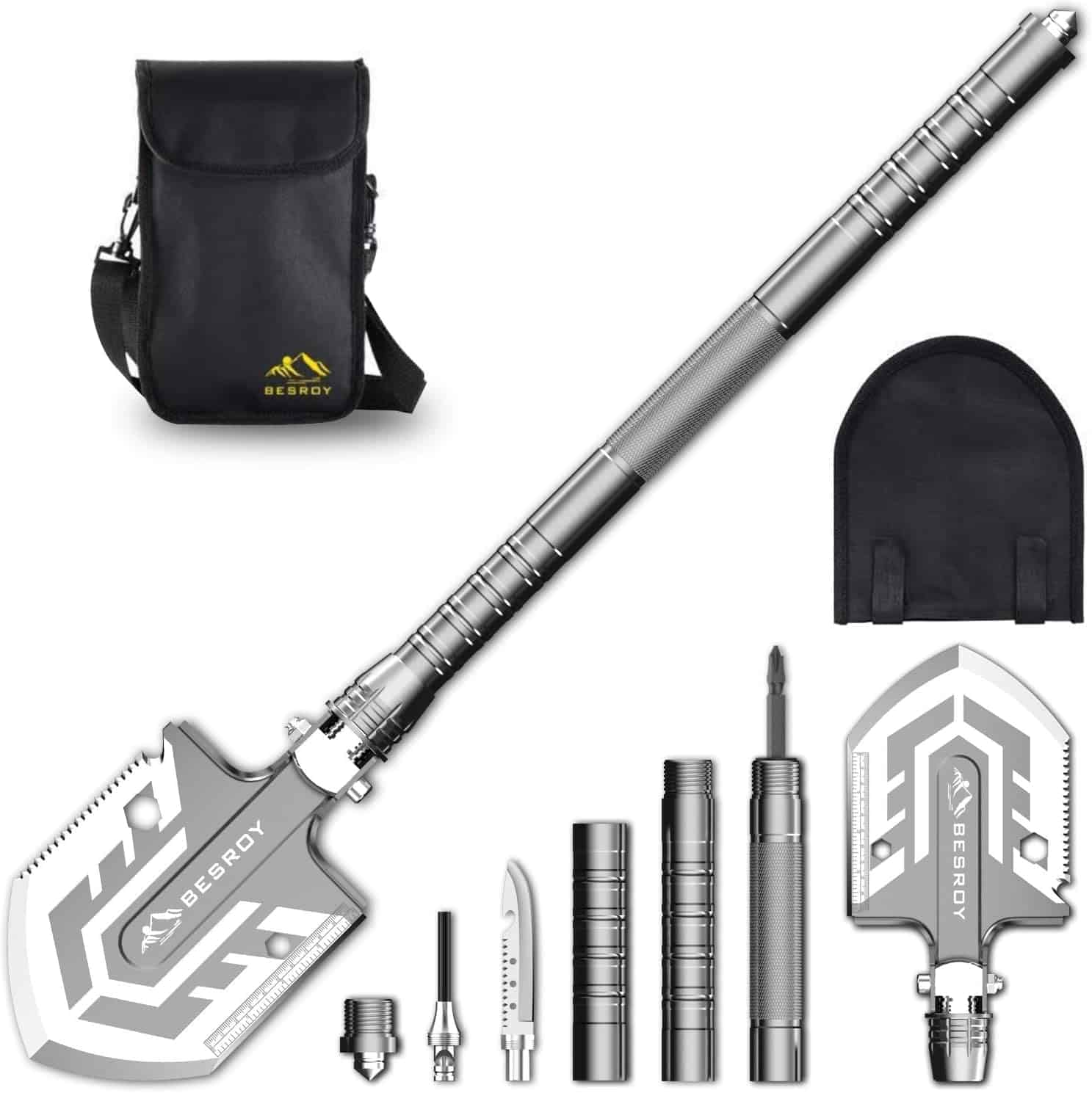 Shovel Type: multi-tool | Weight (lbs): 2.4 lbs | Folded Dimensions: none listed | Unfolded Dimensions: 26″ x 6″ x 1.2″ | Material(s): alloy steel
When it comes to versatility, this model by Besroy is hard to beat.
You can use this multitool for digging, sawing, chopping, picking, cutting, opening bottles, and even scraping fish scales!
Aside from the shovel head, this model also includes tools such as a safety hammer, screwdriver, tactical knife, fire starter, and emergency whistle.
With a single product, you have everything you might need out in the wilderness.
The shovel is also made of manganese steel (a.k.a. alloy steel), which is impact resilient and abrasion resistant.
This makes it a great tool for the toughest jobs you might have around the campsite.
Pros
Is resistant to abrasions and wear due to manganese steel material
Includes other useful camping tools (tactical knife, safety hammer, screwdriver, fire starter, etc…)
Covered with a one-year satisfaction warranty
Offers three different handle lengths to choose from
Cons
Certain tools aren't very straightforward to use
Best for: campers in need of multifunctional shovel
Redcamp Military Folding Camping Shovel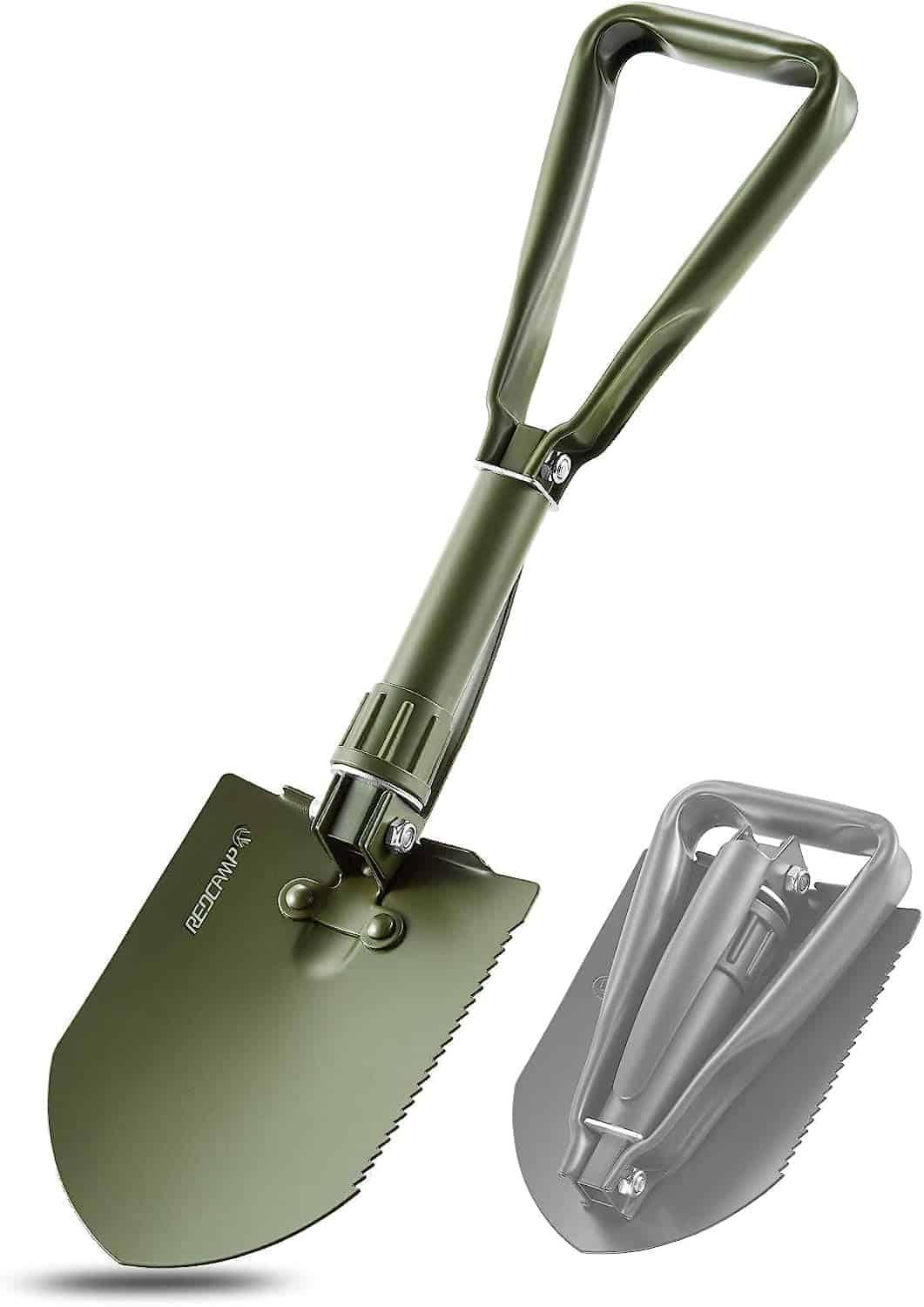 Shovel Type: folding | Weight (lbs): 2.5 lbs | Folded Dimensions: 9.4"x 6″ | Unfolded Dimensions: 22.8" x 6″ | Material(s): alloy steel
This model by Redcamp shows that a high-quality camping shovel doesn't necessarily have to cost a pretty penny.
For more than an affordable price, you get a durable multifunctional tool that will last you a long time.
This shovel is made of carbon steel, which is a material with excellent abrasion resistance.
The triangular handle gives you a good grip, allowing you to use the tool with better precision and strength.
This is yet another great multitool for camping. By rotating the shovel head by 90°, it can function as a hoe or a pickaxe.
And thanks to the sawtooth side, you can also use it for cutting as well.
Pros
Is sturdy and resistant to abrasions due to carbon steel materials
Can work as a pickaxe or a hoe
Triangular handle allows for a strong grip
Comes with a 1-year limited manufacturer warranty
Cons
Nut is made of aluminum alloy, so not as durable as the rest of the tool
Best for: campers looking for a budget tool
Gerber E-Tool Folding Spade
Shovel Type: multi-tool | Weight (lbs): 2.9 lbs | Folded Dimensions: none listed | Unfolded Dimensions: 9.5″ x 6″ x 2.1″ | Material(s): stainless steel
Gerber really knows what it's doing when making multitools. This shovel is really built with camping in mind.
It's lightweight but very sturdy – exactly what you need in an outdoor environment.
Made of powder-coated stainless steel, this folding shovel is extremely durable and rustproof.
This makes it super suitable for use in wetter environments, like snow.
The handle on this shovel is made of glass-filled nylon, which is virtually indestructible.
And since nylon is an excellent insulator, it won't transfer the cold coming from the rest of the shovel.
This material is also extremely lightweight, so it keeps the overall weight of the shovel low.
Pros
Handle has excellent strength and temperature resistance from glass-filled nylon
Easily storable in a backpack
Twist-lock mechanism keeps shovel open when in use
Powder-coated stainless steel is durable and rust-resistant.
Cons
Doesn't come with an included sheath
Best for: use in snowy conditions
Extremus Trench Folding Camping Shovel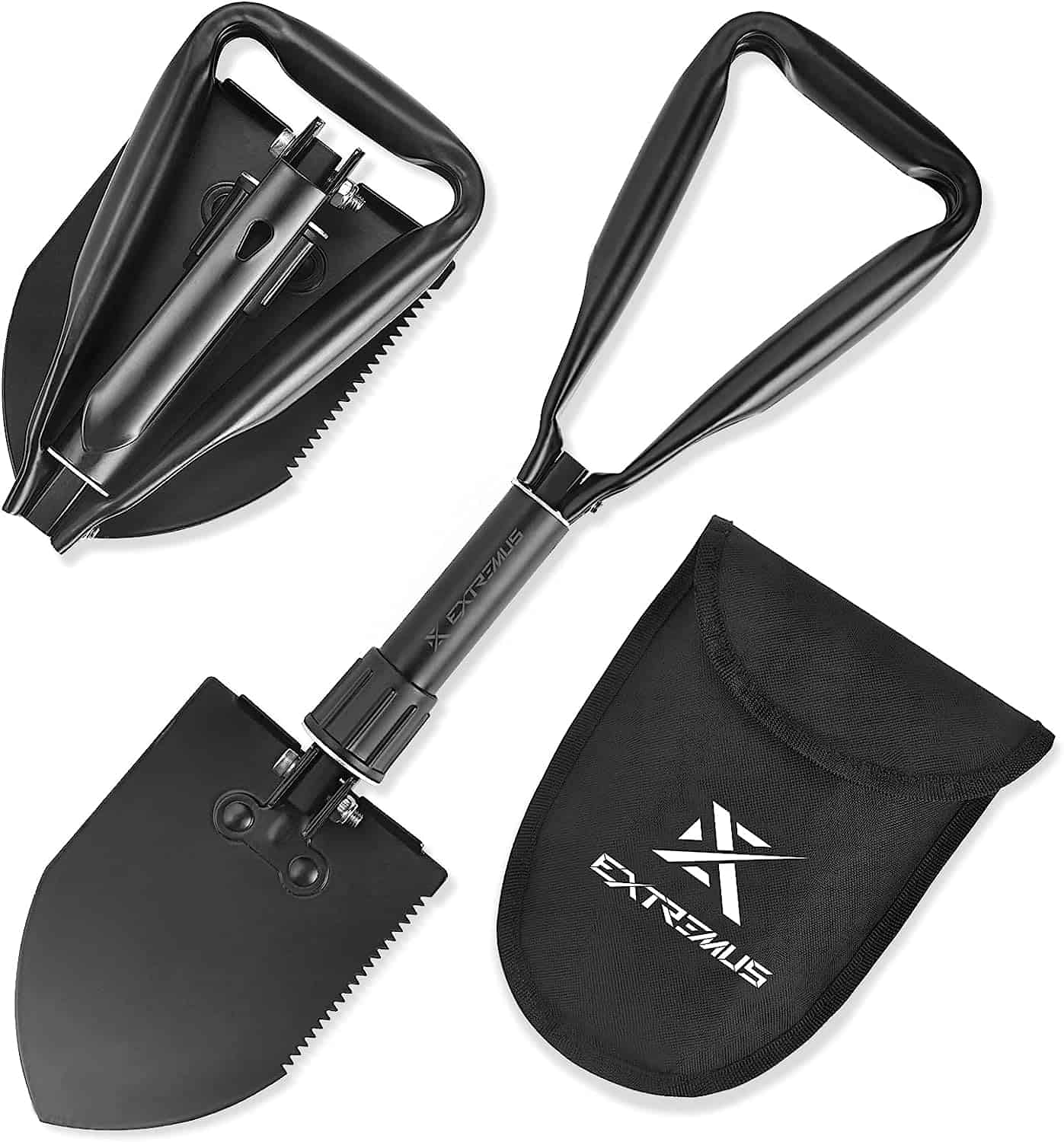 Shovel Type: folding | Weight (lbs): 1.5 lbs | Folded Dimensions: 8″ x 5″ x 2.6″ | Unfolded Dimensions: 7.9″ x 6.3″ x 2.6″ | Material(s): carbon steel
This shovel by Extremus gives you a great folding shovel without weighing down your pack too much.
This model has a classic folding design.
You can fully unfold it to use as a shovel, or adjust the multifunctional locking collar to use it as a pickaxe or a hoe.
Its carbon steel make-up is also suitable for use in extreme conditions.
The serrated cutting edge is great for cutting through ice or packed soil.
Lastly, the triangle-shaped handle allows for a strong grip, which makes working with tough terrain easier.
Pros
One of the more affordable folding shovels on the market
Only weighs 1.5 lbs
Folds down to 8" long
Comes with a Cordura travel case for easy storage and blade protection
Carbon steel gives it extra rust resistance
Cons
Somewhat small in comparison to others
Best for: campers in need of a lightweight folding shovel
Best Backpacking Shovel
Vargo Dig Dig Tool
Shovel Type: backpacking | Weight (lbs): 0.1 lbs | Dimensions: 8.1″ x 1.7″ x 0.75″ | Material(s): synthetic
This model by Vargo is tough to beat when it comes to backpacking dig tools.
This trowel excels in both durability and functionality.
It's made of titanium, which is stronger than aluminum and lighter than steel.
What's more, titanium is also highly resistant to corrosion, so you don't have to worry when using this tool in wet conditions.
This trowel has a unique, U-shape design which allows you to use it as a tent stake when needed.
The shape keeps it firm in both hard and soft soil, so it's suitable for every situation.
Lastly, the cleat-style cutout allows you to securely anchor guylines and keep your tent taut.
Pros
Titanium material is light and sturdy
Good for cutting through tough ground and roots
Weighs just 1.25 oz
U-shape design can function as a tent stake
Cons
Handle is not very comfortable
Best for: backpacking trips
GSI Outdoors Cathole Trowel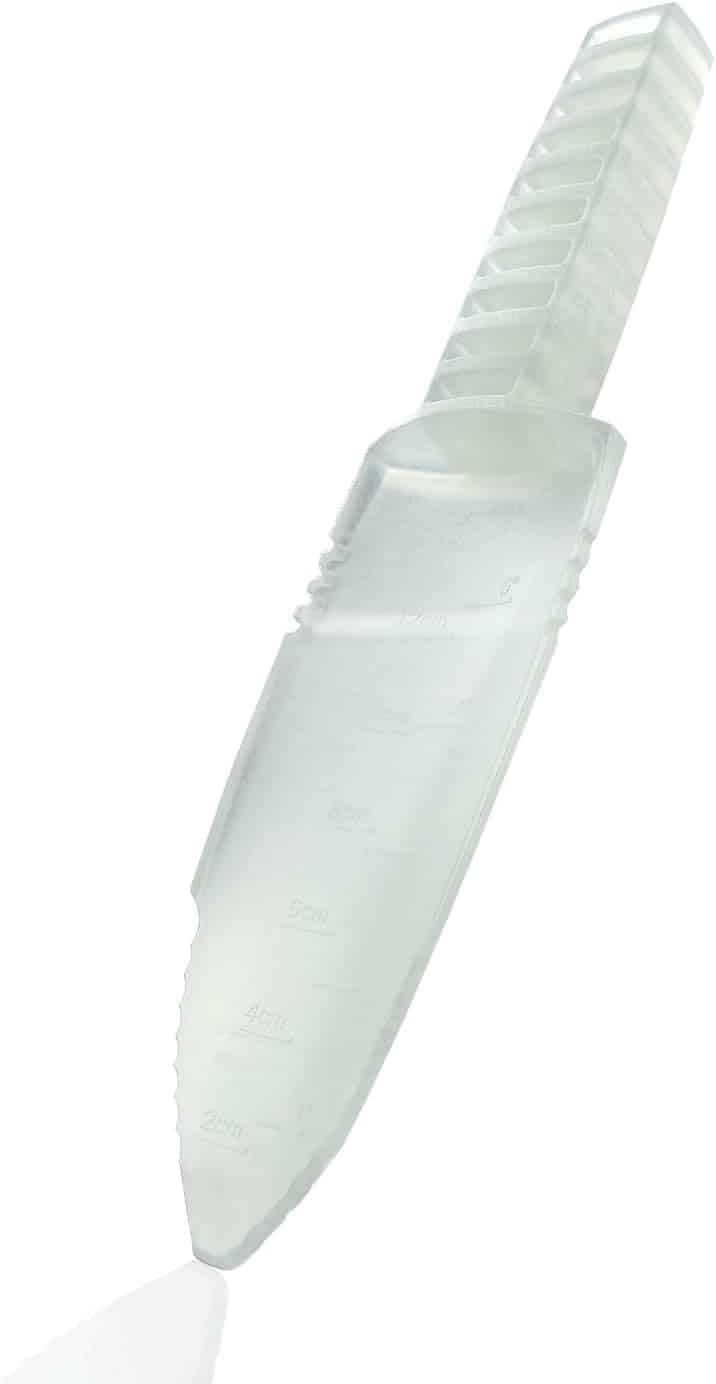 Shovel Type: fixed-handle Shovels | Weight (lbs): 0.2 lbs | Dimensions: 10.3″ x 2.6″ x 1″ | Material(s): recycled polycarbonate
This model by GSI Outdoors definitely doesn't break the bank, even though its quality is at par with many more expensive models.
This trowel is made of repurposed GSI polycarbonate products that were pulled from the shelves to help minimize the eco-footprint left behind by them.
Overall, this backpacking shovel is both resistant to impact and low in weight, which makes it last longer and lightens your backpacking load.
Since it's so lightweight, the trowel might not seem as sturdy as it actually is.
But rest assured, you can use it to dig through practically any type of terrain.
Both the handle and the blade are wide and thick, allowing you to easily work with even the most stubborn soil.
Pros
Very affordable
Made of recycled materials
Has a robust feel, making it easy to work with in tough terrain
Features instructions for digging catholes on the back
Cons
Made of plastic, which is not as durable as metal
Best for: backpackers on a budget
The Deuce(R) Ultralight Backpacking Potty Trowel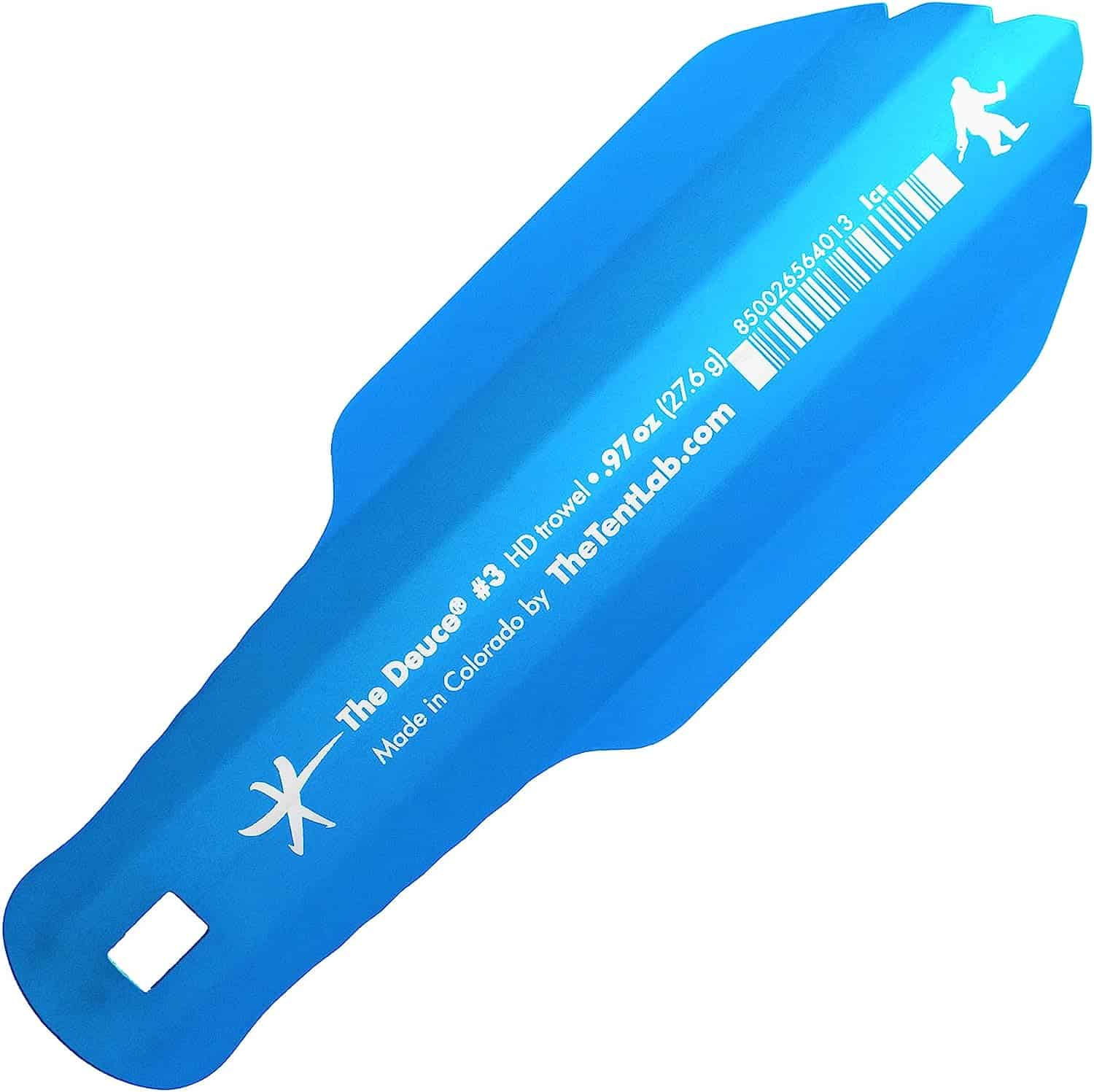 Shovel Type: classic | Weight (lbs): 0.45 oz | Dimensions: 7.5″ x 2.4″ x 1″ | Material(s): aluminum
This backpacking trowel is lightweight but extremely sturdy since it is made of aluminum.
You can easily dig through the toughest terrain to make a cathole when the situation requires it.
Plus, the aluminum is further anodized to prevent corrosion and surface damage.
This model comes in as many as 20 different colors, so you can easily distinguish your trowel from any others in your backpacking party.
What's more, it comes in three sizes, depending on how big of a tool you might need.
The handle is short, which allows you to exert more force when digging.
This design gives you better dexterity than long-handled shovels when digging deep holes.
Pros
Sturdy, but lightweight
Corrosion-resistant and durable
Short handle allows you to exert more force when digging
Comes in 20 different colors to differentiate yours from others
Cons
Best for: digging catholes in a variety of terrains
Sea To Summit Nylon 66 Pocket Trowel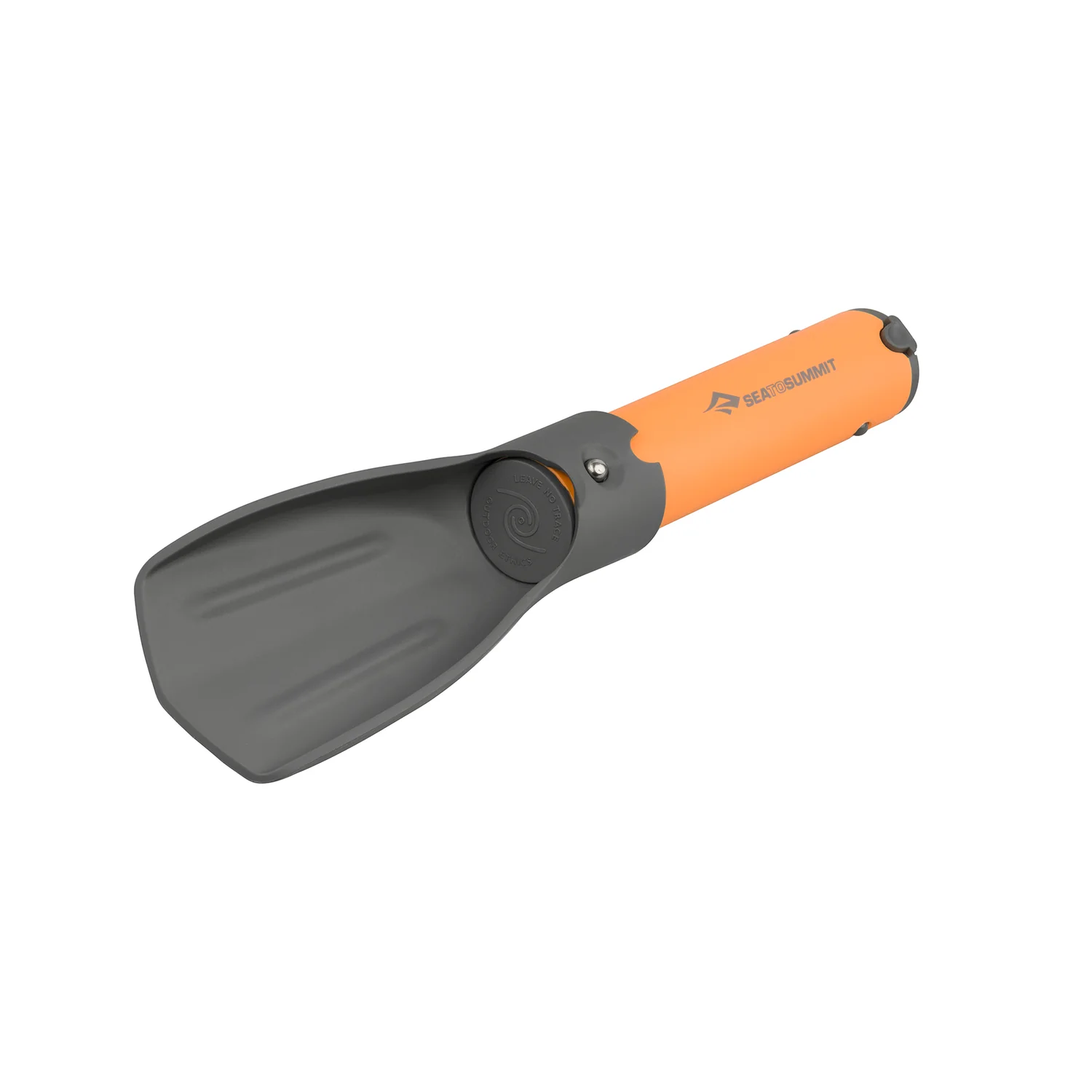 Shovel Type: trowel-style | Weight (lbs): 3.1 oz | Dimensions: 9.5″ x 2.8″ x 1.2″ | Material(s): nylon
This pocket trowel is made of glass-reinforced nylon 66, so it's reinforced for better strength, stiffness, and longevity.
This makes it a durable and sturdy tool for digging in the wild.
Is designed specifically for backpacking purposes, so it's already pretty compact.
But the handle can further be retracted into the blade to fit into a pocket.
When fully extended, the handle extends to 6" long – the minimum depth for any cathole.
Lastly, the cap on the end of the handle can be removed, and the inside space is suitable for storing toilet paper or bags for your "business".
That's handy for when you may forget to bring those things when leaving your campsite.
So, this trowel makes disposing of your waste easy.
Pros
Extremely collapsible – can fit into a pocket, if needed
Handle can extended for deeper digging of deeper holes
Handle can be used for storing trash bags or toilet paper
Cons
Plastic rim around the handle can snag your hand when digging with heavy force
Best for: backpackers in need of a very compact trowel
Best Backcountry Snow Shovel
Mammut Snow Shovels Alugator Pro Light

Shovel Type: avalanche/backcountry snow shovel | Weight (lbs): 2 oz | Dimensions: none listed | Material(s): aluminum
If you're dealing with snow, this shovel by Mammut will be your best friend.
The T-shaped handle is great at using force efficiently when shoveling.
The blade is flat-backed, so it easily goes through packed snow pits.
It's made of aluminum, which is durable, rust-resistant, and lightweight. So, it's perfect for camping purposes.
It is also very easy to set up. You simply extend the handle, and the automatic spring will lock the trowel in place.
In instances when you need to wear gloves, like in extreme cold, you can still set it up within a second without an issue.
Pros
T-shaped handle is great at dispersing force in hard-shoveling times
Easily cuts through packed snow
Lightweight and packs down compactly
Can also be used as a snow anchor or rescue sled via a attachments
Cons
Best for: winter camping with limited storage space
Backcountry Access Dozer 2H Avalanche Shovel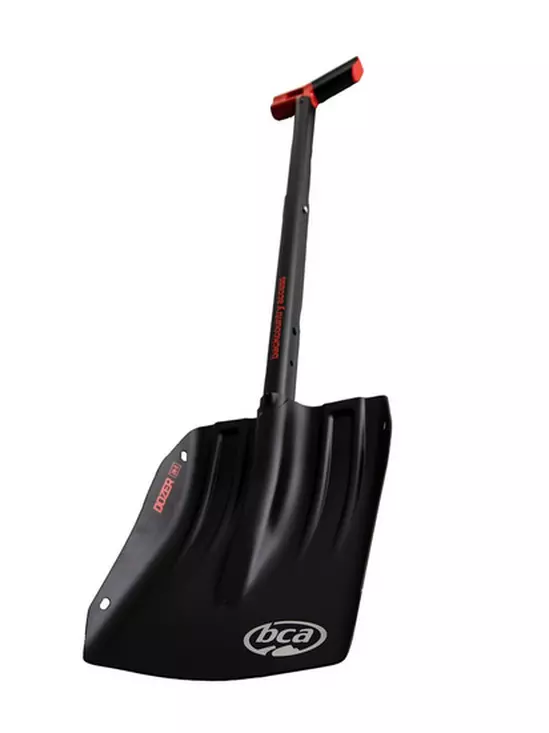 Shovel Type: avalanche/backcountry snow shovels | Weight (lbs): 8 oz | Dimensions: 10″ x 3″ x 8″| Material(s): aluminum
Need something to dig out a stuck snowmobile? This shovel by Backcountry Access is up for the task.
Its shaft is made of 6062 aluminum – the same material used for building stairs and ramps.
This speaks volumes for its sturdiness. That and the fact that it's UIAA certified for meeting the standard for avalanche rescue shovels.
But what makes this shovel so great is its versatility.
The front third of the blade has a smooth surface, which could help you form snow pit walls.
The head can turn 90° to work as a hoe, and there is a 9" bayonet-style saw that can attach to the shaft when needed.
When it's not, it can be stored inside the shaft for easy access.
When not in use, the shovel can be packed down to 15" long, which makes storage easy.
Collapsed, it can easily fit into your backpack.
Pros
Features a stomp edge to help you use your own weight for tougher terrains
Can fit into a backpack when packed down
Can work as a hoe when you need to paddle chunks of debris
Comes with a 3-year limited warranty
Cons
Best for: dealing with heavy snow
Check Price on Backcountryaccess
MSR Operator D-Handle Snow Shovel Red
Shovel Type: avalanche/backcountry snow shovels | Weight (lbs): 1.5 lbs | Dimensions: 28″ x 10″ x 5″ | Material(s): aluminum
Made of 6061-T6 aluminum, this shovel is sturdy enough to chop through ice and snow.
But at the same time, it's light enough not to weigh you down.
The shovel also features a two-section, telescope shaft, which deploys quickly and locks into place.
This makes it easy to adjust the length of the shovel to your needs.
When it is fully extended, the shovel is 34" long, which is the ideal length for excavating snow pits.
While mainly designed for snowy weather, this shovel is a helpful tool to have around the campsite year-round.
From removing rocks to digging holes, you can put it to good use at any time of the year during any season.
Pros
Lightweight, strong, and rust-resistant
Telescoping shaft allows you to adjust the length of the shovel
Comfortable D-shaped handle
Serrated edge allows you to break up snow and ice
Cons
Best for: regular tasks around the campsite
Types Of Camping Shovels
Before we get into the nitty-gritty of what to look for in a camping shovel, let's first talk about the different types of camping shovels that are available.
Folding Shovels
As the name suggests, these shovels collapse when they are not in use.
That way, they're more compact for easier storage and transportation.
When unfolded, this type of shovel features a locking mechanism that prevents it from collapsing while you're using it.
Many folding shovel models on the market often include additional tools, like a pickaxe or a hoe for added versatility.
Fixed-Handle Shovels

This type of shovel has a one-piece design.
Without any folding points, the handle provides additional strength when digging through packed soil.
On the other hand, this also makes it less compact in terms of storage.
That's why this type of shovel is most suitable for more stationary camping events, like car camping.
Multi-Tool Shovels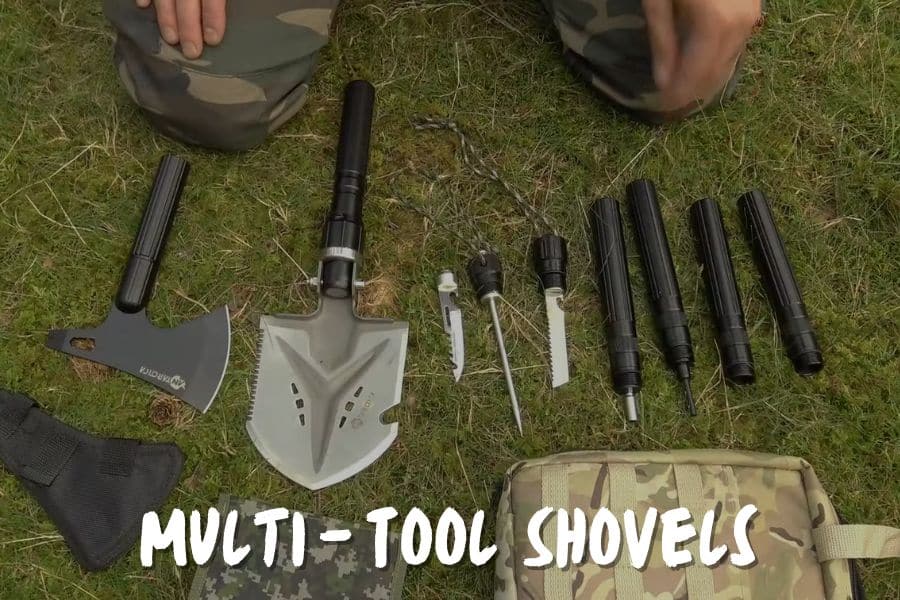 Many camping shovels are designed as multi-tools to save up your precious storage space.
Some of the most common additions are a pickaxe, hammer, and saw.
More versatile tools may include anything from a tactical knife and a fire starter to an emergency whistle.
Trowel-Style Shovels
Trowel-style shovels look like typical gardening tools and are mainly designed for making catholes.
However, many models also have sawtooth edges, which gives them more versatility around the campsite.
Ultimately you'll want a trowel is made for backpacking and trekking adventures.
They are designed to be ultralight and allow you to not add too much weight to your pack.
Avalanche/Backcountry Snow Shovels
These shovels are designed for clearing snow after an avalanche.
They typically have a D-shaped handle, which allows the most ergonomic grip for digging through packed snow.
The shovel blade is also large and wide, so you can move a lot of snow in a short amount of time.
The sides have elevated edges to prevent snow from slipping off the sides as you shovel larger loads.
Factors To Consider When Buying A Camping Shovel
Alright, let's get to the point. What should you pay attention to when buying a camping shovel? What are the least/most important features?
In this section, we'll cover every factor you should consider when choosing the perfect model.
Versatility
How versatile do you need your shovel to be? Do you need it just for catholes, or will you be dealing with snow every now and then?
As we already mentioned, there are different types of camping shovels, and some are more versatile than others.
If "doing business" in accordance with Leave No Trace principles is your main reason for getting a shovel, trowel-style models might be the best option for you.
Aside from digging catholes, they're also suitable for setting up a fire pit or digging out rocks.
These have some versatility, but not like a multi-tool shovel.
Snow shovels, on the other hand, aren't very versatile.
Their blades are wide, so they're not as convenient for making small catholes.
Compact Size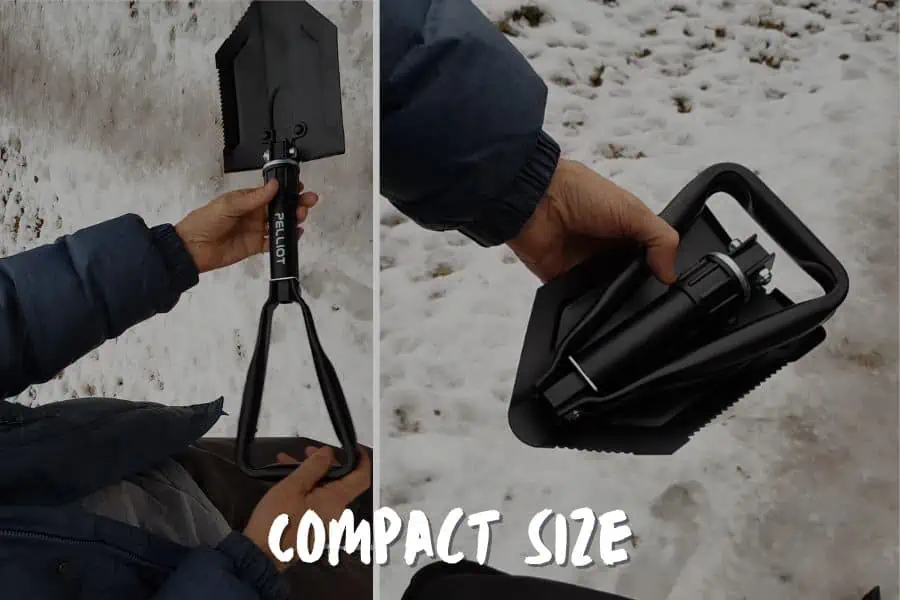 When camping, storage space is an important factor to keep in mind.
Unless you're car camping, the chances are the shovel will need to be stored in your backpack.
Luckily, many brands nowadays make compact models that are easy to carry around.
They can either be folding or fixed, but both are designed to fit into a backpack along with the rest of the gear.
Blade Features
Many multifunctional models feature a serrated edge, which allows you to use them for cutting as well as shoveling.
When it comes to snow shovels, they typically have a thin-to-thick blade, which makes digging faster.
Multi-Functionality
If you're in need of different tools around the campsite, then consider getting a multi-functional shovel.
These often include other add-ons, like a knife or a hammer, so they save you the need of having separate tools for each job.
Of course, you should keep in mind that, the more features a shovel might have, the heavier it will be.
Material & Durability
When it comes to the blade, it needs to be sturdy enough to dig through tough terrain without bending.
The most commonly used materials are aluminum, steel, and nylon, and each of them has its advantages and disadvantages.
When it comes to strength, steel is impossible to beat. This is typically the material of choice for snow shovels.
Nylon is the lightest option, so it's commonly used for backpacking shovels.
It's not as sturdy as metal, so it's mainly used for easy work – like digging catholes.
Aluminum is the middle ground between the two. It's light, strong, and rust-resistant, so it's overall a great choice for most work around the campsite.
Size & Weight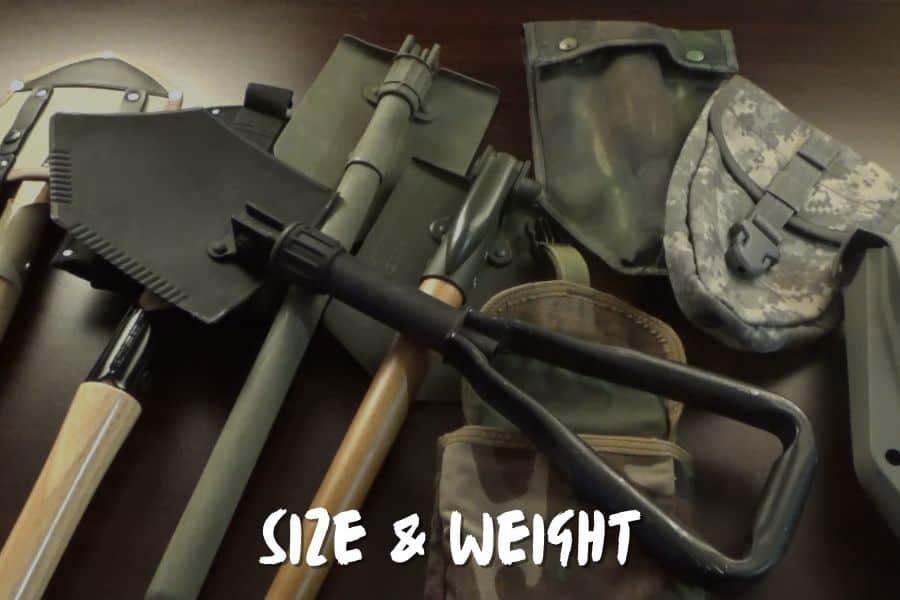 Depending on what you'll be using a shovel for, size and weight can be important factors to keep in mind both in their use and their portability.
When dealing with snow, having a large shovel makes your job quicker and easier.
But for catholes, a small shovel is much more convenient.
If you're walking up to the campsite, you don't want the shovel to weigh you down too much.
Of course, in the case of car camping, that's not too much of a concern.
Maintenance & Care Of Camping Shovels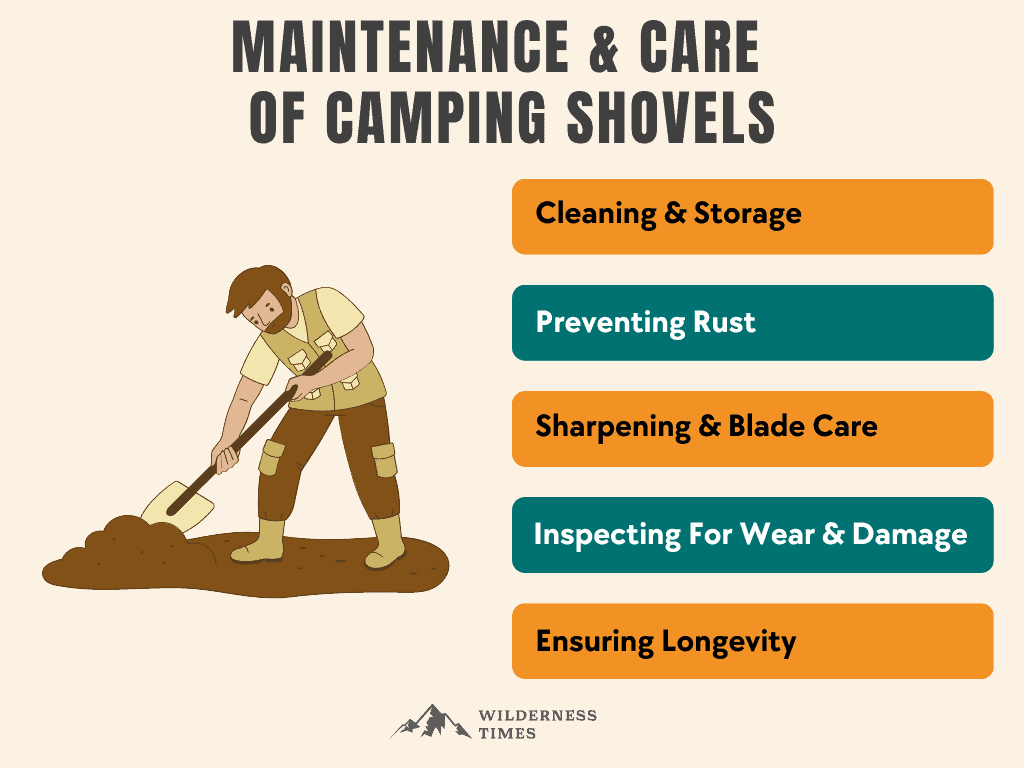 No matter how high-quality of a product you might have, it won't last you a very long time without proper care.
In this section, we'll cover everything you need to know about shovel maintenance.
Cleaning & Storage
Naturally, a shovel will get dirty with each use. But unless you clean it regularly, the dirt and grime will build up, leading to stains and rust.
Ideally, you should clean off the dirt after you're done using the shovel.
In most cases, wiping it down will do the trick.
If the gunk persists, you can use WD-40 or a similar product to loosen it up.
Of course, storage is just as important. When it comes to metal shovels, make sure they're not in a moist environment, as they will corrode.
In the case of nylon or other polymers, avoid direct sunlight.
Preventing Rust
Here's the thing with dirt – it can trap moisture underneath.
So when you keep your metal shovel dirty for a long time, all that humidity built up inside the dirt and beneath it can cause the shovel to rust.
That's why it's important to keep your metal shovel clean.
But what if the rust already appeared? One way of removing it is to lubricate the metal parts.
For this, you can use turpentine. Simply dip a cloth in it and wipe down the shovel after cleaning it.
An eco-friendly alternative is using vinegar. The procedure is pretty much the same – use a soaked cloth to rub the rust away.
Sharpening & Blade Care
No matter how sharp your shovel might be, it will get dull with use.
That's why you'll need to sharpen it at least once a year. For this, you'll need a file, an abrasive stone, or a handheld grinder.
While holding the tool of your choice at a 45° angle, start sharpening the inside edge until it's sharp enough to your liking.
Inspecting For Wear & Damage
Make sure to inspect your shovel for wear and damage between each use.
Using a slightly damaged tool can cause it to further break while you're using it.
Not just that, but you could potentially get hurt.
Naturally, your shovel will slowly wear down from use.
But in the case of manufacturing defects, even a brand-new shovel can break.
A quick inspection before use will prevent you from using a faulty tool and creating an even bigger mess.
Ensuring Longevity
If you need a versatile tool, then get a multi-tool shovel. But don't use something to perform a task the tool is not intended for.
A trowel shovel is not suitable for digging out your car.
Using it for that purpose not only is not very efficient but can also eventually cause more damage to the shovel and to you.
If you want a shovel to last you a long time, use it the way it's intended to be used.
FAQs
Are There Any Recommended Handle Designs For Comfort & Efficiency?
The D-style handle provides a sturdy and secure grip, which in turn makes it easier to use a shovel.
This design is especially useful for long-neck shovels.
What Blade Features Should I Look For In A Camping Shovel?
A camping shovel needs to have a sharp blade that can cut through tough terrain.
Sawtooth edges are quite handy, as they allow you to slice through roots and compact soil.
What Is The Ideal Size For A Camping Shovel?
That depends on the type of your camping trip. A foldable camping shovel is just right for car camping.
But for backpacking, small trowels are ideal, while larger shovels are essential for winter camping.
Is A Camping Shovel With A Serrated Edge Better For Digging?
A serrated edge can help you dig through packed terrain, so it's a nice feature to have.
Certain models have serrated side edges, which can double as a saw.
How Do I Clean My Camping Shovel After Use?
Wipe away the dirt and mud after each use. In the case of tough gunk, you can use WD-40 or similar products.
Once done cleaning, store it in a dry space.
How Do I Prevent My Camping Shovel From Rusting?
Keeping a shovel clean and dry is the key to preventing rusting.
Dirt can trap moisture, which causes corrosion.
However, you can remove rust with turpentine or vinegar.
To Sum Things Up
Nowadays, you can find many great camping shovels on the market.
If you're looking for a folding model, the Rhino USA Folding Survival Shovel is a tough one to beat. It's lightweight, durable, affordable, and versatile.
If you're backpacking, Vargo Dig Dig Tool might be a better option for you due to its versatility and lightweight.
Finally, the Mammut Snow Shovels Alugator Pro Light is the best tool you can find for digging in snowy terrains if that is what suits you better.
At the end of the day, you decide what you need when it comes to the best camping shovel for you. Good luck!
Also Read