This is our review of the CORE 6-Person Instant Cabin Tent.
From the moment you first set up an instant tent, it's hard to believe that you've made it this long without one of these bad boys!
The built-in poles make set up and take down so seamless and easy that it puts all other tents to shame.
And CORE delivers the goods with this 6-person instant tent that provides great bang for your buck.
With a spacious interior that can easily fit four people, an awesome gear storage puch that runs horizontally across the back of the tent, and twin adjustable ventilation pockets this tent is downright filled with features.
Read on for the full review!
CORE 6-Person Instant Cabin Tent: Key Features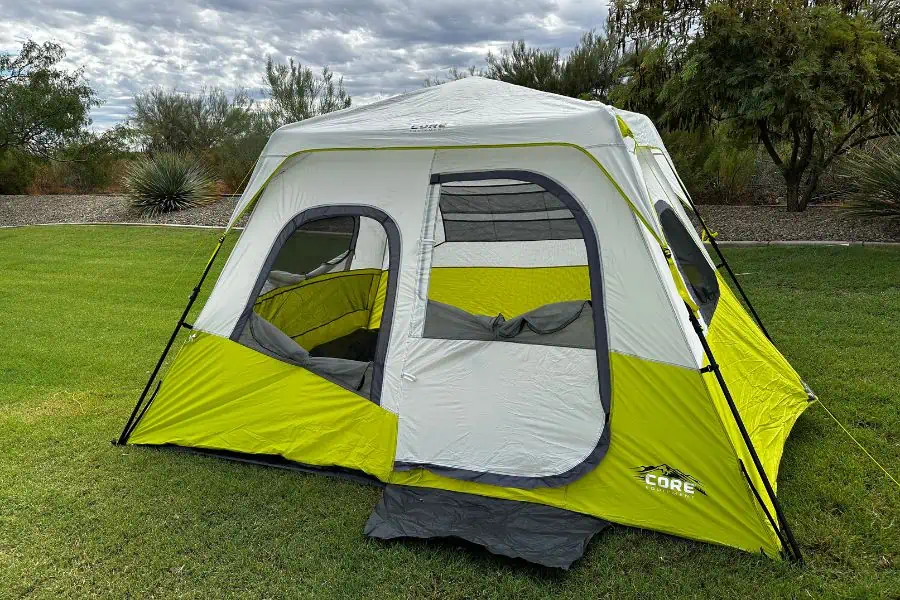 Tent Size: 6 person | Seasons: 3-season | Weight: 23 lbs | Inside Height: 72 in | Floor: 11 x 9 ft (99 sq ft) | Setup Time: 2 mins
Overall, we give the CORE 6-Person Instant Cabin Tent a rating of 8.2 out of 10.
I'm going to review this tent on a variety of metrics and I know that by the end you'll understand why we rate it so highly and is featured on so many of our "best of" rankings:
Space & Comfort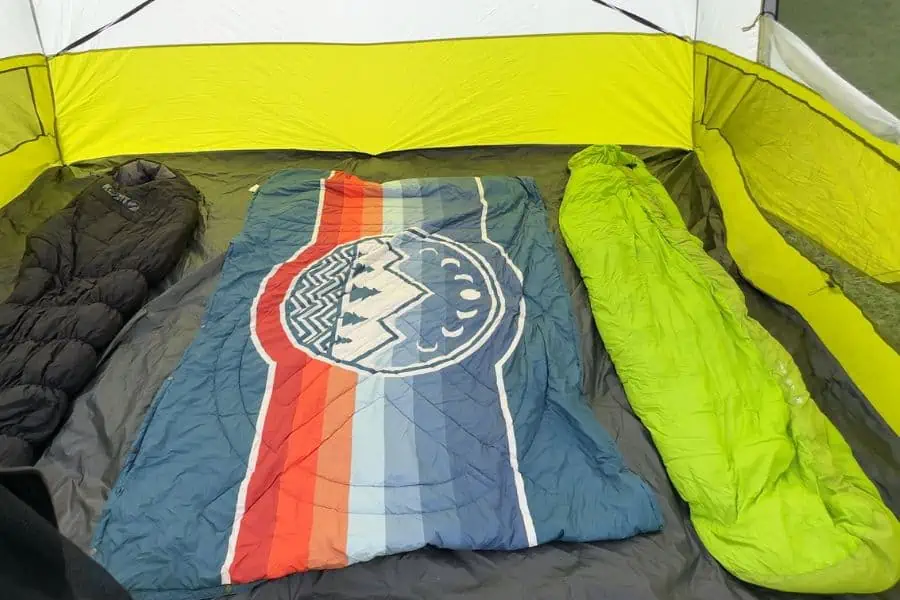 With its generous floor plan of 11 x 9 feet, it provides 99 sq ft of living space, which is about average for a 6-person tent.
It's certainly not the biggest tent of this size, but it's more than ideal for fitting 3-4 people very comfortably.
Probably the biggest ding on this tent is going to be its ceiling height of 72 inches. If you're a taller person, you're going to be bending down a bit on either side of the tent.
But given its other selling points and its high vertical walls, this is a non-issue for anyone under 6 feet tall.
Personally, I really enjoy the size and height of the tent. It's not too tall as to be too problematic in the wind, which I appreciate for our windy monsoony Arizona summers.
Quality & Durability
When you buy a CORE tent you know that you are getting a quality and well-made tent.
You're not getting YKK zippers, but after owning several CORE tents I can't really see too many reasons why your average budget camper should turn elsewhere.
Constructed with durable CORE H20 Block Technology, the CORE 6-Person Instant Cabin Tent offers solid protection from the elements.
Its water-resistant 68D polyester fabric, 115 gsm P.E. flooring, and sealed seams ensure you stay dry and comfortable even during rainy weather.
The stakes are on par with other budget tents, and we recommend upgrading your stakes immediately.
Are there higher-quality tents out there? Yes, but for the money this one is pretty dang good!
Value
The big reason to buy this tent is its value!
At $129 on Amazon, it is one of the best budget tents that you can buy for the money.
It's clearly a tremendous value, and unless you need something bigger or smaller if you're a casual camper, there's really no reason why you shouldn't consider this tent.
Once you've opened the tent, you'll forget how much you paid for it anyway and be happy that you purchased it in the first place. It's that good!
Weather Resistance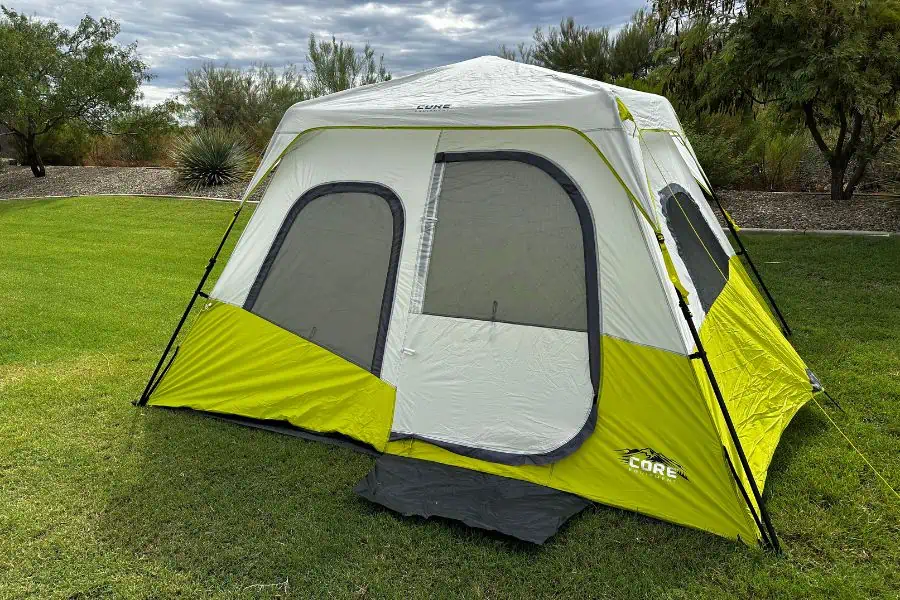 The ding on any cabin-style tent is going to be its ability to handle wind and rain.
Will it handle wind and rain as well as a dome-style tent? No.
But CORE built this tent with weather performance in mind.
The vertical walls are sloped nicely inward to provide some wind protection, and while the rainfly only offers topical coverage, the doors, and window fabric is thick enough to repel water down and away from the tent.
Again, will this withstand sustained 40+ mph winds and torrential rain? No. But compared to other cabin and instant tents on the market, we have no complaints.
Also See: Dome Tent VS Cabin Tent – What is the difference?
Ease of Use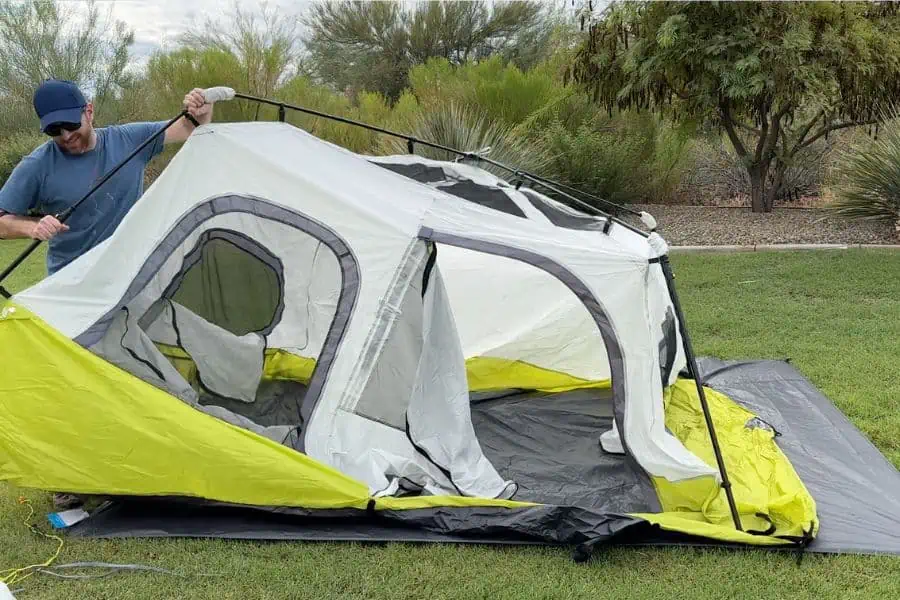 Setting up the tent is a breeze, thanks to its instant setup technology.
Within minutes, you can have your tent fully assembled and ready for use.
Simply unfold the tent, extend the pre-attached poles, and secure them in place. There is no complicated assembly or extra tools required.
I can easily get this tent set up fully within 2-3 minutes by myself. Truly, you can't ask for anything better.
As I said above, the minute you set up an instant tent you'll be WOWed.
You do not have to awkwardly put together poles and insert them through tent sleeves. This is all done for you and the tent easily lifts into place. AMAZING!
When it's time to pack up, the tent conveniently folds down and fits into the included carrying bag, making transportation and storage hassle-free.
Intangibles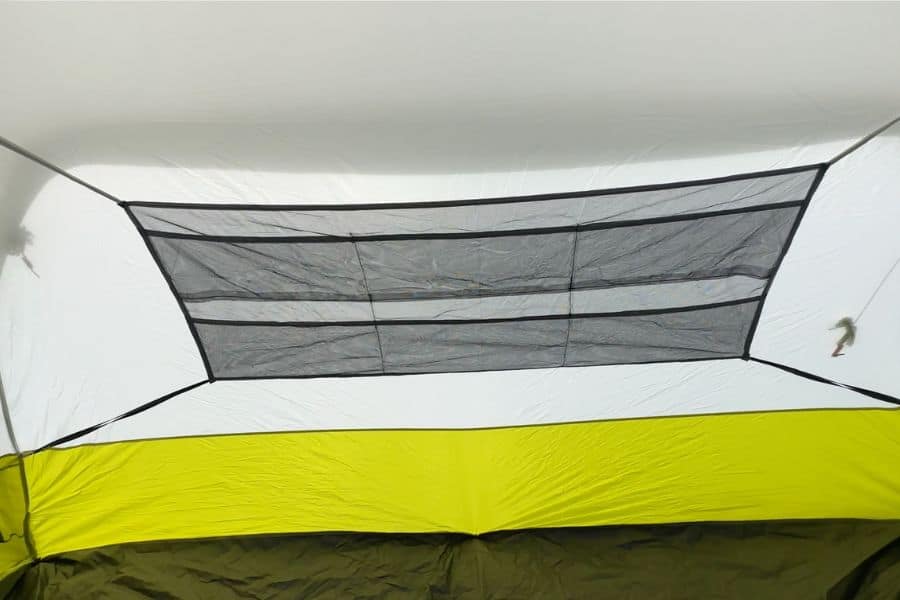 The tent features three large mesh windows and a mesh ceiling that allow for excellent ventilation and airflow, keeping the interior fresh and cool.
The adjustable ventilation shafts on the side of the tent are a really nice touch too.
But the big intangible for me is the tent's multiple storage pockets (especially the extra large one on the back wall) and gear loft keep your belongings organized and within reach.
Between the instant setup and the storage compartments, we give this a solid score on intangibles.
Warranty
All CORE tents come with a 1-year Limited Warranty
Additional Sizes
CORE Instant tents start at 4-person and go on up to 12-person tents.
They also offer lighted versions and "performance" versions that provide superior weather protection that diverts rain runoff away from the tent body.
CORE also offers a full-coverage rainfly and add-on vestibule for each model instant tent for those expecting particularly bad weather.
I really don't see how you can go wrong with any of these tents. Choose based on the number of people and space that you'll need!
Pros, Cons, & Best Uses
Pros:
2 minute set up and take down in fair weather conditions
The expandable carrying case makes it easy to pack the tent after taking it down
Great ventilation thanks to windows on both sides and adjustable vents
The back wall comes with a big storage area where you can hang your gear
Inexpensive cabin tent for beginner buyers
Wind-proof tested up to 35 mph
Cons:
The door zipper can get caught in the flaps running along the door
Flimsy tent stakes will require upgrading
Best Uses:
Car Camping
Family Camping
Are CORE Instant Tents Worth It?
CORE Instant Tents are definitely worth the money.
They make a great instant tent with tall vertical walls and solid weather protection.
With a variety of different sizes and models to choose from, there is a CORE instant tent out there for whatever your family size or budget.
Does the CORE 6-Person Instant Cabin Tent fit 6 people?
Yes, the CORE 6-person Instant Cabin Tent can fit 6 people, however, we don't recommend it. It's a much better tent for 3-4 people.
While you can certainly fit two queen-sized air mattresses into this tent, that is going to be about it.
If you're looking to fit 6 people into a CORE tent, we recommend looking at their 12-person Instant Cabin Tent.
Will it hold up to heavy winds and rain?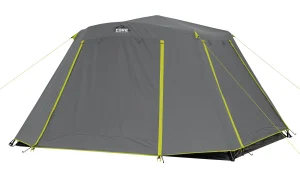 Standalone, the CORE 6-person Instant Tent has pretty solid wind and rain protection.
But if you're going to encounter heavy winds and rain on a consistent basis, we recommend upgrading to the CORE 6-Person Instant Tent with a Full Rainfly.
With the full rainfly, both wind and rain are better deflected away from the tent.
How do set up a CORE 6 Person Instant Cabin Tent?
Setting up the CORE 6-person Instant Cabin Tent is a breeze, thanks to its instant setup technology.
Simply unfold the tent, extend the pre-attached poles, and secure them in place.
Then Attach and secure the rainfly using the rainfly clips.
Finally, stake down the tent in your desired position, and be sure to utilize the additional rainfly guylines for additional wind protection.
Also See: How to Set Up A Tent
What are some comparable tents to the CORE 6-Person Instant Cabin Tent?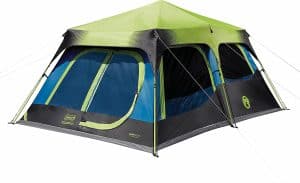 Some comparable tents to the CORE 6-person Instant Cabin Tent are the Coleman Instant Setup Camping Tent and the Ozark Trail 6-Person Instant Cabin Tent.
However, we've found that CORE is consistently superior in terms of quality, durability, weather protection, and value.
We recommend the CORE Instant Tent over either the Coleman or the Ozark Trail Tent.
Also See: Best CORE Tent
Frequently Asked Questions
Where are CORE tents made?
CORE is based out of Overland Park, Kansas, but their tents are manufactured overseas.
Also See: Best Tent Brands for Camping
How do you pack up a CORE Instant Tent?
To pack up a CORE Instant Tent you'll want to first remove the rainfly.
Then you'll want to push the buttons on each tent pole to collapse the tent back down.
Finally, you'll fold each pole back towards the center of the tent, eventually gathering them together and rolling the tent up.
It takes some practice but is much easier and faster than a standard tent.
Are CORE Instant Tents waterproof?
CORE makes a full-coverage rainfly that will make your tent about as waterproof as it gets.
Out of the box, the standard instant tent isn't going to have the best weather performance compared to dome-style or a-frame tents.
However, CORE tents are very well-made and will withstand moderate amounts of wind and rain.
Read: How Much Wind Can A Tent Withstand?
Is the CORE Instant Tent good for winter?
While you certainly could use any tent in winter, we don't recommend it.
You'll want a tent that can better withstand harsh and changing weather conditions, including a double-walled tent that provides a bit better insulation.
See: Best Winter Tent: Best 4 Season Tents For Cold Weather Camping
Can you fit two queen-size mattresses in the CORE 6-Person Instant Tent?
Yes, you can fit two queen-sized mattresses in the CORE 6-Person Instant tent, however, you're not going to have much room for much else!
There will be about 2 feet of space at the foot of the tent, but side to side there will be almost no room to move about.
We would certainly recommend going up a size or two to an 8 or 9-person tent for a bit more space.
Our Verdict
We love the CORE 6-person Instant Cabin Tent.
Not only is it one of the best instant tents on the market, but it's a great cabin tent and an even better value tent.
With excellent ventilation and a super easy setup, we highly recommend it!