This is our review of the Coleman Sundome Dark Room Tent.
Coleman's Sundome tent is one of the best budget tents on the market today.
But how is the Dark Room version of the tent? Is the Dark Room technology really worth it?
Coleman claims that their Dark Room fabric blocks out 90% of sunlight, so we wanted to put it to the test and see if that claim holds true.
So…is the Dark Room Sundome tent really worth the upgrade from the original Sundome? After testing it out on our last camping trip, in our opinion, yes.
Not only can you sleep in later with the Dark Room tent, but it performs great in bad weather and sustained wind gusts!
Coleman Dark Room Sundome Tent: Key Features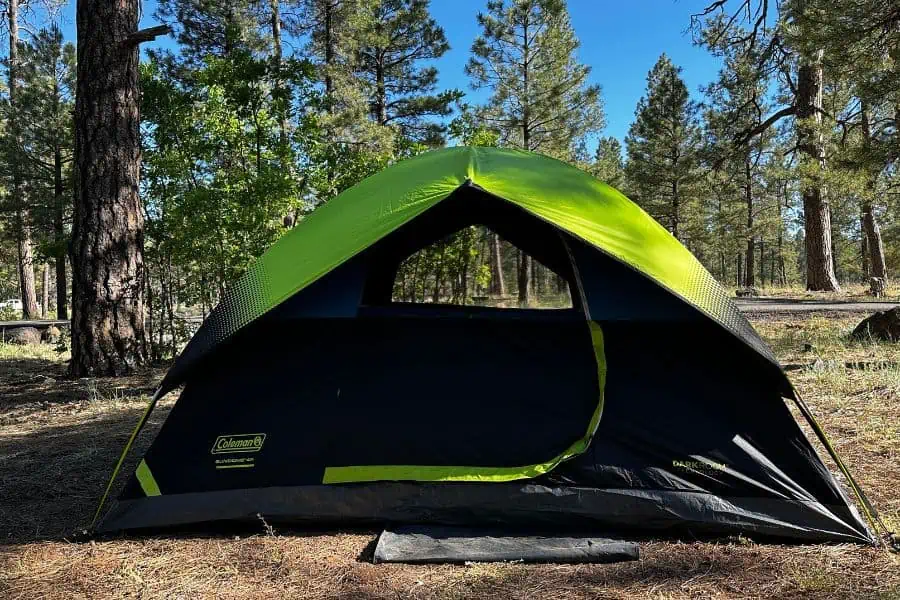 Type: Dome, Blackout | Size: 4 person | Seasons: 3-season | Weight (lbs): 11 lbs | Floor: 9 x 7 ft (63 sq ft) | Max Inside Height (in): 59 in | Setup Time: 5 mins
Space & Comfort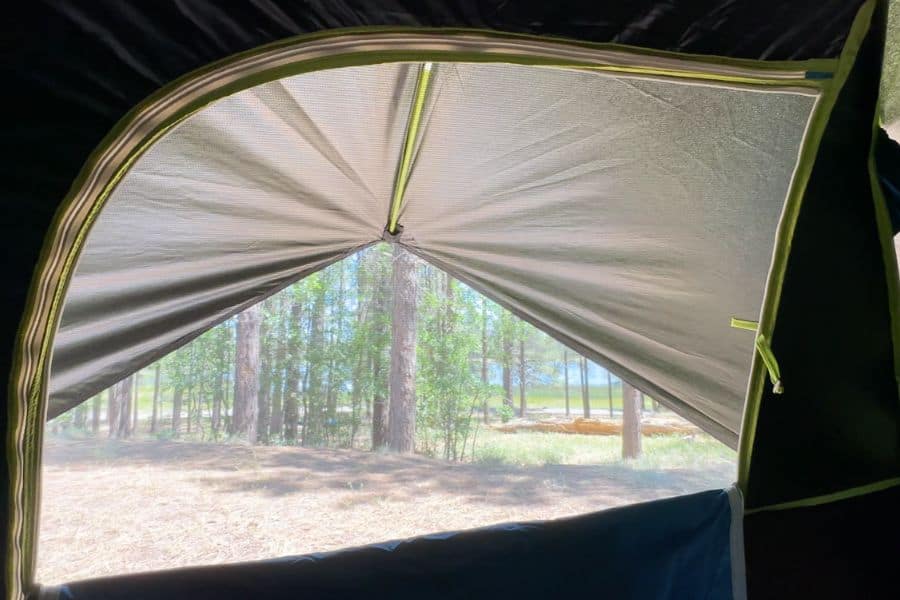 The Dark Room Sundome Tent comes in two sizes for either 4 or 6 people, offering 63 or 100 square feet of living space.
Both can accommodate a queen-sized air mattress, but the 6-person is significantly bigger and will provide much more room for gear or an additional mattress.
Compared to other tents in this size range, the Sundome falls pretty much into the middle of the pack space-wise.
Personally, we found the 4-person Sundome to be just right for couples or solo campers. The 6-person is going to be ideal for small families or couples with a dog, or who simply want a bit more room in their tent.
Because of the Dark Room fabric, there's an additional level of comfort with this tent knowing that you'll be able to sleep just a bit longer each day.
Quality & Durability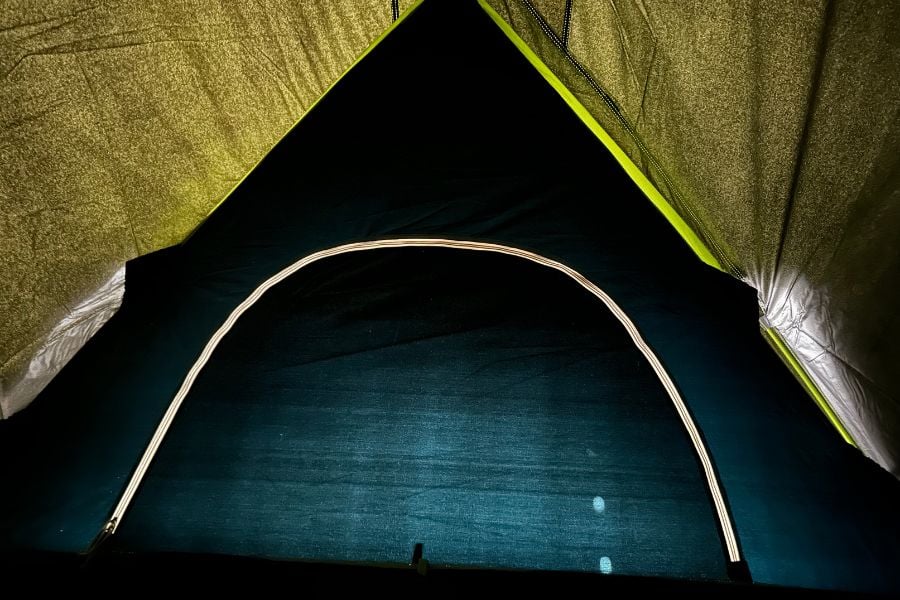 For a budget tent, the Coleman Sundome offers great quality & durability.
The Dark Room fabric itself works well and does its job blocking 90% of the light through that fabric, however, there are other areas such as the rainfly that don't block quite as much of the light.
So in terms of the actual Dark Room effect, it is somewhat minimized since there isn't full coverage throughout the tent.
The fabric itself feels cheaper than that of a high-end tent, but all-in-all the quality is pretty solid considering the price.
The fiberglass poles are as nice as we've seen on other tents, and we expect that with the right maintenance, the Coleman Sundome tent will last for many years.
Value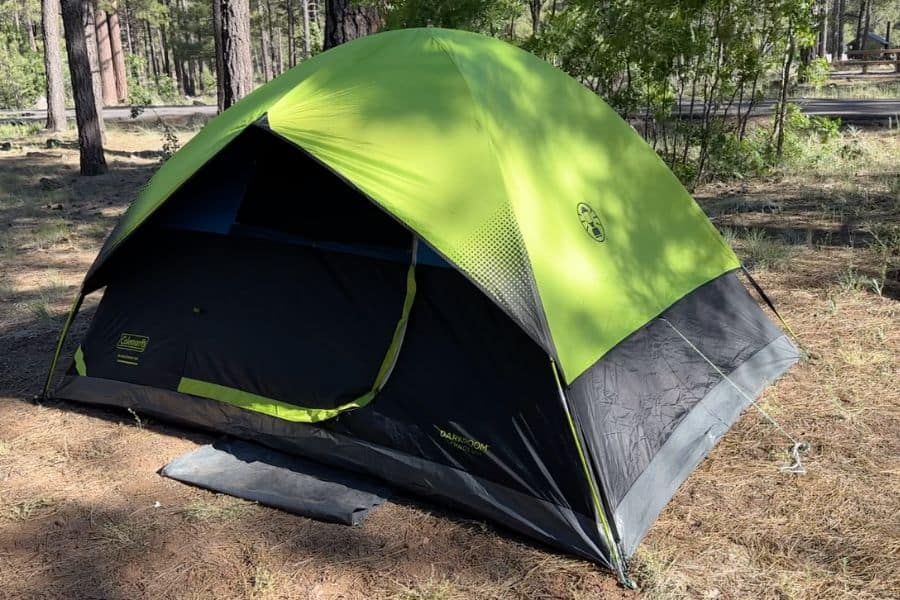 Speaking of price, value is where the Coleman Sundome tent really shines.
And for just an extra few dollars, you get Dark Room fabric, it's a big win in our book.
For average campers who don't expect to encounter harsh conditions and aren't going to be camping for an extended period of time, there is no better value than the Coleman Sundome tent.
Also see: What Is The Best Coleman Tent?
Weather Resistance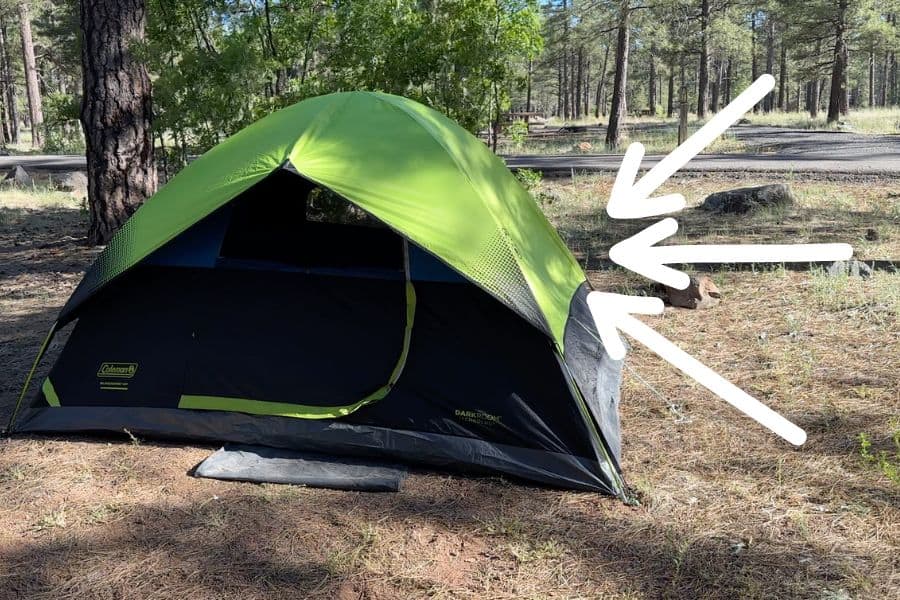 Because of its dome-style structure, it can withstand wind gusts of up to 35 mph.
We certainly put it to the test, as we were seeing gusts of up to 25-30 mph and it held up really nicely.
However, the fiberglass poles aren't magical and if you find yourself in a sustained 35 mph windy weather, expect that you'll have some issues with tent poles breaking under the strain.
Rain-wise this tent is built to handle the load and so long as you use a tent footprint and don't get any crazy rips or snags – you're not going to get wet in this tent unless conditions are so very bad that you'd likely get wet in any tent.
Read: Best Tent For Hot Weather (Staying Cool Summer Camping)
Ease of Use
Setting up the Dark Room Sundome is quick and easy, thanks to its simple 3-pole design.
The snag-free continuous pole sleeves and Insta-Clip suspension system allow for a hassle-free setup.
All-in-all it takes about 5 to 10 minutes to set up this tent fully.
Because there are only 3 poles, 2 of which actually hold up the tent (1 is a ridge pole), it is about as simple and easy as you can ask for in any tent.
Plus it's small and lightweight at only 11 lbs, meaning there is more room for other gear in our car, which is a huge plus in our book.
I also liked the fact that you can extend the carrying case to make it easier to get the tent back into the bag.
Intangibles
The Sundome features two large windows, one door, and an e-port, however, the Dark Room version is missing the Sundome's standard ground vent.
It also has storage pockets to keep your gear organized and a rainfly for added protection during rainy weather – but so does pretty much any other tent.
The big perk of buying this tent is clearly the Dark Room tech.
It really does work, and if you like sleeping in you'll enjoy the additional darkness that it provides.
Warranty
All Coleman Tents come with a 1-year Limited Warranty
Additional Sizes
The Coleman Dark Room Sundome comes in 4-person or 6-person.
The standard Coleman Sundome comes in a 2-person, 3-person, 4-person, and 6-person version.
Pros, Cons, & Best Uses
Pros:
Dark Room tech blocks up to 90% of light, so you can sleep in
Affordable – great value for money
Can be set up in as little as 5-10 minutes
Waterproof – you'll stay dry even in heavy rain
Large windows and Dark Room fabric keep this tent slightly cooler than standard tents
Wind-proof tested up to 35 mph
Cons:
Less breathable since its missing the ground vent from the standard Sundome version
Best Uses:
Car Camping
Couples Camping
Are Coleman Dark Room Tents Worth It?
If you're looking to sleep in a bit longer when you're camping and/or camping in the middle of the summer when the heat can be oppressive, then it's worth picking up one of Coleman's Dark Room tents.
Coleman's Dark Room tent fabric not only can block 90% of sunlight, but it can also help to reduce temps on the inside of your tent.
Will it completely remove all heat from the tent? NO. It's still going to be hot, but it will be slightly less hot – about 10% less.
But in situations when every degree counts, this can be a lifesaver. And so can the ability to sleep an extra hour or two.
What is Coleman Dark Room technology?
Coleman's proprietary Dark Room technology blocks up to 90% of sunlight, keeping the interior cooler and allowing you to sleep comfortably during those pesky early morning hours when the sun starts to rise.
The Dark Room tent fabric works surprisingly well, and while you will still have light in your tent, it is significantly reduced compared to a standard tent.
This gives you the ability to sleep longer and more comfortably.
Plus a nice perk of the Dark Room tech is that it keeps the temperature inside the tent about 5-10% less than it would otherwise.
So if the inside of a standard tent would be 90 degrees, you might be looking at an 85-degree tent instead. Not too shabby, overall.
Do Blackout Tents Keep Heat Out?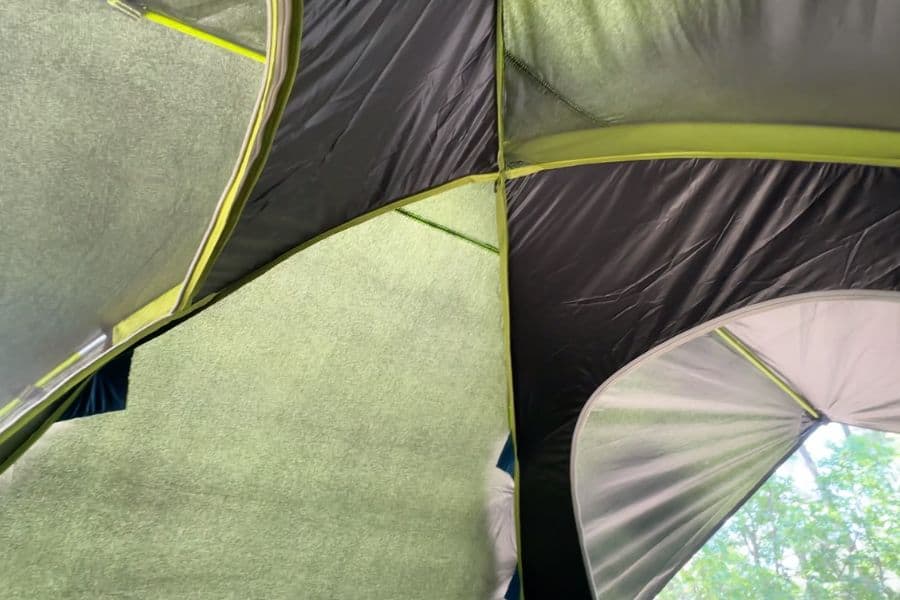 Blackout tents do help keep your tent about 5-10% cooler than otherwise.
Is this a game-changer? No. Your blackout tent is still going to be pretty hot inside during peak hours, but it will be slightly less hot than otherwise.
So in situations where you are looking at 80-90 degree days, it's going to at least make some sort of difference.
Is the Coleman Sundome a good tent for 4 people?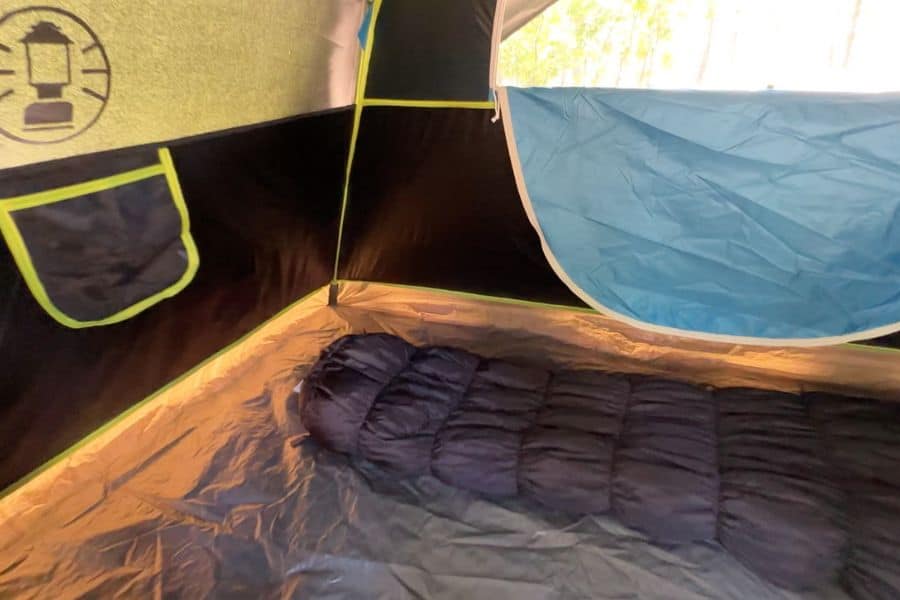 Is a 4-person tent right for 4 people? No!
Don't be fooled by tent manufacturers' prescribed sizes. Typically we like to halve it.
So a 4-person tent is ideal for 2 people, and a 6-person tent is better for 3, etc.
While you certainly could fit 4 people into a Coleman Sundome, you would be side-by-side and not very comfortable.
For this reason, it isn't ideal for 4 people. We recommend an 8-person or 10-person tent for a family of four.
Read: Camping Tent Sizes – What Size Tent Do I Need?
What are some comparable tents to the Coleman Sundome Dark Room?
There are plenty of blackout tents on the market these days. Some comparable ones to the Dark Room Sundome are going to be the following:
All of them have their plus' and minus compared to the Sundome, but we find that the Sundome Dark Room provides the best bang for your buck.
Frequently Asked Questions
Where are Coleman tents made?
Coleman makes no specific claim as to where their tents are made.
Coleman is headquartered in Chicago and has manufacturing facilities in Kansas, Texas, and Bangladesh.
However, it is unclear which products are manufactured in the US facilities versus overseas.
But we do know for sure that most of the Coleman tents we have purchased are coming from Bangladesh.
How to set up a Coleman Sundome tent?
With its traditional dome style, the Coleman Sundome tent is very easy to set up.
Choose a suitable location: First off, ensure you choose a good location. You want somewhere that is flat and clear.
Lay out the footprint: Then lay and stake out your tent footprint.
Lay out the tent: Next up, unroll and lay out your Sundome tent and ensure that you have it facing the correct direction (since there's only one door).
Assemble the poles: You'll want to assemble the poles, and then insert them into the corresponding tent sleeves.
Raise the tent: Nex, you can raise the tent by gently lifting up and ensuring the tent poles begin to bend correctly.
Secure the poles: Once the tent is partially up, secure the poles to the tent body using pole clips, and the pole footings.
Stake your tent: Once the tent is fully standing, stake it down securely
Attach the rainfly: Drape the rainfly over the tent, attach the velcro straps, and tie down the guylines.
Guying out the tent: Adjust and add tension to all straps and guylines to ensure that the tent can withstand any/all conditions.
While this may sound complicated, we recommend practicing setting up the tent at home, and you'll have it down by the time you arrive at the campsite.
The 3-pole design of the Coleman Sundome can be completed in 5-10 minutes depending on how much help you have.
Also See: How To Set Up A Tent: A Step-By-Step Guide
How to fold a Coleman Sundome tent?
Similar to any other tent, you'll want to first remove any/all gear from within the tent.
Next up, you'll want to remove the poles and fold them back up.
After the poles, you'll want to remove the tent stakes.
Ensure the tent is nice and flat.
Then you'll want to begin to fold the tent in half, continuously, until it is the correct size to roll it up.
Then, roll up the tent, and compress/pack it up.
If the tent has too much air, you can sit on it, or try to compress it with other gear.
Are Coleman Sundome tents waterproof?
Yes, the Coleman Sundome tents can withstand rain and wind up to 35 mph.
Thanks to the dome-style design rail will wick down and away from the tent without pooling.
Of course, no tent is impervious to rain in extreme conditions, but in moderate rainfall, the Coleman Sundome is as waterproof as it gets.
Is the Coleman Sundome tent good for winter?
We don't recommend the Coleman Sundome for winter conditions.
Even though the Sundome is a 3-season tent, it certainly doesn't provide enough insulation to make it through the harsh conditions of winter weather.
Since this is a budget tent, it is primarily made to endure summer and shoulder season conditions.
Can you fit a queen-size mattress in the Coleman Sundome tent?
Yes, you can fit a queen-sized mattress in the 3-person, 4-person, and 6-person Coleman Sundome tents.
However, it will be a tight fit in the 3-person tent, as that tent is 84 inches long (a typical queen-sized air mattress is 80 inches by 60 inches), so nearly the entire tent will be taken up by the mattress.
The 4-person Sundome measures 108 inches long, giving much more room for gear and to change/move around.
Our Verdict
The Sundome is one of the best-selling tents on the market for a reason.
We found the Dark Room technology to help reduce morning light in the tent enough to allow us to sleep in well past when the sun was up at 5 am.
If you want to sleep in a bit like us, then the Dark Room Sundome is well worth the investment.
It's a great value for the money and you'll get a tent that can withstand the elements and last for years to come.