Coleman is a stalwart brand for all things camping. From their fuel to their tents, they are a standout brand in all outdoor stores.
But where are Coleman tents made?
Coleman products are made in both the US and abroad.
In this article, we'll cover a bit more about where Coleman tents are made, what materials they use, and when to purchase a Coleman tent over other tent brands.
Where Are Coleman Tents Made?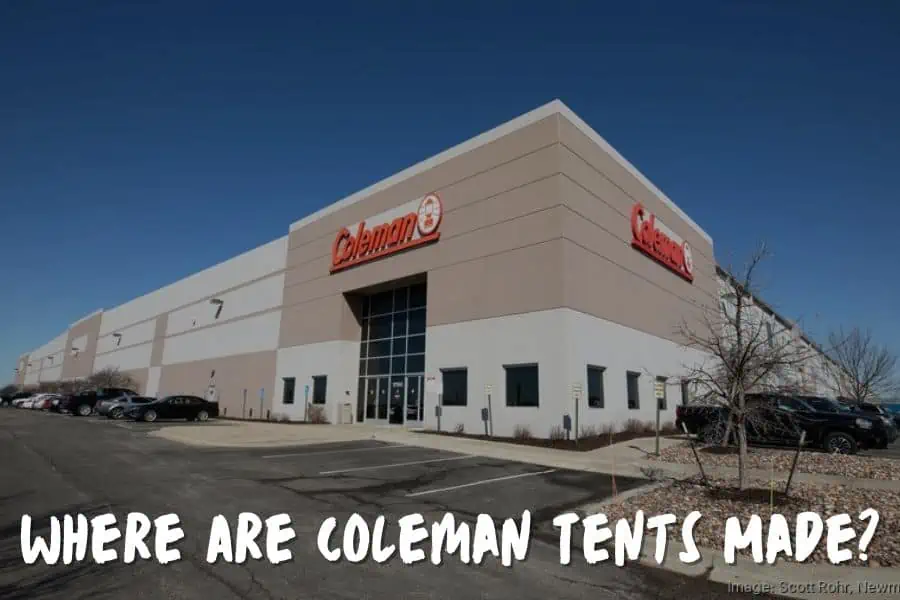 Coleman tents are made and manufactured in the United States and abroad.
Though Coleman headquarters are newly located in Chicago, Illinois, they have maintained their United States manufacturing hubs in both Kansas and Texas, where they produce things like tents, stoves, lanterns, and sleeping bags.
You'll also find many Coleman products that are marked as "Made in Bangladesh."
This means that Coleman also has a manufacturer in Bangladesh where the tents are made, which are then shipped to one of the hubs in the US for delivery.
What Materials Does Coleman Use?
For the majority of their tents, Coleman uses cost-effective polyester, polyethylene, and nylon materials.
They are a budget brand after all.
While their WeatherTec materials are water- and element-proof, good enough to protect you from bad weather during your campout, they aren't the best materials on the market today.
However, since Coleman produces tents that don't break your budget, many are good value buys.
They also produce many blackout tents with their Dark Room technology. We've tested this material out and found it to be highly effective.
Read: Best Tent Material for Camping
Is Coleman A Good Brand For Tents?
If you're in the market for a new camping tent, Coleman will be a great brand for you.
They are known for being a great option if you're looking for a large and roomy tent at an affordable rate.
Their tents are known for being incredibly reliable and budget-friendly.
Basically, if you take good care of your Coleman tent, it'll take good care of you for many years.
However, this brand's tents are generally heavier and bulkier than other brands.
They do not specialize in ultralight or backpacking-specific tents, like some other brands.
Because of this, they are not the best suited for longer treks and should be reserved for car camping or short-distance treks.
The one exception to this is the Coleman Hooligan backpacking tent, which is lighter than some tents of the same size even though, it is still heavier than other brands' backpacking models.
If you're looking at a lightweight tent for backpacking, you should look at MSR, Big Agnes, or North Face.
Ultimately, Coleman tents are best for budget-friendly family and group tents.
Also see: Best Tent Brands for Camping
FAQs
Are All Coleman Products Made In The Same Location?
No, Coleman products and tents are produced in the US (Kansas or Texas), as well as in Bangladesh.
Coleman also produces other camping gear in these locations.
Does Coleman Use Sustainable Materials In Their Tents?
Coleman tents are synthetic and polyester, which are not sustainable or compostable on their own.
However, these materials are the best suited for keeping you insulated and dry when camping.
Coleman has previously partnered with some sustainability programs to reuse their materials.
How Can I Verify The Authenticity Of My Coleman Tent?
All Coleman tents will have a Coleman logo on part of their fabric.
In addition, you'll be able to see information about Coleman products on branded tags in the interior of the tent.
Are There Any Collaborations Of Coleman With Other Brands Or Designers?
Yes! Coleman has plenty of collaborations with other brands and designers.
Most recently, Coleman announced their Outdoors x Art project.
This is going to highlight the designs of artists on their products.
Final Thoughts On Where Coleman Tents Are Made
Coleman has been a fundamental player in the outdoor gear world for almost 100 years.
Their tents are a great option for you if you're looking for a roomy, dependable tent for your next car camping trip.
More on Coleman!