There are so many great bloggers, YouTubers, podcasters, and photographers out there creating amazing outdoor content on a daily basis.
Not only did I want to personally get to know them better, but I also wanted to explore outdoor influences and passion for nature.
Thus, we've launched the I Love The Outdoors Interview Series.
If you are interested in participating in the series, please contact us and let us know!
William Macdonald
Tell us a little about yourself. How old are you? Where are you from? Where do you live now? Are you married? Kids?
I am 50 years old and live in Inverness in the Scottish Highlands which is one of the most amazing playgrounds on the planet.
I have some of the most amazing mountains and forests all on my doorstep so it is always a challenge to decide on what type of adventure I want to do next.
I am married with two kids who also love the outdoors.
2. What is your favorite outdoor activity?
My favourite activity is wild camping but I also enjoy bushcraft.
3. Where is your favorite trail?
My favourite trail is into the Torridon Mountains on the West Coast of Scotland.
4. Where is your favorite camping spot?
My favourite camping spot has been from a recent camp in Torridon called Coire Mhic Fhearrchair which looks out to the West coast of Scotland where I experienced the most amazing sunset whilst camping under Beinn Eighe.
5. What was your first outdoor memory as a kid?
My first memory was helping out on my grandparents farm in North Uist where one of my chores was to protect the lambs from the Golden eagles.
I learnt so much about the wilderness in North Uist spending days walking round the mountains and beaches as well as working on the farm.
6. Who was your biggest outdoor influence?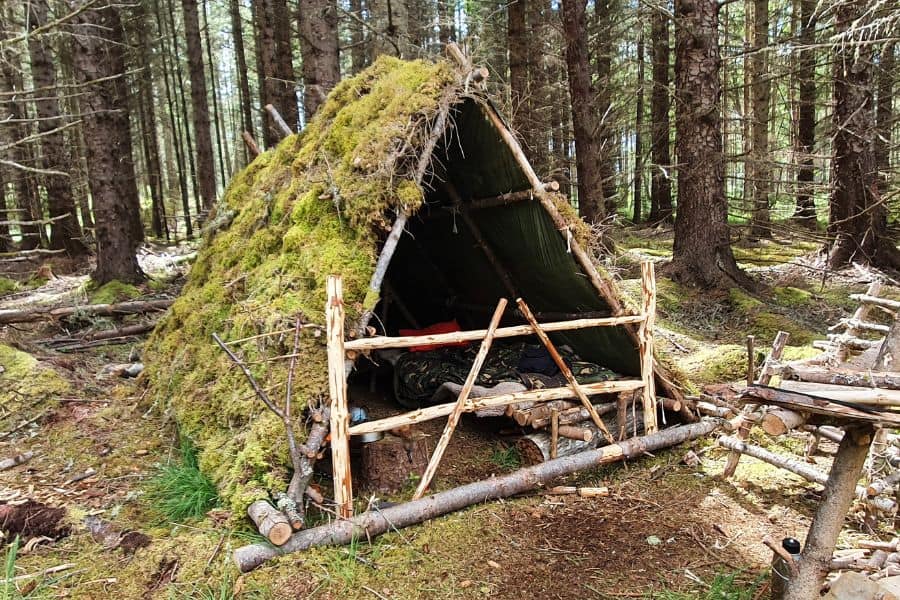 Ray Mears has had a massive influence in what I do as I just love bushcraft and living off the land, building shelters and using old style tools and techniques to both whittle and carve wood to make tools.
With a fragile knowledge I have now built a Viking Shelter and table and chairs all out of deadfall natural materials lying about in the forest.
I stay in this shelter as often as I can and this has led to the wild camping and more recently the summit camping and mountaineering and for this I watch a lot of Youtube videos of the mountains I would like to climb.
7. What was your all-time best camping or hiking experience?
My best camping experience so far has been a summit camp on the top of a Munro called Buachaille Etive Beag in Glencoe Scotland.
This particular trip was a summit camp in a bivvy bag in -7 degrees celsius where I experienced an amazing sunset followed by a spectacular star show and then woke up to just a stunning sunrise.
8. Who is your favorite person to camp or hike with?
I do all my camping solo as I am often shooting a video for the YouTube channel and can go at my own pace.
9. What is your favorite piece of gear and why?
I have just been asked this by a few people and on my bushcraft side it has to be my Hultafors Axe as I use it for so many things like wood prep and making tools for other tasks as well as carving things.
With regards to my wild camping it has to be my Robens Starlight 2 Tent which has just been amazing in the cold winter months in the Scottish mountains.
10. What do you love about the outdoors?
I just love the feeling of freedom but also learning new things about the balance of nature and the wildlife and trying to do what I can to help.
I am a Scout Leader so I love going on an adventure and taking the knowledge that I have learnt from the trip and discussing it with the Scout Group so they also share the experience.
I also find that the outdoors has such a positive impact on my mental health and all aspects of my life.
11. What outdoor places are on your bucket list?
I am planning to go hiking and summit camping in the Mamores Mountain range in Scotland which has 10 munros which are hills over 3000 feet. The big challenge is to do all 10 in one day.
12. What is your goal as an outdoor content creator? How can we support you and where can we find your content?
I am trying through my YouTube channel to encourage people to get outdoors and experience nature, it doesn't need to be going up a Munro or Kayaking out to a remote island but just a small river walk or to take their kids rock pooling for a day and just trying to get kids outside.
I also encourage the leave no trace approach because we need to keep our amazing countryside clean for nature to flourish.
With regards to support if you could watch the videos on the channel and subscribe it helps to get the videos recommended and has more chance to share not only the experiences but also the leave no trace message.
William – thanks for the great interview and participating in the I Love The Outdoors Interview!
If you are interested in participating and sharing your story, please contact us and let us know!
Previous Interviews