If you're in a hurry, we'll give you the punchline right here. In our experience, Eagles Nest Outfitters ProFly Rain Tarp is the best hammock tarp you will find out there.
Hammock tarps are a dime a dozen. But what if you want to purchase one that'll last you years? There are tons of places you can buy outdoor gear, so to make things easier, I put together this article of my favorite choices.
After a lot of research, I narrowed this list to these hammock tarps. Once you are done reading this post, you will know why I picked them.
Let's hit it:
Best Hammock Tarps: Our Top Choices
ENO Eagles Nest Outfitters ProFly Rain Tarp

This is an excellent rain tarp from ENO. It is made of polyurethane-treated ripstop nylon and is meant to last a long time.
Since it is a rain tarp, it has excellent wear and tear capacity and comes with the best water-shedding ability. That way, you can stay dry and cozy in your hammock no matter how long you go camping.
It has six points of connection, making this tarp secure for any amount of lounging. Thanks to this strength, it's perfect for more than a drizzle. Yes, it holds up good even in a torrid downpour.
This tarp is lightweight at only 22 ounces and comes with a stuff sack so that you can store it safely till your next trip. This product is a durable and versatile one, making it the perfect gear to hold on to whether you are a regular camper or do it as an annual activity. It is built to protect your equipment, clothes, and even a pet if you take one along.
And you will be glad to know that the manufacturer is mindful of avoiding potential waste. In my research, I found that they aim to use every bit of fabric they have in production to make this beautiful tarp. So, you can rest easy knowing this tarp supports you and the planet.
Pros:
Lightweight and waterproof
Durable and can handle wear and tear
Excellent water-shedding capability
Comes with six points, which make it easy to connect
Made with sensitivity towards waste materials during the manufacturing process
Can support a thin layer of ice too
Comes with a stuff sack
Cons:
You will need to buy a stake separately.
A little on the expensive side
Best for: Campers who want the best overall hammock tarp available on the market.
Hennessy Hammock Hex Rainfly/Rain Tarp

Hennessy Hammock comes out with a selection of models, and I chose this one not just because it has excellent reviews. The tarp has been known to provide perfect cover from wind and rain, so I figured you'd benefit from me sharing it.
This is a polyurethane-coated rainfly made of polyester. And yes, it is ripstop, so you don't have to worry about wear and tear. Like every hammock on this list, it's built to last.
A cool thing about this tarp is that it can be arranged at different angles, which means you can extend it to cover your BBQ/grilling area too. If that is not your style, you can use a couple of stakes and ground it on the sides of your hammock for privacy. I love this tarp since it has so much use.
Also referred to as "Hex," this tarp should ideally be tied directly to trees with the strong polyester cords that come with it. Using the two tie-outs on both sides is recommended for maximal strength. The rainfly itself comes with six tie-outs to ensure you have all the flexibility you need to position it any way you like.
You will notice that the factory seam sealing and the pockets are carefully detailed if you look closely. This means that like if you used after-market seam sealing, no water will get in. Additionally, the pockets can store the tie-out cords, making this tarp super easy to use.
Since it is in a hexagonal shape, this rainfly can be used with any hammock model. And if you are stuck in a storm during your trip, this tarp is an asset because you can pull it down to the ground and get protection. You can also pitch it between hammocks and make a work marquee.
Lastly, buying Mr. Hex allows you to shave off a few dollars on the price tag compared to some other models on this list. Of course, despite the price, you won't be losing out on any benefits of having a quality tarp guard your campsite.
Pros:
Can be packed compactly for travel
The hexagonal shape gives you more setup options
Relatively cheaper
Comes with pockets to store the extra cords
Provides more coverage in cold weather situations
Cons:
Does not come with accessories like stakes, which are crucial to nailing it down to the ground
Might have to buy paracords for added strength, though not mandatory
Best for: Budget-conscious campers and backpackers.
REDCAMP Hammock Rain Fly Waterproof and Lightweight

This is a simple and effective hammock rainfly made by Legit Camping that'll make every camping trip an easy and memorable one. Even if a literal downpour comes to rain on your parade, this tarp will keep you protected.
This is a 10 x 10 rainfly and has a 170-inch centerline, which does a marvelous job covering hammocks of all sizes – even double hammocks.
Whether you are camping or hiking or backpacking, this is a must-have piece of gear because it offers weather protection like no other. It's made of polyurethane-treated nylon, and yes, this one is ripstop too. By now, you must have realized that it makes no real sense to have a tarp that is not ripstop. It's become that standard material that you need no matter what.
But wait, there's more! This tarp is touted as "ultra-lightweight" with nine guy lines so that you can set it up in a diamond or square shape. You know what that means – extra coverage, under any circumstance.
Pros:
Ultra-lightweight, portable and versatile
Practical and convenient survival accessory when you are outdoors
Comes with a stuff sack
Has six adjustable guy lines and four aluminum tent stakes
Quality camping gear with reliable customer service
100% money back manufacturer-guarantee
Seriously affordable
Cons:
Does not work as a mosquito net
Does not come with instructions
Best for: Ultralight backpackers who still want a quality hammock tarp.
UST Tube Tarp and Camping Shelter

This is a versatile, all-weather rainfly you can use as a ground cloth or a thermal blanket. Or if you're not feeling so creative, just use it as a hammock tarp, of course.
One cool thing about this tarp is that its back-side is flame retardant. That means you can use this for outdoor protection or emergency signaling. Good advice is that you can never be too careful, right?
This is a four-sided tarp that's easy to set up. It comes with guy lines and strong tent stakes which means it won't fly away when the weather decides to stop cooperating with your plans. If you read my article on tent stakes, you'll know how important it is to have high-quality stakes.
The kit also comes with a stuff sack so that you can put it away securely until the next trip. The tarp further has a hidden zipper that can turn the tarp into a tube, which protects you from the damp ground if you choose to turn it into a sleeping bag. Super cool, either way you use it.
And lastly, the best part for beginners is that it comes with instructions that make usage relatively easy.
Pros:
Doubles up as a ground cloth, tent shelter, thermal blanket, or a sleeping bag
Comes with a stuff sack
The manufacturer provides clear instructions
Easy to set up and take down when you are done
Has an aluminized flame retardant that comes in handy for protection and/or emergency signaling
Cons:
Might be too small for specific applications
Best for: Campers and backpackers who want a versatile hammock tarp.
Paria Outdoor Sanctuary SilTarp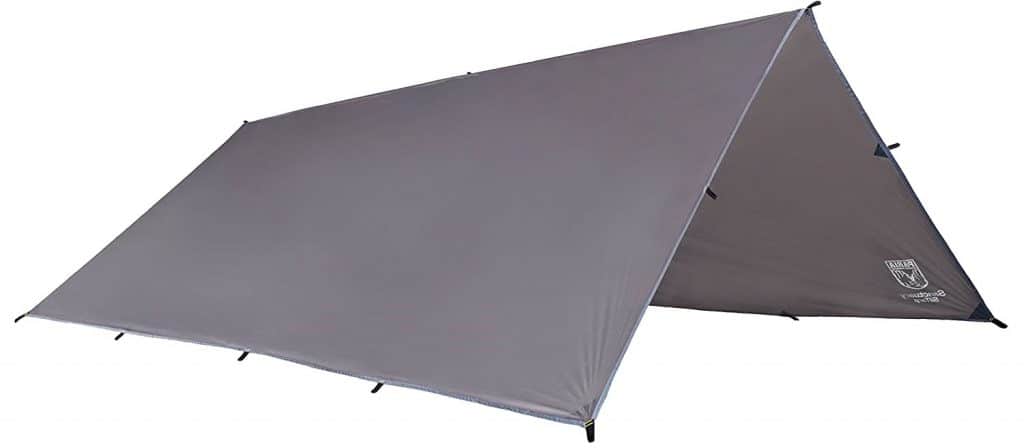 This hammock tarp from Paria Outdoor is made of 30D ripstop nylon, a material that's tightly woven yet very lightweight. Thanks to the dual PU coating, this tarp has a hydro-static resistance of 5,000 mm, which is amazing, especially for a tarp in this price range.
This light tarp is great for backpacking for its weight, but also for its durability. If you take proper care of it, you can expect this tarp to last you a pretty long time. The brand also offers a lifetime warranty on the product, so rest assured you get your money's worth with this tarp.
Flat-shaped and featuring 16 perimeter attachment loops as well as one center loop, this tarp allows a variety of different setups. This is great, as it allows you to create a shelter that can keep you safe from different weather elements.
Pros:
Completely waterproof, so it's great for rainy weather
Features aluminum Y-shape stakes, which are suitable for any type of terrain
Flat shape and tons of attachment loops allow unlimited options for setup
Covered with a lifetime warranty
Cons:
No additional UV coating, so long UV exposure can shorten its life
Best for: hammock camping in bad weather.
Check Price on paria outdoor products
ENO Housefly Rain Tarp
First things first, the ENO Housefly Rain Tarp is the perfect size for a weatherproof hammock shelter.
It perfectly covers your hammock, with overlapping doors allowing you to access the inside while keeping the nasty weather out.
Of course, if the weather is nice, you can stow the doors back and enjoy the breeze and sun rays.
ENO does a great job at making setup as easy as possible. Throughout the entire perimeter, the tarp features 10 anchor points which feature no-knots-needed tensioners. Now, every camper should know basic knots, but not having to use them definitely makes setup quicker and simpler.
Reflective cords are always a nice touch. You probably won't set up a tarp late in the night, but guylines being visible can surely help you avoid falling over them in the pitch dark. What's also great is that stakes come with pre-tied loop knots, which make setup and removal super easy.
Pros:
Overlapping doors prevent wind and rain from getting inside
Double stitched and taped seams provide a storm-resistant construction
Features reflective cords, which help with nighttime visibility
Aluminum stakes come with pre-tied loop knots for easy setup
Cons:
Rather expensive compared to most picks on this list
Best for: campers who want the tarp setup to be as easy as possible.
ProVenture Hammock Tarp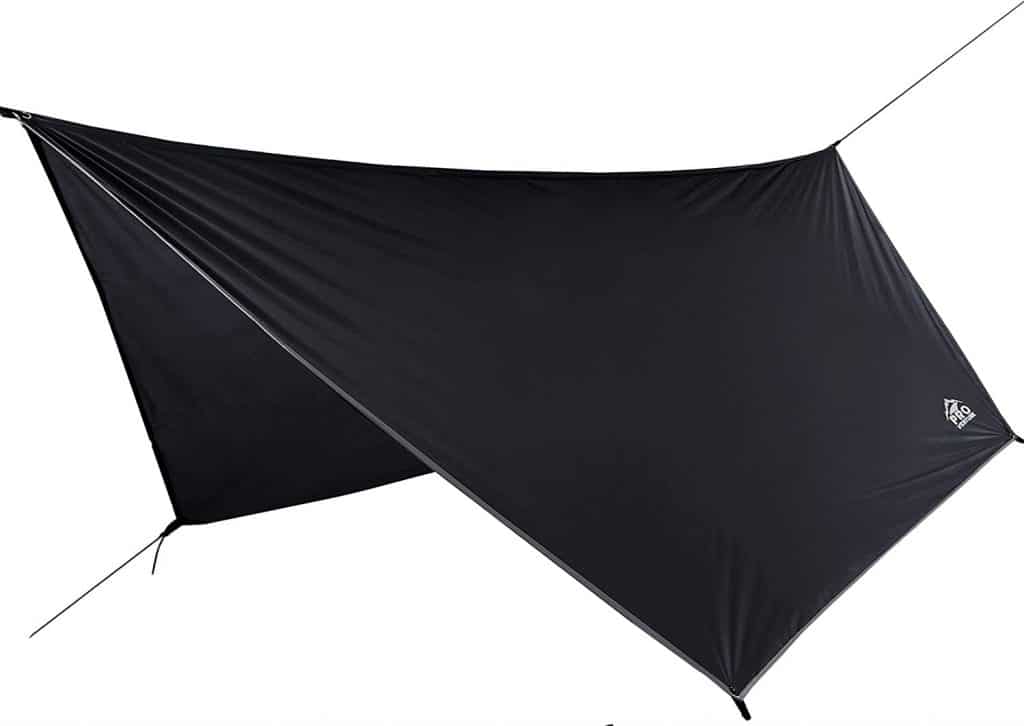 There's nothing more frustrating than having your tarp rip in the midst of your camping trip. And in some cases, even a repair kit can't help you fix the issue. But if you own a durable tarp like this one by ProVenture, these are not the issues you need to deal with.
This tarp is made of nylon, but what makes it stand out from the crowd is the weaving pattern. In this case, a diamond, crosshatch pattern is used, which features yarn woven in repeating sets of intersecting lines. What this does is makes the tarp extremely resistant to wear, tear, shrinking, moisture and mildew.
The nylon is further coated with PU, which makes the tarp suitable for use in different weather conditions. The seams are taped and feature reinforced stitching, which makes them extremely durable and completely waterproof.
This tarp is hexagonal, which means it offers decent weather coverage while remaining rather lightweight. This makes it a great choice for backpackers, as it provides the best balance between the two factors.
Pros
Diamond weaving pattern makes the tarp extremely durable and weatherproof
Rather affordable compared to most picks on this list
Comes with a 2-year warranty, so you can rest assured you get a product free of defects
Guylines feature adjustable tensioners for easier setup
Cons
Doesn't provide full weather protection from all sides equally
Best for: campers looking for a tarp that should last them a good while.
How to Pick a Good Hammock Tarp: A Buying Guide
Picking up a tarp from the hardware store is not a tough gig. Lots of people do that and have decent camping experiences. But if you want to take it to the next level or buy gear that won't ever fail, here are a few things to keep in mind.
About the Shape
If you look at the specifications above, you'll notice that tarps come in all shapes & sizes. So, let's start with a primer on what each shape excels at.
Rectangle
This is the shape of most basic hammock tarps. It forms a little tent over your hammock and keeps you reasonably safe. When you use a rectangular tarp, your hammock's ridgeline is right under the tent formation's peak, and the corners on the bottom must be staked to keep the tarp grounded.
This shape gives decent coverage and is widely available, so I generally recommend it. Plus there are many, many excellent tarp shelter configurations that you can use utilizing a rectangular tarp.
Hexagon
Rectangular tarps have one problem – they wrinkle at the corners. This might allow rainwater to flow where you don't want it to.
That problem is easily solved with a hexagon rainfly because they curve in on the side, providing wrap-around coverage. These are also called hex-cut tarps, and their corners become smooth when you pull them tight. This way, the rain rolls right off and away from your hammock.
These are a bit better than hexagons but might not provide the length you need.
Diamond/Square
This is similar to rectangular tarps, but your ridgeline will be down the midline of the tarp. The head of the hammock will be near one corner and the foot at the other. The two opposite corners will be grounded or tied to trees with stakes.
This design is easy to set up and provides good rain coverage. I don't like it as much as hexagon tarps, but they give the added versatility that you might want.
About Materials
Enough about shapes. Let's talk about materials. Anything that resists water needs to be made of high-quality material, and tarps are no exception.
Tarps come in many fabrics, and if you want to go camping in any weather, this is an excellent area to pay attention to. Let's discover 'em.
Polyethylene
This is what the blue tarps in hardware stores are made of. They are a woven material that is both cheap and durable. It is also a practical option if you are OK with a little crinkling on a windy day. This material is also known to make your setup hot on a summer day.
Nylon
Most of these are ripstop nylon materials and made of woven threads that are popular for their durability. This is not the lightest material, but you must consider it for its strength and affordability. Also, most (if not all) tarps are made out of this material, so there must be some reason why no one buys other tarps.
Canvas
This is the preferred fabric of those who like to hammock camp in the winter because it is a warm material. If you do get one of these, make sure it is waterproof. This fabric can also get heavy when wet. So, you will need to pitch it carefully.
However, not many people use canvas because it is so bulky. Don't be surprised if it's hard to find one on the market.
Tarp Size and Coverage
These two characteristics go hand in hand – the larger the tarp, the more coverage it offers.
And of course, that's an important feature, especially if you can expect less-than-perfect weather during your trip.
Ideally, you want the tarp to cover the entire hammock, otherwise, rain can come in through the gaps and get you and your gear soaked.
When buying a hammock tarp, you should have a general idea of how big a tarp should be to cover your entire hammock.
Most hammock tarps on the market are designed for single-person hammocks, so they're between 7 to 8 feet wide.
In case you and your partner are using a 2-person hammock, then you'll need a tarp that's about 11 to 14 feet in width.
But of course, you can always go bigger than that. The wider the tarp, the more it can be brought down to the ground, offering more coverage.
Ridge Lines
Ridgeline is definitely a feature to keep in mind when choosing a hammock tarp.
As you probably know, a ridgeline is a piece of cord that allows you to suspend a tarp between two points, be it trees or poles.
A ridgeline is what allows the tarp to remain taut at all times, but how well it does that depends on different factors, including the type of ridgeline used.
A lot of models are designed to be used with a full-length ridgeline.
This basically means you need to hang the tarp over the ridgeline and further anchor it in place with guylines and stakes.
The other option is a tarp with ridgeline tie-outs.
With such a model, you don't need a full-length ridgeline – instead, you just need to pull the ends over the hammock straps and make them as taut as possible.
The actual difference between the two? Tarps with ridgeline tie-outs save you a bit of weight by having less material, so they're suitable for backpacking trips.
But models with a full-length ridgeline are definitely sturdier and more versatile.
Guy Points
As the name suggests, guy points allow you to attach guylines to make a tarp taut.
And the more guy points a tarp has, the more customizability it offers when it comes to setups.
You see, there are countless ways you can create a shelter with a tarp, but the number of anchoring points a single tarp offers determines how many of them you can make.
Most hammock tarps have between 6 and 10 guy points, which is sufficient for most camping trips.
Some models may include extra guy points situated around the perimeter as well as on top of the tarp, to provide you with more setup options.
When choosing a model, make sure your tarp has all the guy points additionally reinforced, as this part of the tarp is under a lot of tension when in use.
Without additional support, they can easily snap.
Waterproofing
The purpose of a hammock tarp is to keep you safe from different weather elements.
But unless it's waterproof, a tarp won't do much for you in the case of bad weather.
While the choice of material and weaving pattern play a huge role in waterproofness, it's the PU coating that matters the most.
Without it, your tarp will absorb water and wet out when exposed to rain for a longer period of time.
In many cases, the manufacturer will let you know the waterproof rating of a specific product.
In other words, it will show how much rain can a tarp withstand without getting soaked.
Of course, a tarp needs to have either sealed or taped seams, as seams are rather susceptible to water seeping through.
FAQs
What is the best size tarp for a hammock?
A 8 by 10 feet tarp will provide a ridge line of approximately 13 feet (4 meters). No matter what size of hammock tarp you select, ensure it extends at least 6 to 12 inches over each end.
How do you rainproof a hammock?
For ultimate hammock coverage, you'll need a tarp or rainfly that covers your hammock completely and extends 12 inches over each end. A diamond-shaped rainfly will keep you dry during rain.
Our Verdict
There are many different ways to pick a good hammock tarp. I picked ENO Eagles Nest Outfitters ProFly Rain Tarp as my favorite for many reasons.
First, it's lightweight and compact. Next, it's durable and can handle any stretch of wear and tear. Lastly, it's super waterproof and has excellent water-wicking abilities. All of these are crucial when you are in a bad weather situation.
So, make sure you pick up ENO's rain tarp before your next outdoor adventure.