If you're pressed for time, my favorite soft cooler is the IceMule Urbano Cooler.
Cracking open a cold one is a staple of the camping experience for many.
However, to do the analogy justice, you need to keep the cold one…well…cold!
The best way to do that is by getting yourself a reliable soft cooler.
Compared to hard-shell coolers, these products are lighter, but will still keep your brews Colorado cold.
Let's get right into it! Here are the best soft-sided coolers:
Best Backpack Coolers:
Best Picnic Coolers:
Still confused? Compare all the best soft coolers for camping.
Best Soft Coolers
IceMule Urbano 30 Liter Backpack Cooler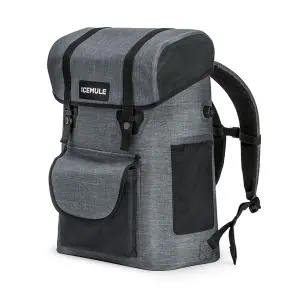 Weight: 4 lbs | Capacity (L): 30 | Materials: 1,000-denier ripstop tarpaulin/vinyl/nylon
The IceMule Urbano is a versatile and stylish backpack cooler that keeps your drinks and snacks cold wherever you go.
With its sleek design and spacious 30-liter capacity, the IceMule Urbano can haul 18-20 standard cans plus ice, or up to 6 wine bottles. So whether you're heading to the beach, a picnic, kayaking or camping, or a weekend trip, this cooler backpack can handle whatever you throw at it.
The IceMule Urbano is made from tough and durable ripstop materials, ensuring its longevity and resistance to wear and tear. It features a comfortable, padded back panel and adjustable shoulder straps, making it easy to carry even when fully loaded.
Equipped with IceMule's PolarPlus™ insulation, it provides over 48 hours of ice retention – and the air valve on the side lets you add air to the bag for increased insulation
The roll-top closure allows for easy access to your items while maintaining a watertight seal. Plus, the cooler is completely waterproof and will float if it goes overboard.
It features a weatherproof front pocket and 2 side accessory pockets to store small essentials; the backpack hood also features a hidden weatherproof pocket for stashing extra items
It's also extremely easy to clean, making it perfect for outdoor adventures.
Check out our full review of the Urbano here.
Pros:
The style. This looks like a regular backpack!
The IM Air Valve helps to add insulation or decompress for storage
Makes carrying your food and drinks to hard to get to places much, much easier
Backpack straps are comfortable and easy to use
Additional side pockets and hidden hood pocket are perfect for holding valuables and a drink
Cons:
Can get fairly heavy for an average user, when fully loaded
Best for: the overall best backpack cooler that can fully replace a hard-cooler for all sorts of trips.
IceMule Pro Cooler – 23 Liters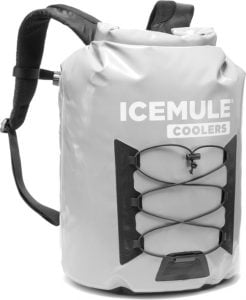 Weight: 3.2 lbs | Capacity (L): 23 | Materials: 1,000-denier ripstop tarpaulin/vinyl/nylon
An extremely durable backpack-style cooler, the IceMule Pro Cooler 23L keeps everything cool for your beach and boating adventures.
It holds 18 cans, plus ice, and its waterproof construction has welded seams and absolutely no zippers.
Frankly, I was surprised by the amount that we could fit into this cooler. More than enough for a day or even weekend trip.
Made with 1,000-denier ripstop tarpaulin/vinyl/nylon the material is incredibly thick and keeps your food and drinks cold for up to 24 hours.
Not only that, but the IM Air Valve allows for easy compression and rolling the cooler up to store. Trust me, this is a really cool feature.
The size and utility of this cooler also makes it useful to haul out your trash or anything else.
The only downside is that with the amount of food and beverages you can pack into this cooler, it can get rather heavy when fully loaded.
Read our full IceMule Pro Cooler Review here.
Pros:
At 3.2 lbs, this is as lightweight a cooler as you can get for the capacity
The IM Air Valve helps to add insulation or decompress for storage
Makes carrying your food and drinks to hard to get to places much, much easier
Backpack straps are comfortable and easy to use
Cons:
Can get fairly heavy for an average user, when fully loaded
A bit confusing to get closed properly the first time around
Best for: the best value soft-cooler on the market.
YETI Hopper M20 Backpack Cooler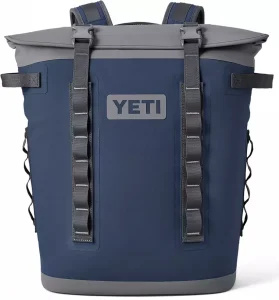 Weight: 4.8 lbs | Capacity (L): 23 | Materials: DryHide™ shell
I'll be the first to admit that this model is relatively pricey, but it's well worth the cost.
Much like the HD30, the Hopper M20 also looks like something straight out of Star Trek. The gray and blue variant seems like it should be a fuel cell for the USS Enterprise.
If you prefer a tactical look, then go for the matte black variant of this cooler. Of course, there's more to this stunning model than its aesthetics. Plus it's MagShield Access uses magnets to create a leak-resistant shield.
The DryHide™ shell on this bad boy is made out of high-density fabric, making it resistant to punctures, mildew, and UV rays. It's also completely waterproof and made out of food-safe material that's approved by the FDA.
Weighing in at only a pound, you'll be surprised to hear that this cooler can hold up to 18 cans, even with a 2:1 ratio of ice to can. You'd be hard-pressed to find a model at this weight that has more storage and insulation.
Pros:
Legendary YETI cooling technology
Fresh design (four variants)
MagShied™ magnetic access
DryHide™ shell
18-can capacity
Cons:
The premium performance will cost you a premium price
Best for: Campers who want a high-end cooler that uses the latest technology to optimize performance.
REI Co-op Cool Trail Split Pack Cooler
Weight: 2.5 lbs | Capacity (L): 31.5 | Materials: Recycled ripstop nylon
This Cool Trail Split Pack cooler from REI is great when going on a day walk in nature.
You can pack sandwiches and a few drinks – this cooler can hold 12 cans of soda. And when filled with ice or cold packs, your stuff will stay cool for the whole day.
The coolest thing about it is that it doubles as a backpack. There's plenty of space in the top compartment for your necessities. The side pockets are great for holding water bottles, while you can put a map or a flashlight in the top pocket.
What's also great is that you can attach bulky things to the front straps. That way, you can carry light but bulky things, like a picnic blanket or a foldable chair.
The idea behind this cooler is great, but flawed. If you incline it to the sides when there's melted ice inside, you risk the water leaking to other compartments.
Pros:
There's plenty of storage space for things like a lunch box or a water bottle
The cooler holds the temperature for the whole day
Front straps allow you to attach bulky items to it
The cooling section is removable, so you can precool it in the fridge
Padded straps help with taking some of the weight off of your shoulders
Cons:
It's not entirely waterproof
Best for: carrying food and drinks on day hikes.
Best Soft-Sided Picnic Coolers
YETI Hopper Flip 18 Soft Cooler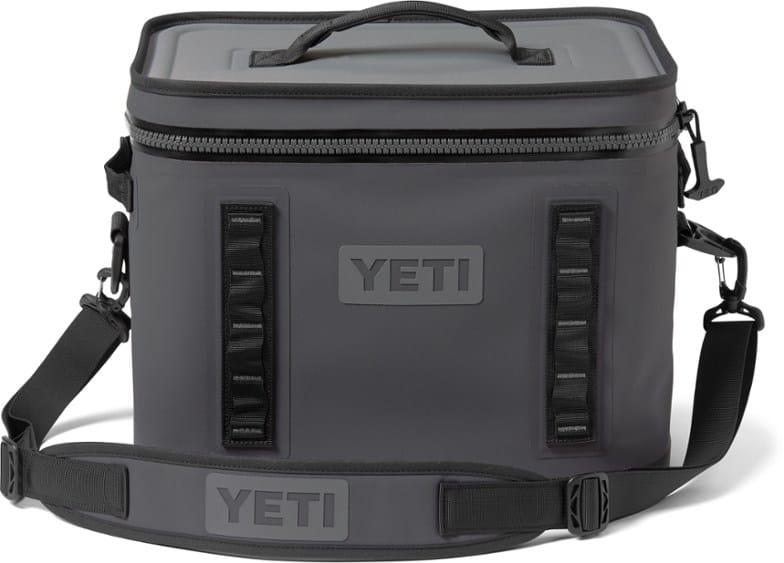 Weight: 5.1 lbs | Capacity (L): 17.8 | Materials: Thermoplastic urethane
For a soft sided cooler, the Flip 18 has great ice retention. It can keep food cool for up to three days.
However, there's only enough space to put a few steaks and maybe 16 cans of beer. By the time the ice melts, your food and drinks will be long inside your stomach.
Since it's soft sided, it's not bear-proof. But, it's waterproof and puncture-resistant. For a soft cooler, it's pretty tough.
The cooler has a top handle and a shoulder strap for carrying. It's somewhat bulky so it's not really suitable for day hikes, but carrying it for a few miles shouldn't be a problem. The strap has an ergonomic pad, which prevents it from cutting into your shoulder.
This is a high-quality cooler that performs very well. However, it also comes with a premium price tag. Considering that for the same amount, you can find a hard cooler with a larger capacity and bear resistance, some might opt for a more economic option.
Pros:
The outer part of the bag is resistant to punctures, water, mildew and UV radiation
A padded shoulder strap makes carrying more comfortable
Thanks to the rubber foam insulation, it keeps groceries cool for up to three days
Daisy chain straps at the front are great for attaching a bottle opener or a pocket knife
Thanks to its cubic shape, you can pack things like long-neck wine bottles
Cons:
Very expensive for a soft cooler
Best for: couples going on a picnic.
ENGEL – HD30

Weight: 3 lbs | Capacity (L): 30 L | Materials: Thermal Plastic Urethane, 840 denier fibers
Let me start off by saying that the design of this cooler is absolutely fantastic. It seems like something that would come right out of Star Trek. You'll be happy to know that it functions just as well as it looks, and that's really saying something.
I've brought this cooler along with me on multiple camping trips. When I say that it will hold ice for up to four days, I'm basing that off my personal experience rather than the manufacturer's claims.
A neat feature of this cooler is the front accessory pocket. It serves as an excellent spot to store small items that you don't want to lose track of during your hike to the camping spot.
The patent-pending vacuum valve takes the insulation to a whole new level as well.
The outer wall is made of TPU, so you don't have to worry about damaging the cooler. I'm not the delicate type of person when carrying gear around — often pushing sharp branches out of the way with my cooler — but it still looks good as new.
Pros:
Cool design
Holds ice for up to four days
Accessory pocket
Vacuum valve insulation
TPU construction
Cons:
Not the most affordable cooler on the market
Best for: campers who want to invest in a cooler that'll last for years.
AO Coolers – Original Soft Cooler

Weight: 2.8 lbs | Capacity (L): 28 L | Materials: Canvas, Thermal Plastic Urethane
If you like the storage capacity of the HD30, but don't have enough cash to accommodate its premium price tag, then go for this model from AO Coolers. It too can hold up to 24 cans but is a fair bit cheaper.
This product from AO Coolers comes in various colors and patterns, meaning that there's something for everyone. I personally prefer the solid red since it makes the cooler easy to spot even in the dark or under rainy conditions. It also matches my red solo cup.
AO Coolers, much like ENGEL, understands that there's no shortage of small gear you need to store. That's why they've fitted their model with a side pocket to store your accessories in.
Sadly, you get what you pay for, so you can't expect equal insulation when buying a cheaper cooler such as this one. While it won't hold ice for four days, it does guarantee 24 hours in weathers up to 120 degrees. Not quite as long, but still decent.
Pros:
Affordable price
24-can capacity
Various colors and patterns available
Accessory pocket
Cons:
Best for: campers looking for an affordable cooler to take on a short trip.
OlarHike – 30 Liter Large Cooler

Weight: 2.33 lbs | Capacity (L): 32 L | Materials: 600D Oxford Fabric, Peva Foil
If the coolers that I've listed to this point didn't have enough capacity for your taste, then you'll love this cooler from OlarHike. It can hold up to 40 cans and has a load limit of 50 pounds. You'd probably think that something with so much capacity would be pretty expensive, but it's not!
As a matter of fact, despite having the highest capacity, this cooler is one of the most affordable here.
Of course, there's no such thing as a perfect cooler. The main drawback of this cooler is the fact that it can only hold ice for 12 hours, but if you're going on a short trip or tailgate, then it'll be fine.
The cooler also has two handles that you can switch between depending on the weight you're carrying. If the load is relatively light, then go for the top handle. For beefier cargo, you can use the side handles.
With a two-year warranty to boot, this cooler is definitely a prime choice for any camper who wants to get the most bang for their buck. Sure, it doesn't feature insulation equal to some of the more expensive options, but you can't expect perfection at this price range.
Pros:
40-can capacity
50-pound load limit
Affordable price
Dual-handle
Two-year warranty
Cons:
Best for: campers who need high capacity at an affordable price for short trips.
TOURIT – 30-Can Leak-Proof Soft Pack Cooler

Weight: 3.94 lbs | Capacity (L): 16 L | Materials: BPA-free Plastic
TOURIT has always been known for producing top-notch coolers, and this model is certainly no exception. With a 30-can capacity and three-day hold time, this masterpiece can fill your needs regardless of trip duration or cargo volume.
This is also one of the most durable coolers you'll ever see. Its impact-resistant shell can withstand UV rays and any sharp object that may seek to puncture it.
It's also absolutely leak-proof and waterproof. You know the durability is on-point since TOURIT provides a three-year warranty.
If you were impressed by the dual-handle functionality on the OlarHike cooler, then you'll love TOURIT'S triple-handle. You can use the shoulder strap, top handles, or side handles to carry your cargo.
It's worth noting that you should clean the interior (handwash only) after each use to keep the cooler in peak condition. This is even more important if you use it in saltwater environments, such as a picnic on the beach.
Pros:
30-can capacity
Holds ice for up to three days
Impact, UV, and puncture-resistant shell
Waterproof and leak-proof
Three-year warranty
Triple-handle
Cons:
Susceptible to damage if the interior isn't cleaned after use in saltwater environments.
Best for: campers looking for a durable cooler at a reasonable price.
Best Soft Coolers – Compared
Choosing a Soft Cooler
When it comes to choosing a cooler for your camping trip, there are quite a few factors to consider. In the interest of making it easier for beginners, I've written up this guide that will cover all the essential details.
Soft Cooler Type
First, we've got backpack coolers. These are coolers that are fully capable of being carried like you would a backpack.
Then you've got picnic coolers. These are generally a bit smaller and feature only one strap for carrying.
A backpack cooler will be bigger and more versatile. Use it for picnics, camping trips, and day hikes.
On the other hand the picnic cooler, you won't want to carry too far, and I'd reserve for picnics and car trips.
Weight
The first thing that you should look at is the weight of the cooler itself. After all, you're going to be carrying quite a lot of cargo within it. If the cooler weighs a lot on its own, you could struggle to get all that mass up to your camping spot.
Higher-end coolers, while pricey at times, tend to be lighter since they use cutting-edge materials. These fabrics can be durable without getting too heavy.
A great example of this is the YETI Hopper BackFlip. Despite being tough as nails, it only weighs a pound.
Finding a cooler that's light will be well worth the cost since you'll be able to take more cargo along without being over-encumbered. Lighter coolers tend to be more durable, too, because they're usually made of premium materials.
Insulation and Ice Retention
Soft coolers use some type of polyethylene foam as insulation. There are two types of PE foam:
Closed-cell foam has air bubbles trapped inside and kept away from each other.
That way, it prevents any airflow at all. Open-cell foam isn't as dense, so air bubbles can flow around.
Between the two, closed-cell foam is much better at insulating.
However, since it's dense, it's also heavier than open-cell foam. Furthermore, that means it's also more expensive.
Open-cell foam isn't as effective as insulation, but it's a cheap alternative.
Packability
Once you go through your entire food supply, there's no reason for the cooler to take up the same amount of space, right?
Ideally, you want a model that can pack down pretty compactly. At the very least, its sides should be foldable, allowing you to store it easily when not in use..
Comfortability
Once filled with food or drinks, your soft cooler will get much heavier. And since you'll be carrying it around, it needs to be comfortable.
If it's slightly heavier, a strap can make it easier for you to carry it around. But unless it's padded, it will cut into your shoulder.
In case it features a carry handle, it should be ergonomic and non-slip.
Portability
Unlike a cooler that you might have at home, you should pay attention to portability when choosing a model to bring along on your next camping trip.
While the weight is definitely a factor, other things like the shape of the cooler can come into play as well.
The handle arrangement can also make a particular model easier to carry around.
Some of the options that I covered above have two or even three separate handles that you can use.
The ability to switch between multiple handles depending on the weight of your cargo is handy.
Even better if you get a soft cooler with a backpack like the IceMule Pro or the YETI Hopper M20 Backpack Cooler.
If you're lucky enough to have some camping buddies who already own coolers, then see if you can borrow them.
Taking different models out into the field for a live test is the best way to gauge its performance in a real-life environment.
Cooler Capacity
Of course, what good is a fancy cooler if it can't accommodate all your cargo. When picking out a model, you should ensure that it has enough storage capacity to fit everything that you'll need to store during your camping trip.
The amount of storage required will vary depending on how long you'll be residing in the great outdoors, but a safe estimate is nothing lower than 20 cans. It's worth noting that high storage capacities also make it possible to bring more ice along.
The ability to take extra ice with you means that your cooling time will increase, even if you're camping in particularly hot spots. This is why I often advise that campers go for large coolers when they're going on summer trips.
By the way, these air conditioners are great for summer trips.
DOs and DON'Ts
There are some practices that you can implement to make the most of your cooler. Likewise, there are some things you shouldn't do as they can hamper the performance. Here's a concise list of all the things to keep in mind:
DO
Pre-chill the cooler with what I like to call a "sacrificial ice pack"
Freeze your food and drinks before storing them in the cooler
Use a 2:1 ice-to-cargo ratio
Fill the cooler completely as any air pockets will speed up the melting process
Block ice will last longer but won't chill your cargo as quickly
DON'T
Drain melted ice as it will create air pockets
Repeatedly open the cooler to check on the ice status as this will let hot air in
Stick your hand in the cooler (body heat rapidly melts ice)
Difference Between Soft and Hard Coolers
Of course, we all get the fact that these two types of coolers have different sides. But what does that actually mean?
First, they don't have the same insulating ability.
Hard coolers can keep your food cold for up to several days, while soft coolers can provide no more than several hours to a day of insulation.
The same goes for durability. Hard coolers, being made of sturdier materials, can last you a decade or more.
Soft coolers, on the other hand, aren't anywhere near that durable.
But of course, that doesn't mean hard coolers aren't always the best choice.
Soft coolers are much lighter and usually foldable, so they're better for hiking and backpacking.
I also like to bring my soft cooler for weekend trips, carrying water and drinks that we'll use during the trip.
Then once we finish the drinks, we can easily pack up the soft cooler making it less of a hassle to pack up and head home.
Furthermore, they're much more affordable. That's something to keep in mind if you're on a budget.
FAQs
Can you put ice in soft coolers?
Yes, you can. However, it really depends on the quality of the zippers and closures.
Low-quality zippers often aren't waterproof, so they'll leak. But a soft cooler like the IceMule Pro can easily handle ice without leaking.
What soft cooler holds ice the longest?
Currently, Titan Deep Freeze holds the first place as the cooler that holds ice the longest.
This model is capable of holding ice for up to 70 hours.
Are soft coolers worth it?
Definitely. You can find pretty decent models at a more than affordable price. You can use them for at least a few years to a decade, which already makes it worth it.
How long do soft coolers stay cold?
That depends on the quality. Low-quality coolers will keep your food cool for no more than a few hours.
Premium models, on the other hand, can last 1-3 days.
Also see: Best Cooler Brands
What size soft cooler should I buy?
That depends on how many people you're camping with.
A 30L soft cooler is suitable for a single-day trip with your family. But if you're camping solo, 15L or less may be enough.
How do you clean a soft cooler?
In general, you can clean a soft cooler the same way that you clean a regular camping cooler. Rinse it off, and use a mild dish soap and a sponge.
For pesky stains and odors, you may need to create a baking soda/water mixture or try vinegar.
However, we always recommend checking the cooler's manual and cleaning instructions to ensure the best results.
Our Verdict
When you look at all the variables like weight, portability, and storage, it becomes rather clear that the IceMule Urbano Cooler is the clear winner.
Of course, that's just my opinion, and you're welcome to go for any of the other options I covered in this article.
Plus, you can't argue with the fact that it looks fantastic. Sure, it's not the cheapest cooler out there, but I'd repurchase it in a heartbeat.