This is our review of the IceMule Pro Cooler.
My friends and family know that I love to take all sorts of day trips and always, always, pack a cooler or two.
Depending on the type of trip I am taking, I have various sized coolers. For camping trips, we have bigger more robust coolers. And for short car trips, I'll take a smaller soft-sided cooler that can hold 8 or so water bottles and a few snacks.
But for day hikes and day trips I often struggled between bringing a big heavy cooler to keep our food and beverages cold, or simply forgo it to cary less weight and use my hiking backpack.
And that is where the IceMule Pro cooler entered my life!
IceMule Pro Cooler Review – A Lightweight and Durable Soft-Sided Backpack Cooler
IceMule Pro – Key Features and Materials
The IceMule Pro is a great all-around cooler that can truly test the limits of what you think a backpack cooler can be.
A huge upgrade from the single-strap IceMule Classic, the IceMule Pro is a full-fledged backpack.
It's also a full-fledged cooler. No joke. We regularly use this cooler as our weekend/road trip cooler.
The IceMule Pro Large 23L weighs only 3.2 lbs out of the box, yet can hold up to 18 standard cans PLUS ice.
Frankly, I was able to get much more into the IceMule Pro than I anticipated. It is bigger than you'd think, and packed full it was pretty close to the limit of weight that I can hold with my bad knee.
The IceMule Pro was able to stand the tests that we put normal coolers through – and it was able to do so leak free, while keeping our drinks cold for close to 48 hours (manufacturer says 24 hours).
IceMule's MuleSkin ET™ is seriously thick exterior fabric, along with their equally as tough MuleSkin EV™ interior layer. They also use a PolarLayer™ Insulation foam in-between the two layers. Altogether this combination was tough, durable, and performs well.
Overall, we are very pleased with the overall performance, value, quality and durability of the IceMule Pro Cooler.
The only downside, if any, was that it was a bit tricky to figure out how to properly close it up the first time around. But no huge deal. After all, many products have a bit of a learning curve.
Different IceMule Pro Sizing Options
The IceMule Pro Cooler comes in several sizes:
Pro Large 23L
Pro X-Large 33L
Pro XX-Large 40L
Personally, I found that the Pro Large 23L was more than enough for our needs. The first trip we used it on was a week-long road trip (non-camping).
Usually, I like to take a mid-size Yeti Roadie Cooler, but often find that it is just big enough to cause me problems when packing our car.
With the IceMule Pro 23L, we had no such issues. We were able to pack it into the back of the car in a space that other coolers can only envy.
Obviously, the X-Large and XX-Large will be bigger and take up more space, but the IceMule Pro's flexible material and slim design makes it a much more manageable cooler than any hard-sided cooler out there.
I should also add that all of the IceMule Pro Backpack Coolers have a 19″ opening at the top. So they become vertically larger, but not wider.
Still, my recommendation would be to stick with the Pro Large, unless you are a particularly tall and strong person.
Note: IceMule has now launched a new sleekly designed Urbano cooler with 30 liters. I recommend checking that out as well!
IceMule Pros and Cons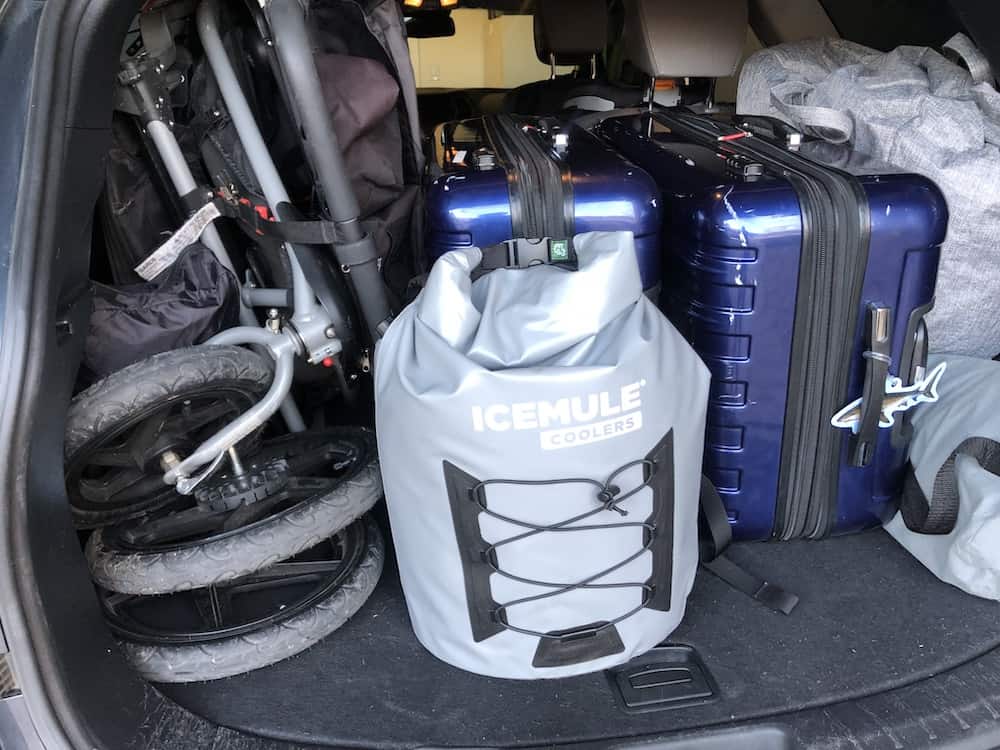 While I found that the pros of using the IceMule Pro far outweighed the cons, they are still worth noting.
Pros
At 3.2 lbs, this is as lightweight a cooler as you can get for the capacity
The IM Air Valve helps to add insulation or decompress for storage
Makes carrying your food and drinks to hard to get to places much, much easier
Backpack straps are comfortable and easy to use
A waterproof MuleSkin ET™ outer layer, with an equally tough MuleSkin EV™ inner layer, with PolarLayer™ Insulation keep your food and drinks cold for up to 24 hours
It's collapsible for easy storage and packing when not in use
Cons
Can get fairly heavy for an average user, when fully loaded
A bit confusing to get closed properly the first time around
Best Uses
The IceMule Pro Cooler is a cooler with a backpack, not a backpack with a cooler.
It can be used for nearly anything you can think of. In fact, we'd recommend getting to use for nearly any trip.
It's going to be great for day hikes, boat trips, weekend trips, camping trips, road trips, and pretty much anything else you can think of.
The IceMule Pro – An In-Depth Review
We love to test and review gear. You'll find us testing gear that we already own and love, are purchasing for retail prices (just like you), or items that are sent to us by the manufacturer.
No matter how we procure a product, our goal is to thoroughly test and review each item and rate it against its peers.
Our goal is to remain as unbiased as possible.
We take tedious notes, and compare even the tiniest of details. Everything then goes into a spreadsheet for analysis from the dimensions of the product to cost comparisons, user ratings, etc
For the IceMule Pro, we spend days using, testing and analyzing it on the following metrics:
Performance
Comfort
Quality & Durability
Value
Ease of Use
Portability
User Rating
Overall Score
All of the above metrics are factored into our algorithm to create an Overall Score.
The IceMule Pro had pretty great ratings across all of the categories, and came in with an 8.5 overall rating.
Performance
Nothing is more important in a cooler, than performance.
In this case, we are specifically looking at the cooler's ability to keep things cool – an insulation rating.
Plus, we also want to look at if the capacity rating of 18 standard cans is correct as well.
Given the manufacturers claim that the IceMule Pro can keep things cool for 24, it was a simple test.
First we used freezer packs, and then we used ice. In both tests, the IceMule Pro performed great keeping the beverages that we put inside cool for nearly 48 hours.
Capacity-wise, we found that the cooler can hold the 18 cans that were specified and more if you organize correctly.
We gave the IceMule Pro a 7.5 out of 10 rating on Performance overall. This is a very high score, especially for a soft-sided cooler.
Comfort
Because this is a backpack cooler, we also want to rate on comfort.
We found that carrying the backpack full of beer at near full capacity was easy enough. The IceMule has padded ergonomically designed straps that make carrying a large load even easier.
Now, when we packed the cooler full of ice, it became very heavy – still the the double padded straps worked their magic and eased the load.
We rated the IceMule Pro an 8 out of 10 for Comfort.
Quality and Durability
The Pro 23L that we tested was an excellent well-made product.
From the welded seams to the double padded straps, and the tough-as-nails MuleSkin™ fabric, everything was made with high-quality craftsmanship.
Meltwater was no issue. The fabric held up well, and didn't cause any condensation or leaks elsewhere for us.
While we saw some user reports on the durability of the straps, we believe that these are more one-off manufacturer defects than any problem with the cooler itself.
We rated the IceMule Pro an 8 out of 10 for Quality and Durability.
Value
The best way to assess the value of any product is to compare with its competitors. The IceMule Pro stacks up well to the competition.
It isn't the cheapest soft-sided cooler on the market, but given it's size, capacity, and materials, we found the IceMule to be of great value.
We rated the IceMule Pro an 8 out of 10 for Value.
Ease of Use
As discussed earlier, there is a bit of a learning curve with how to properly fold and close the cooler.
But once you figure that out, it is very easy to use. I loved getting ice from an ice machine – I was able to take the cooler directly to it and not having to have any in-between ice-bucket type device.
Meltwater was easy enough to dump out. Most hard-sided coolers are awkward and tough to full drain. Not so, with the IceMule Pro.
We rated the IceMule Pro an 8 out of 10 for Ease of Use.
Portability
Most backpacks are just that – portable. However, we want to compare the IceMule Pro not only to other soft-sided coolers, but hard-sided as well.
When stacked up against hard-sided coolers, there is no comparison on portability. The IceMule Pro wins.
Not only was it easy to bring wherever we wanted, it was also very easy to fold up and pack up when we were done with it. This gives it perfect points for portability!
We rated the IceMule Pro an 8 out of 10 for Portability.
User Rating
Last, but not least are user reviews!
We can get a lot of great feedback from user reviews, but they aren't perfect. The average cooler owner won't ever leave a review, so reviews are typically left by users who either have a really favorable or unfavorable experience.
In the case of the IceMule Pro, almost all of the reviews were favorable.
We read through all of the reviews, just to be sure, but even the bad reviews all had something good to say. After taking that all into account, we were able to finish off our rating.
We rated the IceMule Pro a 9.7 out of 10 for User Rating.
IceMule Pro FAQ:
How easy is it to use?
The IceMule Pro can be a tad confusing to use the first time around, but after a couple minutes of playing around with it and taking it out on your first trip, you won't have any problems at all.
Once you get the hang of how to fold the top and clip, you'll be headed out on the trail in no time.
How does the IceMule Pro cooler work?
The IceMule Pro cooler uses proprietary tough as nails waterproof fabric and insulation to keep your food and drinks cold for up to 24 hours.
It is a collapsible backpack soft cooler, that weighs only 3.5 lbs and is easy to store and pack away.
When full, you simply roll the top of the cooler down and then clip it shut. Then you can adjust the air using the IM AirValve to add additional insulation.
Are IceMule coolers worth the money?
In our opinion, yes.
They are more versatile than you'd ever expect and can use these coolers for anything from a day at the beach to weekend road trips and from camping trips to days out on your boat.
Also see: The Best Cooler Brands
How long do IceMule Pro coolers keep things cool for?
IceMule claims that the IceMule Pro keeps things cool for 24 hours. We found this to be entirely true, and that in fact IceMule Pro coolers can keep food and beverages cold for even longer under the right conditions.
However, after 24 hours we recommend replenishing with fresh ice.
Is the IceMule Pro heavy when full?
Yes, the IceMule Pro Cooler is very heavy when filled to full capacity. For the average person, we'd recommend the Large 23L version, over the even bigger XL and XXL sizes.
How do I clean my IceMule Pro?
Since it's fabric is waterproof and tough as nails, cleaning the IceMule Pro is the same as cleaning any other cooler.
You can simply wet it down a little on the inside and outside, then wipe it down with a mild-dish soap and a sponge.
Then rinse off the soap and use a microfiber towel to dry it off.
Our Verdict
The IceMule Pro Cooler functions as a great all-around cooler.
After our thorough test and review, we scored it with a 8.5. You really can't get any better than this soft-sided collapsable cooler.
Not only is it made with tough as nails fabric, but it keeps your food and beverages cold for over 24 hours.
You won't regret making this purchase. I know I didn't!
Also, be sure to check out how to keep food cold while camping to make sure that you dot all of your i's and cross all of your t's. When it comes to food safety, this is no joke!
More Cooler Reviews: