This is our review of the ICEMULE Urbano Backpack Cooler.
When we first reviewed ICEMULE's Pro Backpack Cooler last year, we were blown away by the ice retention, comfort, and ease of use.
This year, we put the newest ICEMULE to the test with the Urbano 30L backpack.
We were simply blown away by the sleek design of the backpack, the materials used, AND the functionality of the pack itself.
It not only holds more than the ICEMULE Pro, but it has additional waterproof storage pockets, two water bottle side pockets, and a hidden compartment.
Plus it looks badass. The Urbano can be confused for a regular backpack, but it is not.
It's a damn good cooler…in fact, it's the best backpack cooler on the market today!
ICEMULE Urbano Backpack Cooler: Key Features
Cooler Type: Backpack | Weight: 4 lbs | Capacity (L): 30 | Capacity (cans): 20+ ice | Ice Retention (hrs): 24+ | Dimensions: 14.5 x 8.5 x 18 inches | Materials: 1,000-denier ripstop tarpaulin/vinyl/nylon
The IceMule Urbano Backpack Cooler is a versatile and stylish backpack cooler that keeps your drinks and snacks cold wherever you go.
Size
With its sleek design and spacious 30-liter capacity, the IceMule Urbano can haul 18-20 standard cans plus ice, or up to 6 wine bottles.
Franky, I found the main compartment to be plenty big enough to pack food for 2 full days.
But it can hold enough to become very heavy, so I'd stick to the less is more approach here.
We also appreciate the additional water bottle side pockets, and the two additional dry pockets for gear.
Quality & Durability
The IceMule Urbano is made from tough and durable ripstop materials, ensuring its longevity and resistance to wear and tear.
It features a comfortable, padded back panel and adjustable shoulder straps, making it easy to carry even when fully loaded.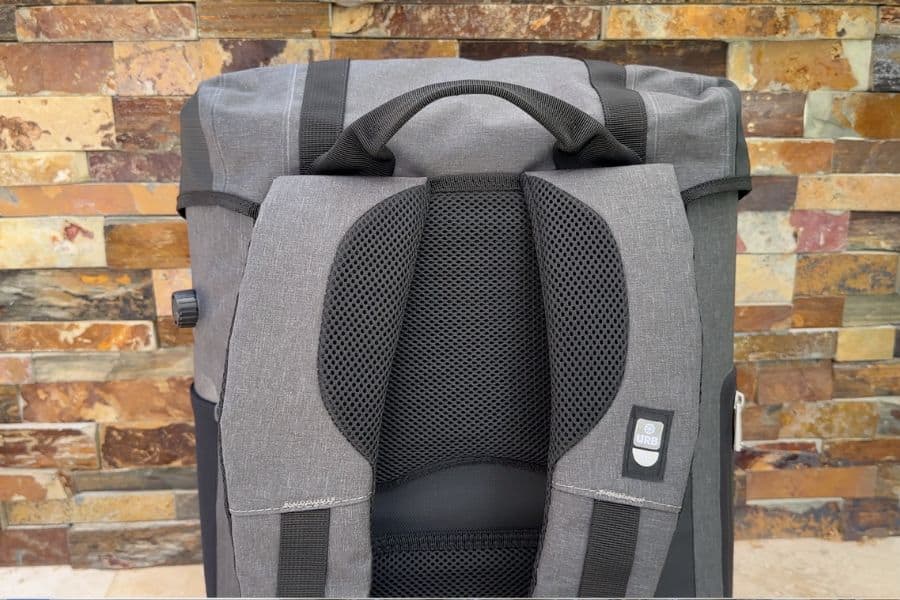 Having owned both this and the ICEMULE Pro, I can say that the materials on the Urbano are a huge upgrade.
From the front magnetic clips to the ripstop material itself, everything oozes with quality and craftsmanship.
Ice Retention
Equipped with ICEMULE's PolarPlus™ insulation, it provides over 24 hours of ice retention – and the air valve on the side lets you add air to the bag for increased insulation.
Based on our previous testing with ICEMULE's products, we've seen their products hold up to 48 hours of ice without any issues.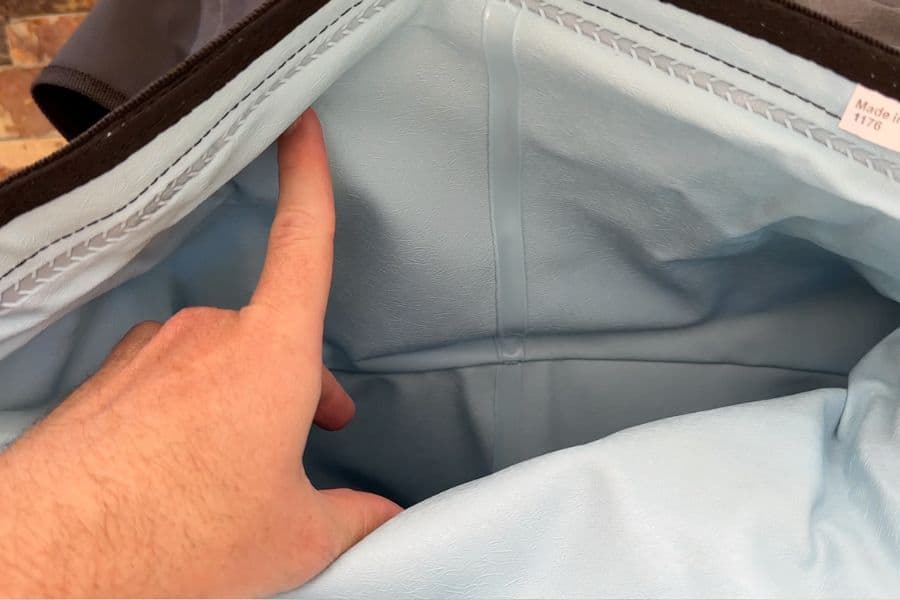 Features
The roll-top closure allows for easy access to your items while maintaining a watertight seal.
Plus, the cooler is completely waterproof and will float if it goes overboard.
It features a weatherproof front pocket and 2 side accessory pockets to store small essentials; the backpack hood also features a hidden weatherproof pocket for stashing extra items.
Basically, you can feel comfortable that ICEMULE put everything they had into this backpack cooler.
Ease of Use
One of the things that is frustrating about the ICEMULE Pro is the roll-top closure was sometimes hard to figure out.
That is completely solved with Urbano. The materials they use in the Urbano, bend and flex much easier and the enclosure is hidden by the hood which makes it really easy to get in and out without having to worry about any leaking air.
It's also extremely easy to clean, as everything wipes off quite easily.
Portability & Comfort
It weighs 3 lbs and 8 ounces. Even packed with ice and cans, the Urbano is comfortable and more ergonomic than the Pro.
Closed, its dimensions are 14.5"x8.5"x18"
Open they are 14.5"x8.5"x25"
The top opening: 16"
And the front Pocket: 9.5"x1.5"x7"
It's a really nice size for transporting food and beverages and is comfortable enough that I have no problem lugging this a quarter mile away to our community center pool.
Warranty
All IceMule products come with a 90-day warranty.
Pros and Cons
Pros:
Stylish and sleek as hell
30L capacity – holds up 20 standard cans, plus ice
24 hours or more of ice retention
Completely waterproof and buoyant for water activities due to IM AirValve
Comfortable padded shoulder straps and hidden interior pockets
Cons:
Can get fairly heavy for an average user, when fully loaded
Best Uses:
Beach Days
Picnics
Boating
Hiking
Day Trips and Weekend Trips
Is the ICEMULE Urbano Backpack Cooler worth it?
The ICEMULE Urgbano is the best backpack cooler on the market today.
It's extremely competitively priced and contains everything you'd be looking for in a backpack cooler.
With a 30-liter capacity, it can hold 20+ cans and ice. But it really shines with its 24+ hour ice retention and its sleek design.
I mean this thing looks like a regular backpack.
With two additional side compartments, a large front waterproof storage pouch, and a hidden compartment we love, love, love this cooler.
Also see: The Best Cooler Brands
The ICEMULE Urbano is too expensive, do you recommend any other coolers?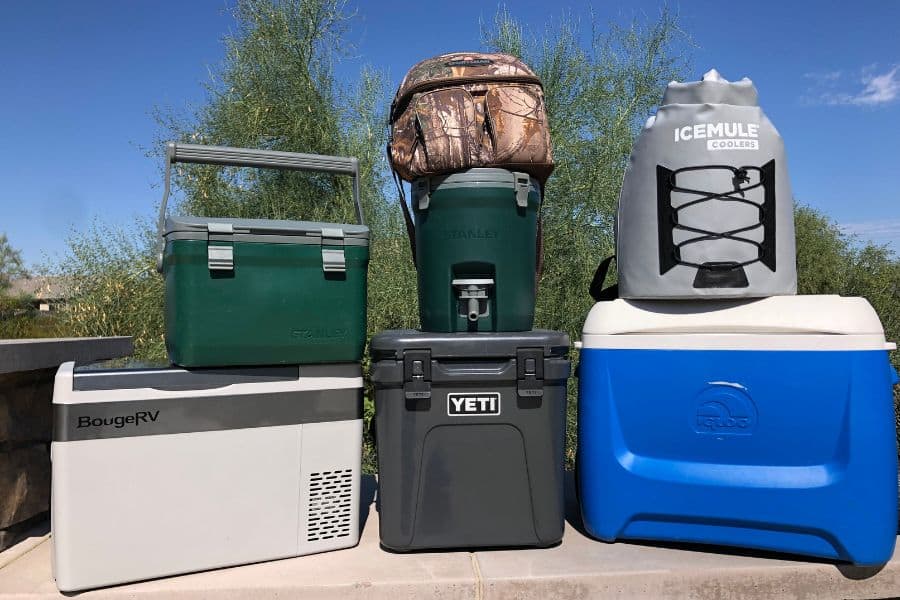 We think that this product is very nicely priced, as you won't find anything quite like it for the same value.
But the ICEMULE Pro Large is about $30-35 less and is equally awesome though a bit more "standard."
We also like the Coleman Sportflex Cooler Backpack and the Carhartt Insulated 24 Can Two Compartment Cooler Backpack as budget-friendly options that are about $100 less.
But be sure to check out our full ranking of the best backpack coolers. We've also got some nice alternative soft cooler options here.
And of course, you may actually need a standard cooler if you are going camping. So you should check out our ranking of the best coolers for camping and the best electric coolers as well!
Frequently Asked Questions
Does the ICEMULE Urbano float?
Yes, the ICEMULE Urbano and all other ICEMULE coolers are designed specifically to float.
The Urbano is also waterproof, so you don't have to worry about any water getting inside your cooler or storage compartments.
Is the ICEMULE Urbano waterproof?
Yes, the ICEMULE Urbano is waterproof. Made with welded seams and a zipper-less roll-top closure, water can't get inside the cooler.
You can also add air which will aid in the Urbano's buoyancy.
How do you use an ICEMULE Air Valve?
ICEMULE air valves are pretty straightforward. You turn left to open up and then can add or remove as much air as you need, then turn right to close.
Can the ICEMULE Urbano be used as a dry bag?
Yes, you can use the ICEMULE Urbano as a dry bag. Due to its design, it probably isn't the best idea to submerge this product in the water for an extended period of time, but it is waterproof and it will float.
How long will ice last in an ICEMULE Urbano cooler?
ICEMULE claims to have 24+ hour ice retention, though we've found that you can keep ice in the cooler for much longer in the right conditions.
You should expect to need to dump out water and replenish ice after a day or two.
How can I clean the ICEMULE Urbano cooler?
First off, make sure to pour out any ice and water and wipe down your cooler with a towel, and hang it out upside down to dry.
Then you can spot-clean any potential issues with a baking soda paste (three parts baking soda, one part water, and five to ten drops of dish soap).
Also see: How to Clean a Camping Cooler
Our Verdict
So whether you're hiking, camping, boating, or simply enjoying a day in the sun, the IceMule Urbano keeps your refreshments chilled and conveniently accessible.
Its sleek design and great 24+ hour ice retention make it the best backpack cooler on the market today.
We highly recommend it!
More Cooler Reviews: