A good cooler can really step up your camping game. That's why we're here to review the best cooler brands on the market.
Together, we can explore which brands might work for you and your next camping trip. Think of all the things you could cook…
There are numerous brands on the market that offer a range of coolers.
However, today we'll talk about the best cooler brands that have an established reputation in the niche.
Here are the six top cooler brands we'll be looking at today:
The Best Cooler Brands
Igloo

Known For: value brand | Price: $$$ | Sizes (Hard Coolers): 4 – 150 quarts | Warranty: 1 year
Igloo has been around since 1947, but it's mostly known for its 1971 product – the Playmate cooler.
The world's most recognizable cooler is just one of the brand's available models with their distinct design.
However, while Igloo puts a lot of focus on looks, this brand's ice retention is not quite at par with more high-end products.
Igloo coolers are made with injection molding technology, and they keep your food and drinks cold for about 3 days.
If you plan on camping just for a few days, then the Igloo cooler is a suitable option.
They offer a wide range of capacities, beginning with small, 4-quart models to XL 125-quart coolers.
What's great about Igloo coolers is that they often include a bunch of accessories, like a fish ruler or a bottle opener.
While these aren't essential, they can come quite handy on certain occasions.
Igloo has a nice range of soft coolers, as well. From 3-can fanny packs to 36-can duffel and tote bags, there's a model for you.
Pros
Different designs available
Wide capacity range
Plenty of additional features
Nice range of soft coolers
Cons
Ice retention only up to 3 days
Less durable than rotomolded coolers
Best for: retro series
YETI
Known For: premium coolers | Price: $$$$$ | Sizes (Hard Coolers): 24 – 350 quarts | Warranty: 5 years
YETI is a brand that specializes in coolers, and the one that pioneered high-end products in this niche.
These products come with a hefty price tag, but it's one that's justified. The brand makes no tradeoffs; it uses the latest technology to create coolers that actually work.
And while YETI doesn't list claimed ice retention in the product listing, the large coolers can retain ice for up to 10 days in ideal conditions.
YETI has a huge range of hard coolers that can hold anywhere from 24 to 350 quarts.
So whether you're solo camping for a day, or camping with a family for the whole week, there's a suitable model for you.
And while Yeti's hard coolers are all the rage, the brand's soft coolers are also worth a mention.
There are several options available: from a lunchbox that fits 6 cans, to the M30 model that can hold 42 cans without ice.
Pros
Chic design with glossy finish
Huge capacity range
Durable rotomolded construction
High ice retention
5-year warranty
Cons
Very high price
Handles on certain models aren't very comfortable in hand
Best for: premium coolers
Pelican

Known For: durability | Price: $$$$ | Sizes (Hard Coolers): 8 – 250 quarts | Warranty: lifetime
Pelican is one of the industry leaders in making durable and rugged storage cases.
From cameras and laptops, to guns and drones, it felt natural for the brand to also start making hard coolers.
And really, Pelican coolers are known for their durability. What's more, they're IGBC Certified Bear-resistant, so you can rest assured no bear will feast on your food.
Pelican offers coolers in different capacities, ranging from 8 to 250 quarts. But unlike most other brands, Pelican has a single-model range.
Still, all their coolers have standout features, like fish rulers and cup holders.
They also come in a variety of colors, so you can match the cooler with the rest of your gear.
Pros
Excellent ice retention
IGBC Certified bear-resistant coolers
Tough, durable design
A bunch of colors are available
Wide range of capacities
Easy-to-use push-and-pull latches
Lifetime warranty
Cons
Best for: durability and bear resistance
IceMule
Known For: soft coolers | Price: $$$$ | Sizes (Soft Coolers): 9.5 – 42 quarts | Warranty: 90 days
Unlike other brands we just reviewed, IceMule specializes in soft, backpack coolers.
While there's a slight difference between regular soft coolers and backpack coolers, the premise is the same, but backpack coolers will have just that…backpack straps!
These coolers are designed with hikers in mind, so they're quite comfortable to carry while providing decent room for keeping your stuff chilled.
Depending on the model, IceMule coolers range in capacity from 9.5 to 42 quarts, so there's something for everyone.
What's really great about these coolers is that they're designed to withstand splashes and spills.
In fact, they will even float if they unexpectedly are dropped into the water.
This makes them a great option for water activities, like boat riding and kayaking.
Pros
Carried on the back
Decent capacity range
Splash and spill-proof
Cons
Shorter ice retention compared to other models
Best for: soft coolers
Grizzly
Known For: large models | Price: $$$$ | Sizes (Hard Coolers): 15 – 400 quarts | Warranty: lifetime
Grizzly coolers are made with outdoor activities like fishing and camping in mind. That's why they're extremely rugged and durable.
What's more, all models are certified bearproof, so they're safe for use in bear country.
Given their purpose, it's understandable why the brand doesn't offer very small hard coolers.
If you need something to keep a few cans of beer chilled, you can choose from the brand's soft cooler range.
But if you're in need of a large cooler, then Grizzly has something for you.
Among the brands we're reviewing today, Grizzly has the largest hard cooler available – which has a capacity of a whopping 400 quarts!
This is quite handy for hunting or fishing.
What's also great is that Grizzly offers a lifetime warranty on all its products.
No brand would do that for a product that's not built to last you that long (if taken proper care of, of course).
Pros
Very large models available
Certified bearproof products
Rugged and durable rotomolded construction
Tons of color options available
Additional accessories can be bought separately
Lifetime warranty
Cons
Best for: large models
Coleman
Known For: budget coolers | Price: $$ | Sizes (Hard Coolers): 8 – 150 quarts | Warranty: 1 year
Coleman is a brand well-known for making decent-quality budget products.
The manufacturer knows what to save and what to splurge on, which is why it manages to keep an affordable price tag.
When it comes to coolers, the brand definitely puts focus on the durability and useability of the design.
But when it comes to cutting costs, that's done at the expense of ice retention.
This is not to say that Coleman coolers are bad. The brand's high-end coolers can retain cold for up to 5 days, which is pretty good.
Less expensive models remain chilled for just a few days, which is still decent for shorter trips.
It's also worth noting that Coleman has something for everyone. They offer sizes ranging from 8 to 150 quarts.
The brand's soft cooler range is also quite impressive, which ranges from holding 6 to 42 cans.
These coolers can retain ice from half a day to 3 days, depending on its quality.
Pros
Affordable models
Model capacities range from 8 to 150 quarts
Decent range of soft coolers
Large models have wheels
Cons
Ice retention only up to 5 days
Limited color selection
Best for: budget coolers
Quick Comparison Of Cooler Brands
Brand Breakdowns
Let's take a look at some of the most important qualities in a cooler and compare which brands thrive with what.
Variety In Sizes & Capacities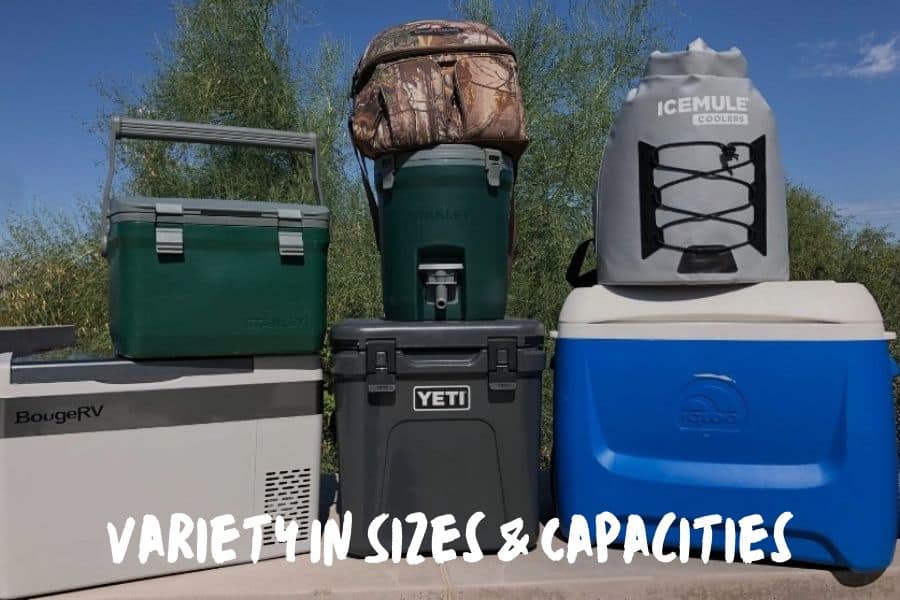 As you can see from the chart, most brands offer a wide range of cooler sizes.
Now, YETI doesn't actually use quarts to express capacities. They actually measure external dimensions, not internal storage space.
To express a cooler's capacity, YETI states how many cans of beer and pounds of ice can fit inside the empty cooler.
In the case of taller coolers, it also specifies how many bottles of wine you can store.
If you're looking for smaller coolers (with capacities up to 16 quarts), Igloo and Coleman have quite a few models in this range.
When it comes to larger coolers, YETI and Grizzly offer some XL coolers that are designated for big game hunting.
Most brands have soft-sided cooler models that fit up to 30 cans.
If you need an even larger model than that, IceMule and Coleman have some pretty large ones available.
Insulation & Ice Retention Performance
When it comes to insulation, hard-sided coolers beat soft-sided coolers any day. But not every hard-sided cooler is the same.
To make a cooler using the injection molding technique, plastic pellets are melted and injected into a mold using hydraulic pressure.
When it comes to rotomolding, no pressure is involved.
The plastic is loaded into a mold, then rotated until the mold's inside is uniformly coated. This gives you a seamless design in the insulation.
Why does this matter?
Well, since they have uniformly thick walls, rotomolded coolers have better ice retention. In other words, every inch of their surface has the same insulation abilities.
That's not the case with coolers made with injection molding technology, which are thinner in the corners.
These are the "weak points" – the areas that aren't as well-insulated as the rest of the cooler.
Brands like YETI and Grizzly use rotomolding for all of their products, which is reflected in their price.
Companies like Coleman or Igloo typically feature injection-molded coolers in their budget range.
Just based on that, you can expect YETI and Grizzly coolers to retain ice for longer compared to the other two.
However, you won't see ice retention stated on the YETI or Grizzly product.
In a way, that's a smart move from the brand's side. Given both brands' reputations, you just know that the coolers can hold your stuff chill for days.
But determining how long exactly it can do that depends on a lot of factors, including whether you're using it the right way.
Another brand that doesn't typically state how long its coolers keep cool is Coleman.
The only exception is the 316 Series coolers, which allegedly keep food and drinks cold for up to 5 days.
Based on that, we can expect less premium Coleman coolers to have shorter ice retention. The same can be said for Igloo coolers.
When it comes to Pelican, the brand claims that its coolers will keep your food and beverages cool for up to 10 days.
But in reality, only the largest models (over 100 quarts) may keep your stuff chilled that long.
Small coolers (around 20 quarts) will only stay cool for about three days, as there's much less ice inside.
Given they're soft-sided coolers, IceMule models don't stay cold anywhere near as long as their hard-sided counterparts.
Most models from this brand keep your food and drinks cool for one day.
The exceptions are Igloo's Traveler series and Boss series, which stay chilled for a few days.
That's because these models feature closed-cell foam for insulation, which retains cold better than open-cell foam.
Durability & Robustness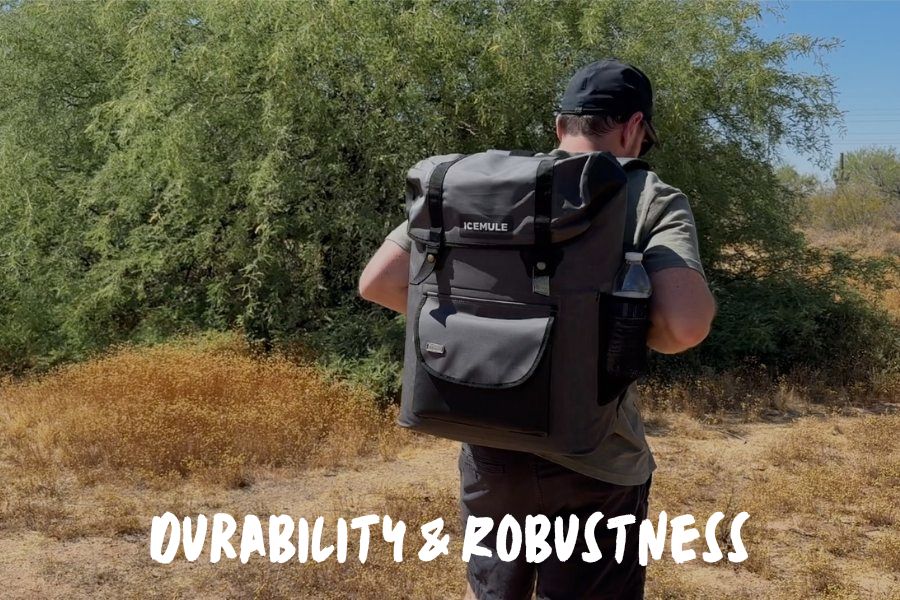 As we established, injection molding products are inevitably thinner at the corners.
However since rotomolding applies insulation more evenly, the resulting product is more durable.
This is the case with YETI and Pelican coolers.
Budget models made with injection molding technology may be less durable compared to rotomolding counterparts.
But exactly how less durable depends on a lot of things, including the thickness and ruggedness of the material, the types of latches, and the quality of the hinges.
Standout Features & Innovations
When choosing the right cooler, capacity or ice retention is a good place to start.
However, it's the tiny details that usually make a difference and help you make the choice.
In the case of larger models, puncture-resistant, heavy-duty wheels are of great help when it comes to transportation.
Now, the only question is – what do these brands consider "large"?
YETI and Pelican feature wheels on coolers with a capacity ranging from 40 to 60 quarts.
However, neither brand has them on the largest models, which weigh over 40 pounds while empty.
Coleman, on the other hand, includes wheels on models with a capacity between 80 and 100 quarts, which is great for any solo camper in need of such a large cooler.
Both Pelican and Coleman include tons of small-but-cool features that may come in handy.
An integrated cup holder, a bottle opener, and a fish ruler are some examples of such features.
Are they absolutely necessary? No. But will you use them? Possibly.
Dry ice compatibility is another feature worth considering. Dry ice can keep your food and drinks cold for longer and is lighter than regular ice.
For that reason, it's great for coolers. However, not every cooler can use it.
Dry ice is frozen carbon dioxide. So when it melts, it turns directly from solid to gas.
Without a proper seal, a cooler will let that cool gas escape too soon, so all that extra money spent on dry ice will be wasted.
Brands like YETI, Grizzly, and Pelican offer plenty of models with dry ice compatibility – but not all models are.
Make sure to check whether a certain product can work with dry ice before using it.
Value For Money
Finally, you need to ask yourself – is a certain product offering good enough value for the money?
As you know, coolers can have quite a hefty price. But the real question is whether the price is worth what you get with it.
For instance, Coleman is much cheaper than Pelican. But, Pelican is more durable and has a better ice retention.
But when you add the price tag into the equation, you can say that those characteristics are only a reflection of their costs.
Now, when it comes to value, it really depends on another factor – your own opinion. It really depends on what you're looking for.
If you're only ever going for a solo, one-day trip, then you won't even pay attention to the ice retention of each model.
In that case, even the cheapest models will give you good value for your money.
Qualities Of A Good Cooler
So, what makes a cooler good?
Ultimately, it really depends on your preferences. However, there are certain factors to keep in mind when figuring out how good a certain model is.
Size & Capacity
Typically, cooler capacity is measured in quarts or liters. However, not all brands use the same units.
One such example is YETI, which uses cans to determine the capacity of a cooler.
Still, you can figure out the capacity through dimensions and comparison with similar models.
Now, when it comes to cooler capacity, there's no single best option. The best cooler is the one that has the right capacity for your needs.
If you're mostly camping solo or traveling long distances by foot, then a cooler with a capacity of up to 25 quarts will be more than enough.
You can fit a few beverages, a meal, and a small amount of ice to keep your stuff cold.
If traveling for a weekend, then a slightly larger cooler with a capacity between 25 and 35 quarts will do just fine.
Coolers ranging between 35 and 55 quarts are considered large. These coolers are perfect for a group of two for a few-day trip.
Now, keep in mind that you should utilize a 2:1 ice-to-food ratio to maximize ice retention.
This means that the larger the cooler, the more ice it needs to stay chilled for longer.
Coolers do not make cold; they only retain it.
With so much ice inside, expect large coolers to be quite heavy. It's highly likely you'll need the help of another person, at least to get that thing out of your trunk.
Coolers with a capacity of 75+ quarts are even heavier.
Even if you're camping for several days, it's better to go with two smaller coolers than one large one.
Otherwise, you'll have a pretty tough time carrying it to the campsite. These coolers are mainly designated for large camping groups.
Read More: What Size Cooler Do I Need for Camping?
Insulation Capabilities
This is, arguably, the main feature that determines whether a cooler is good or not. I mean, its whole purpose is to keep your food and drinks cool, right?
Nowadays, most coolers have a specified "claimed ice retention". These numbers should give you a general idea of how well a certain cooler can keep your foods chilled.
However, you should trust the product description too blindly.
Brands get those numbers by testing products, typically in relatively ideal conditions.
But that's probably far away from what you'll experience on your camping trip.
The closure system plays a huge role in how well a specific model can keep your food and drinks cold.
The so-called T-handles do a great job of keeping the lid securely in place, preventing cool air from getting out.
On the other hand, you might notice that many budget models don't even have latches.
Instead, they rely on the lid and the cooler body to create a seal, thus keeping the chilled air inside.
Durability
What's the point in paying a pretty penny for a cooler, only for it to last a good year or two?
Naturally, durability and ruggedness are among the most important characteristics of a good cooler.
There are many models on the market that are actually built to last you for decades to come.
Now, the molding technique plays a huge role in determining a model's durability.
Rotomolded coolers are simply sturdier and more durable compared to injection-molded coolers.
However, other features also have a say in how rugged and durable a certain model is.
Pay attention to the latches, as well. Many models feature rubber latches, which are flexible and easy to use. However, their lifespan depends on the material thickness.
Certain models use a combination of rubber and another material, usually plastic or metal. These reinforced latches are proven to be rather sturdy and durable.
Added Features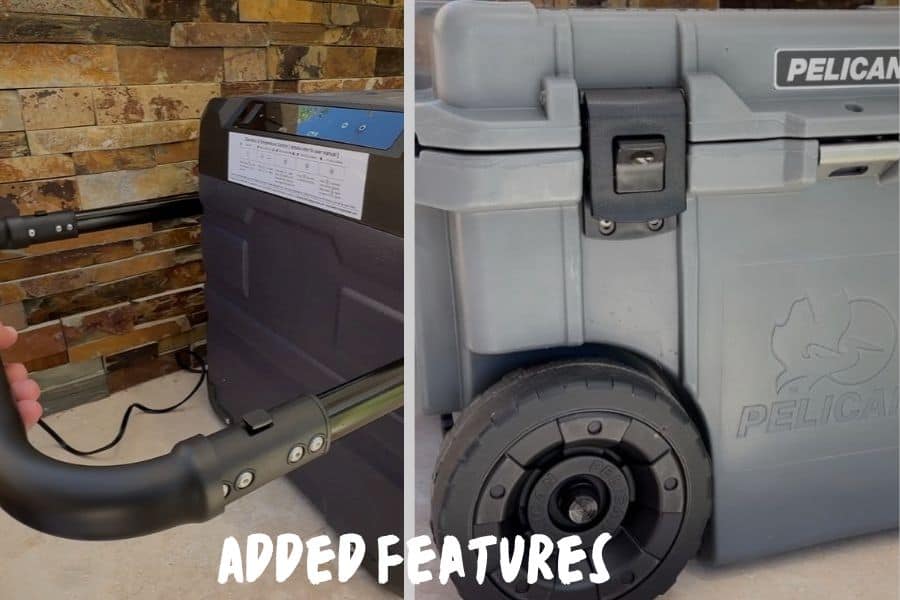 Even when not loaded, hard coolers can weigh quite a bit, with larger models going over 50 pounds.
But when you add all the ice, food, and drinks, the overall weight can hit three digits.
I don't know about you, but that's definitely too heavy for me to lift.
And why would anyone have to hurt their backs carrying such hard coolers? Luckily, many large models come with wheels.
If you're RV camping and the cooler won't leave the vehicle, then having wheels is not a priority.
But if you need to transport it a certain distance, then it's a feature worth having.
Another great thing to have is a drainage system. No matter how great the insulation of your cooler might be, ice will inevitably melt at some point.
And when that happens, you'll need to empty out the water.
Many coolers feature some kind of a cap at the base, which you pop off to let the water pour out.
A food basket is another feature that comes in quite handy.
This is basically a divider that allows you to separate fruit, veggies, or other fragile foods from the rest of the content.
Check Out: Best Electric Coolers & 12V Portable Refrigerators for Camping
Price Vs. Value
As a rule of thumb, higher-quality models come with a high price.
However, that doesn't mean that the price is always a reflection of the true value of a certain model.
Certain brands are so well-established in the branch that you're paying more for the label.
On the other hand, some models keep a low price by cutting the costs on some less important features.
But when it comes to important things, such as seals and insulation, they're willing to splurge to improve the overall quality of the product.
All in all, certain models may seem a bit underpriced for what they offer, while some may be overpriced.
But a good cooler should give you the best bang for your buck.
FAQs
Do All Cooler Brands Offer A Variety Of Sizes & Capacities?
All brands offer a variety of cooler sizes and capacities, but the range differs between brands.
YETI, Grizzly, and Pelican have a wider range compared to Coleman and Igloo, for instance.
What Is The Price Range Among The Top Cooler Brands?
Coolers from top brands can have quite a hefty price, especially at higher capacities. In many cases, the price goes well over $500.
What Kind Of Warranties Or Guarantees Do These Cooler Brands Offer?
Budget brands, like Coleman and Igloo, offer a one-year warranty on most products.
High-end brands, including Grizzly and Pelican, offer a lifetime warranty instead.
How Do These Cooler Brands Perform In Real-Life Conditions, According To Customer Reviews?
In most cases, high-end products perform very well – just like they're marketed.
With budget brands, ice retention, and durability claims can sometimes seem a bit magnified.
Are There Any Eco-Friendly Cooler Brands?
Igloo, for instance, has an eco line, which features coolers made of recycled materials. Most other brands are yet to keep up with that.
Which Cooler Brands Are Best For Specific Activities Like Camping, Fishing, Or Tailgating?
Rugged models, like Grizzly or Pelican, are excellent for such activities.
They're built to withstand heavy wear and tear, have large capacities, and can retain ice for long enough.
How Should I Clean and Maintain Coolers From These Brands To Ensure Their Longevity?
Once at home, you should rinse the cooler and clean it with baking soda and soapy water.
Then, pour a mixture of water and bleach, and let it sit for ten minutes. In case of a lingering smell, repeat the process a few times.
To Sum Things Up
As you can see, there are many great cooler brands on the market nowadays.
From budget picks like Igloo or Coleman to premium models like YETI and Pelican, there's something for everyone's pocket.
More About Coolers Below!