There are so many great bloggers, YouTubers, podcasters, and photographers out there creating amazing outdoor content on a daily basis.
Not only did I want to personally get to know them better, but I also wanted to explore outdoor influences and passion for nature.
Thus, we've launched the I Love The Outdoors Interview Series.
If you are interested in participating in the series, please contact us and let us know!
Paul Fiarkoski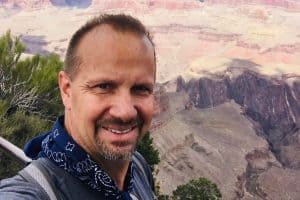 Tell us a little about yourself. How old are you? Where are you from? Where do you live now? Are you married? Kids?
I'm a Gen Xer living in the heart of Phoenix, Arizona with my beautiful wife.
We live within walking distance of a network of hiking trails in the Phoenix Mountains Preserve, so we log a lot of miles hiking close to home.
We moved here from Colorado in 2012, after spending 17 years near the foot of the Rocky Mountains.
Since becoming empty nesters in 2019 we replaced time at our kids' sporting events with time in our small but cozy travel trailer.
2. What is your favorite outdoor activity?
These days I'd have to say hiking is my favorite, mainly because it's what I spend more time doing than any other outdoor activity.
My interests have changed over the years. I've been into fishing, mountain biking, skiing, camping, kayaking and hiking.
3. Where is your favorite trail?
The trail I'm currently in love with is the Arizona National Scenic Trail.
It meanders 800 miles through the state, from the Mexico border in the south to Utah in the north.
One passage goes right through the Grand Canyon.
To date, I've only hiked a few segments of it, for a total of about 60 miles, but every inch of it is like walking on hallowed ground.
4. Where is your favorite camping spot?
Do people really disclose their favorite camping spots?
Okay, since you asked so nicely, here's one of my favorites in Arizona: Mather Campground at Grand Canyon, South Rim.
It's great for tent or RV camping. You can walk to the edge of the canyon from the campground.
Insider tip: Arrive at 9 a.m. for the best choice of the limited first come, first served campsites.
Bonus tip: Campendium is my secret weapon for finding great camp sites.
5. What was your first outdoor memory as a kid?
I lived on Air Force bases until I was almost 8 years old, mainly Clark Air Base in the Philippines.
Since it never gets cold there, I was outside playing with the neighbor kids whenever I wasn't sleeping, eating or attending school.
For family vacations, my parents used to rent a hut on a small, primitive island and we'd spend a week at a time there.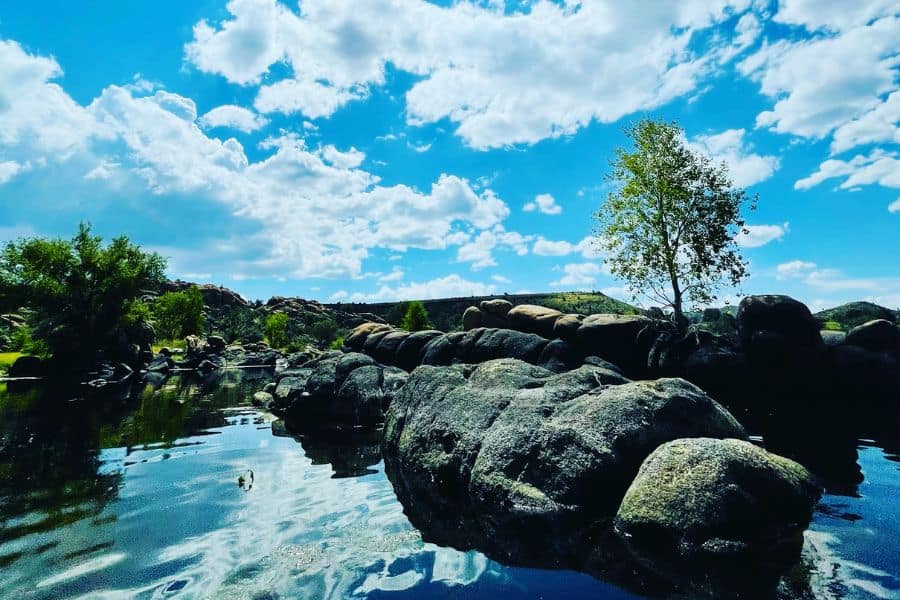 6. Who was your biggest outdoor influence?
My dad was my biggest outdoor influence. He grew up in Vermont and was an avid outdoorsman.
After he retired from the service and relocated our family to the states (Nebraska) in the early 70s, he often took me and my siblings camping, boating and fishing.
As I got older, I surrounded myself with friends who enjoyed similar activities and began charting my own adventures.
7. What was your all-time best camping or hiking experience?
Hands-down, my best all-time hiking experience was the Grand Canyon Rim to Rim with my wife in 2018.
There are two ways to do it: The smart way, or the way we did it – straight through in one day. Smart people break it up into two or three days.
We started out on North Kaibab Trail on the North Rim at 5 a.m. and emerged from Bright Angel Trail at the South Rim 14 hours later.
TBT two years ago today. My wife and I hiked the Grand Canyon rim to rim in a day, with a detour to Ribbon Falls. Was 50 degrees when we started at North Rim and 110 as we began our ascent from the river. About 25 miles in total. #azbucketlist #azwonders #grandcanyon #hiking pic.twitter.com/goDgKBk4gH

— AZ Wonders (@azwonders) June 4, 2020
If you include the side hike we took to Ribbon Falls, the total distance was 26 miles.
To complete this hike, you first descend 5,800 feet to the Colorado River, then climb 4,800 feet up to the South Rim.
It was a total beast and I couldn't walk normally for a few days afterward, but the views and the experience are etched in my mind forever.
8. Who is your favorite person to camp or hike with?
My favorite camping partner is my wife. We've learned how to balance adventure with relaxation.
As far as hiking goes, I can't nail it down to a specific individual.
I guide hikes in the Phoenix area as a side hustle, and I love meeting and hiking with different people from all around the world.
9. What is your favorite piece of gear and why?
This may sound trite but my favorite piece of equipment is my smartphone.
I don't know what I'd do without GPS-based apps.
Plus, the phone makes it so convenient to take pictures and video, and write up trip reports while the experiences are still fresh in my mind.
10. What do you love about the outdoors?
Being out in nature is my therapy.
Whether I'm hiking, fishing, kayaking or just chilling in a hammock, my worries seem to melt away when I'm enjoying the great outdoors.
11. What outdoor places are on your bucket list?
Here in Arizona, two key places I still need to check off my bucket list are The Wave and Aravaipa Wilderness area.
Both require permits, which are issued sparingly through a lottery system.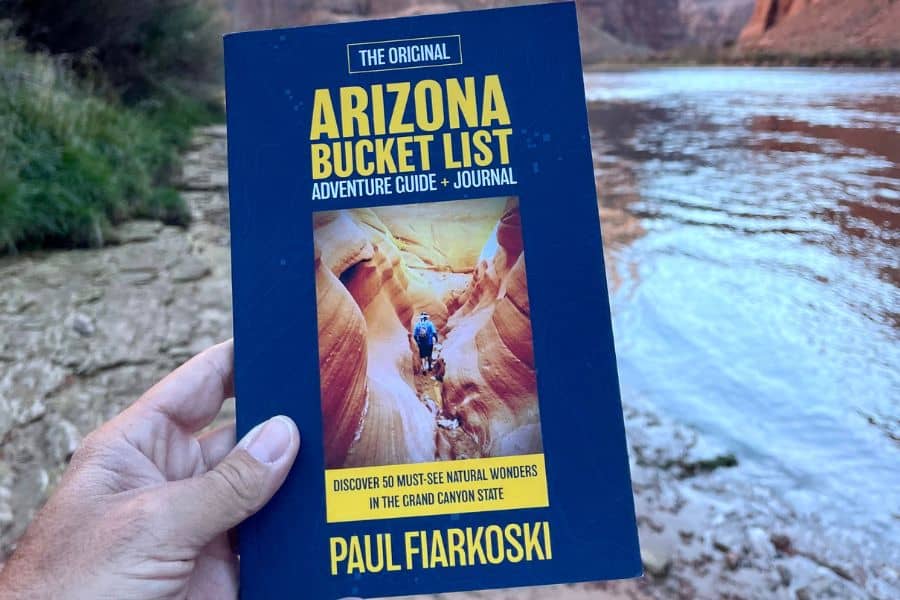 Outside of Arizona, I've got my sights set on the country of Croatia. Someone described it to me as being like a hybrid of Colorado and California, with mountains and beaches.
12. What is your goal as an outdoor content creator? How can we support you and where can we find your content?
In 2014, I created my own personal Arizona bucket list and started checking places off. A couple years later, I created the AZ Wonders blog to share pictures, videos and lessons learned from all my Arizona adventures.
I love getting feedback from people that I've inspired them to see more of Arizona's natural wonders.
In 2019, I published the Arizona Bucket List Adventure Guide & Journal, that I promote on the blog and on Amazon.
I also share plenty of pictures and experiences in (almost) real time on my social media channels: Facebook, Instagram, Twitter and YouTube.
Paul – thanks for the great interview and participating in the I Love The Outdoors Interview!
If you are interested in participating and sharing your story, please contact us and let us know!
Previous Interviews