This is our review of the Pelican Elite 45 Quart Elite Wheeled Cooler.
We recently took the Pelican 45 Quart Elite Wheeled Cooler for a test drive up in the Kaibab National Forest.
Not only did it perform great in keeping our beverages cold for days, but it was even used as a stool to help put up a tent!
Pelican is known for their tough and durable products, and we were impressed with how great the Pelican Elite held up to the abuse we put it through.
The Pelican Elite cooler is impressive and is the best bear-resistant cooler for camping.
The 45-quart wheeled cooler is even better than the standard Elite's because we were able to haul it around the campsite with ease.
Overall, this is a "bomb-proof" and bear-proof cooler that we'll be using for years to come!
Pelican 45 Quart Elite Wheeled Cooler: Key Features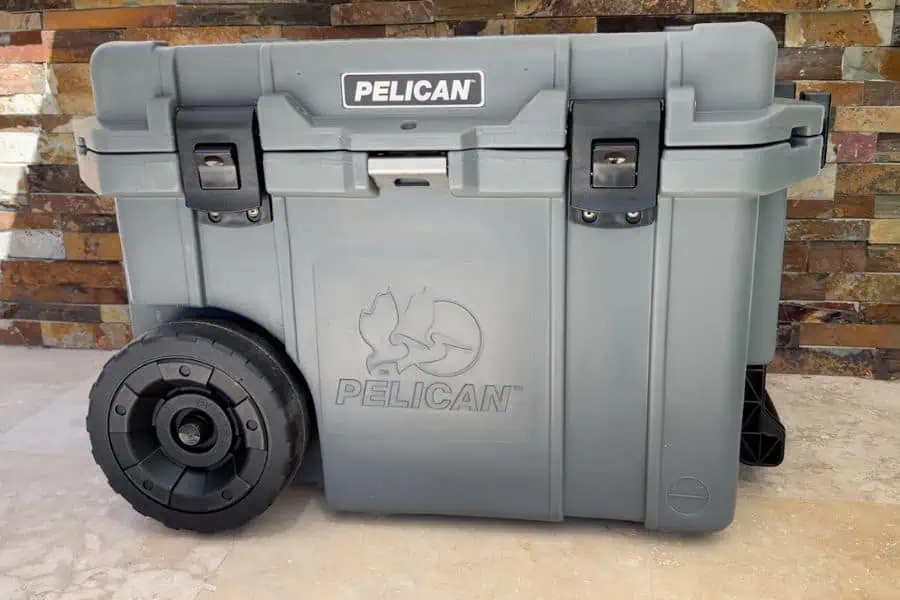 Cooler Type: Hard-Sided, Wheeled | Weight: 37.5 lbs | Capacity (L): 42.6 | Wheeled: Yes | Materials: Polyurethane, Stainless steel
This Pelican 45 Quart Cooler is a man amongst boys when it comes to camping coolers.
Size
The size of the Pelican 45 Quart cooler strikes a good balance between being spacious enough to hold substantial quantities of items (think: LOTS of beer), while still being manageable in terms of portability.
With a 45-quart capacity, this cooler provides generous space to store a significant amount of food, beverages (up to 34 cans), and 41 lbs of ice.
It is large enough to hold tall bottles, wine bottles, or even upright 2-liter soda bottles, offering versatility in what you can store inside.
Best of all it can accommodate multiple days' worth of supplies, making it suitable for extended camping trips, tailgating, or other outdoor activities where you need to keep items cold for an extended period.
Quality & Durability
Pelican is known for their durable and high-performance protective cases and rugged gear, and this cooler is nearly bear-proof AND bomb-proof.
The impact-resistant exterior and a durable latch system ensure a secure seal, keeping the contents protected and maintaining optimal temperature retention.
Built to withstand the toughest conditions, it features durable rotomolded construction and has received a bear-resistant certification from the Interagency Grizzly Bear Committee.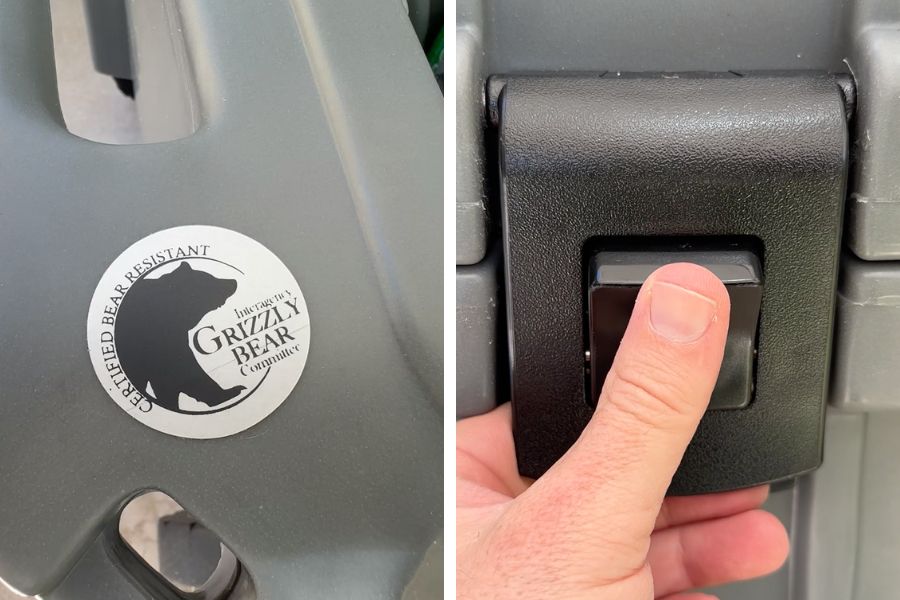 This cooler is also engineered with a leak-proof design, providing an airtight seal to prevent any water or liquid from seeping in or leaking out.
The molded-in tie-downs and corrosion-resistant stainless steel hardware provide added security during transportation.
Ice Retention
The larger size of this cooler allows for thicker insulation, which helps to enhance its ice retention capabilities.
With superior insulation properties, the Pelican 45 Quart cooler can keep ice frozen for an extended period, ensuring your contents stay chilled and fresh for longer, even in hot outdoor environments.
We recently took this cooler out on a 3-day camping trip in 80-degree heat, and the cooler retained cold ice and then cold water/ice until the very end of the trip.
Under more optimal conditions this cooler can keep your food and beverages cold for even longer, and some have tested the Pelican Elite to last a full 11 days!!!
Performance
Pelican's reputation doesn't disappoint!
Its built-in wheels and retractable handle, make it easy to transport even when fully loaded, and its leak-proof drain plug and easy-to-use latches make it easy to use and convenient to clean.
The wheels are sturdy and durable, and the latches are both kid-friendly and clearly bear-resistant.
Best of all, I even used it as a stool to help put up a tent!
The ice retention was pretty dang good considering we filled the cooler up with ice before we left for our trip and still had cold beverages even without adding more ice or optimizing the water level.
Because of its bear-proof design, we also felt confident leaving it outside overnight and didn't bother moving it back and forth into our car for safety.
Additional Features
This Pelican Elite cooler also features some pretty cool things we haven't seen on most other coolers including a built-in bottle opener, an integrated fish scale on the lid, and the press-and-pull latches.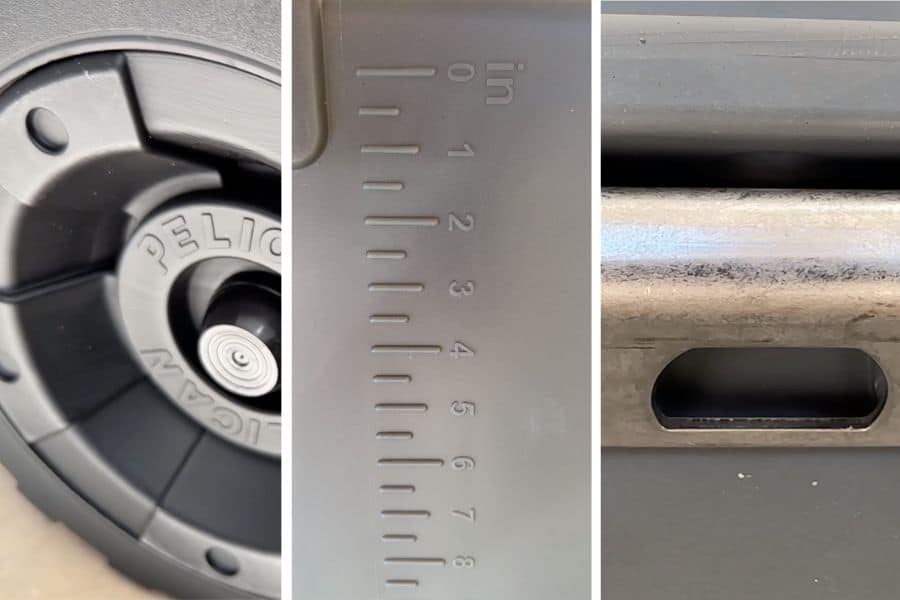 We also used the Pelican Cooler Wire Basket, which was a huge benefit to keeping our perishables up and out of the water as the ice melted.
Additional Sizes
Pelican makes their Elite Coolers line in standard 20, 35, 45, and 65-quart sizes.
But we suggest getting a wheeled version because these things get HEAVY.
They also make it in extremely large sizes for parties and commercial uses of 95, 150, and 250 quarts!
See: What Size Cooler Do I Need for Camping?
Warranty
Pelican products are made in the USA and guaranteed for life with a Limited Lifetime Warranty.
Pros, Cons, & Best Uses
Pros:
A bear-resistant certification from the Interagency Grizzly Bear Committee
Built-in wheels and retractable handle, make it easier to haul your food to the campsite
Made with Pelican's high-performance rotomolded construction
Exceptional ice retention
Made in the USA
Comes with a Limited Lifetime Warranty
Cons:
It's a bit heavy at 37.25 lbs
Best Uses:
Camping
Weekend Trips
Picnics
RVing
Are Pelican Elite Coolers Worth It?
Damn right, Pelican Elite Coolers are worth the money!
They are heavy-duty, extremely durable, and come loaded with features from bottle openers to fish scales.
All Pelican Elite Coolers are IGBC Certified Bear-resistant, so you can sleep comfortably at night knowing that your cooler contents remain safe from wildlife.
So are they worth it – yes, these are great coolers that are worth the money and will last for decades.
Pelican Coolers vs YETI
Man, this is a tough one because we love both Pelican and YETI coolers.
Both companies utilize high-quality materials and construction techniques to make durable top-of-the-line coolers.
In terms of ice retention, both brands perform great, but specifics will differ from model to model.
Price-wise, they seem pretty comparable as well, but it depends on the model.
This 45-quart Pelican cooler is priced at $449.95 at the time of publishing, while YETI's Tundra Haul Wheeled Cooler is priced at $450, yet holds just a bit more at 50 quarts.
However, the Pelican Elite is packed with more features from the bottle opener to the built-in bear resistance, so dollar for dollar, the Pelican is a better deal.
Pelican Elite Cooler Frequently Asked Questions
Where are Pelican coolers made?
All Pelican coolers are made in the USA. Pelican has manufacturing facilities in Torrance, California, and Albuquerque, New Mexico.
Does Pelican make good coolers?
Yes, they do! Pelican is known for their tough, durable cases, and their coolers are no different.
They are top-of-the-line and compete head-to-head with the best brands like YETI.
Is a Pelican cooler better than a YETI?
Both brands make great coolers, so you really can't go wrong with either, but dollar-for-dollar, in our opinion, you get a better deal when buying a Pelican cooler.
How long will the Pelican Elite cooler hold ice?
Pelican Elite coolers can hold ice for up to 10 days. One Youtuber tested and found that certain Elite coolers can hold ice for up to 11 days!
But no matter how good your cooler is, you should follow some best practices to get the most out of your cooler's ice retention capabilities.
Are Pelican Elite coolers bear-proof?
Dang right they are! Pelican Elite coolers are IGBC Certified Bear-resistant. Bears cannot get into these coolers.
Don't believe us? Pelican has put their coolers to the test. You can check out the Grizzly Bears vs. Pelican Elite Cooler video here.
How do you clean a Pelican cooler?
Cleaning a Pelican Elite cooler is similar to any other cooler:
First, clean it out.
Then, rinse it with water using a hose or a bucket of water.
Use mild soap or cleaner if needed.
Scrub if necessary.
Then rinse again and dry thoroughly.
Store in a cool, dry place.
Our Verdict
If you're camping in bear country, then there is no reason to purchase any other cooler.
The Pelican Elite 45-Quart Wheeled Cooler is the most durable and impressive cooler we've tested. It is not only bear-resistant but comes loaded with features from a bottle opener to a fish scale, rope tie-downs, and more.
We highly recommend it!
More Cooler Reviews: