This is our review of the YETI Roadie 24.
Years ago, my wife got me a YETI Roadie 24 for my birthday, and we've been using it as one of our primary camping coolers for years.
Now, after testing many, many, coolers, I can say that YETI continues to rise above the competition when it comes to quality, durability, and most importantly: ice retention.
We've put this cooler to the test time and time again, and it performs every time.
What I love about this cooler is its size (it holds up to 33 cans). It's not too big that it takes up all of the space in the back of our mid-size SUV, and it's also not so small that you can't fit anything in it. In other words, we are in the "goldie lox zone" – it's just right.
When it's all said and done, the YETI Roadie 24 is an excellent cooler. It's friggin awesome!
Read on for more details…
YETI Roadie 24: Key Features
Cooler Type: Hard-sided | Weight: 13.1 lbs | Capacity (L): 22.7 | Cans: 33 standard cans, 8 wine bottles | Ice Retention: Up to 5 days | Materials: Rotomolded polyethylene
The YETI Rodie 24 Cooler is a rugged and reliable cooler that's built to withstand the toughest outdoor adventures.
Size: With its compact yet tall design and 24-quart capacity, it can hold up to 33 cans, fit 26 lbs of ice, and up to 8 wine bottles!
It is the perfect size for road trips, camping, and day-long excursions. We've taken our cooler on many trips from camping in the national forest to Vegas.
Quality & Durability: Constructed with YETI's signature rotomolded construction, this cooler is incredibly durable and can handle whatever you throw at it.
The No Sweat Design keeps the exterior dry and free from condensation, so you can handle it without any hassle.
Ice Retention: The Roadie 24 features PermaFrost™ insulation, which ensures exceptional ice retention, keeping your contents cold for up to 5 days in optimal conditions.
We are typically in and out of the cooler, so it doesn't quite last that long, but you can easily toss ice into the Roadie and leave it for a long holiday weekend without worrying about a refill.
Ease of Use: Equipped with a Quicklatch™, it provides a secure closure, while the Heftyhauler™ handle is designed for easy hauling and comfortable carrying.
When we first got the cooler, I thought the handle wasn't going to be rugged enough, but I was wrong. It hasn't been an issue and it has withstood the test of time.
Portability: The YETI Roadie 24 weighs 13.1 lbs and as I said above is a nice mid-size cooler that squeezes into various places in your car, truck, or SUV.
We've often been able to fit it right behind the driver or passenger seat of the car and the kids use it as a step stool.
Once you've deployed the cooler in the field it can also double as a seat, since it sits 17.5 inches high.
Additional Sizes: The Roadie also comes in two additional sizes, the YETI Roadie 48 with wheels, and the YETI Roadie 60 with wheels.
So if the 24-quart is too small, you can double your size and upgrade to wheels.
Warranty: It comes with YETI's 5-Year Limited Warranty.
Pros:
Superior ice retention of up to 5 days under the right circumstances
YETI's signature and premium durable Rotomold construction can take a beating
Tall enough to hold up 33 cans, 8 wine bottles, and 26 lbs of ice.
At 17.5 inches tall, The cooler can also double as a chair
Excellent Quicklatch system that is flexible and easy to use
Just light enough at 13.1 lbs that even fully loaded it can easily be maneuvered
5-year warranty
Cons:
It's a bit on the expensive side
No wheels or drain
Best Uses:
Camping
Beach Days
Weekend Trips
Picnics
Is the YETI Roadie 24 worth it?
Overall, we believe the YETI Roadie 24 is completely worth the money.
It's rugged enough to go on camping trips to the national forest, but also fancy enough to show up in Vegas and not be a party pooper.
In my opinion, the size is just right. It's in the "goldie-lox-zone" of being big enough to hold enough food and beverages for a weekend trip, but small enough to fit into our mid-size SUV without taking up too much space.
We usually will fill the YETI Roadie 24 with drinks and another mid-size cooler with food.
But between its quality, durability, and overall performance, it is a cooler that we highly recommend and keep around even though we've been testing all sorts of coolers for years now.
How long does YETI Roadie 24 Keep ice?
The YETI Roadie 24 is designed to keep ice for up to 2-3 days under normal conditions but can last longer if you optimize your cooler conditions by using a 2:1 ice ratio, pre-chilling your cooler, and keeping air out.
Of course, your ice retention will vary depending on the outside temperature and how often the cooler is opened, and how much you've been able to optimize the factors within your control.
In general, though, we've found that the YETI Roadie 24's ice retention is pretty dang good and more than enough for what we've needed for weekend camping trips and road trips.
Also See: How To Keep Food Cold While Camping (Cooler Tips + Safety Advice)
Is the YETI Roadie 24 too small?
In our opinion, no. What we love about the YETI Roadie 24 is that it is mid-sized.
With its capacity of 18 cans and a 2:1 ice ratio, we can fit enough drinks for our family for the weekend without having to worry about refilling our cooler with ice.
You can then pair it with another cooler for food, and you are good to go.
It's also easy enough to lift at 13.1 lbs and move around without worrying you will throw out your back.
We like that it is small enough to fit in various places in our mid-size SUV from below our kid's seats, to tucked away in the back, yet tall enough to sit on at the campsite and double as an extra chair.
Of course, if you want to fit more, you could upgrade to the YETI Roadie 48, which has double the capacity and comes with wheels.
Also See: What Size Cooler do I Need for Camping?
Is the YETI Roadie 24 easy to clean?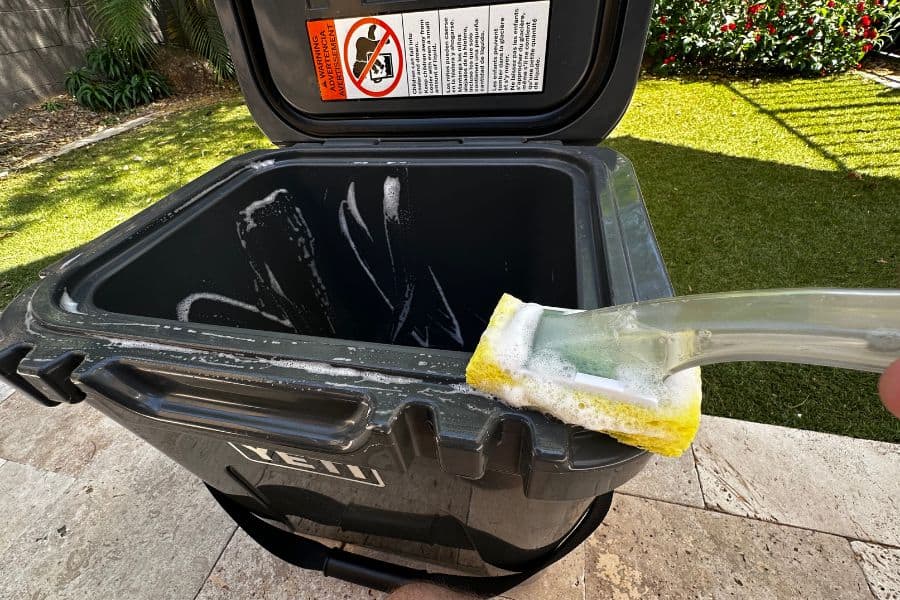 Yes, the YETI Roadie 24 is super easy to clean. Frankly, it's durable rotomolded construction makes it the easiest of our coolers to clean.
There aren't too many nooks and crannies, so simply hose it down, soap it up with mild-dish soap, spray it down again, and then dry it with a microfiber cloth.
Typically, I can have it cleaned up in just a few minutes and most of the time it simply requires any remaining ice water to be dumped out and air dryer.
That's it!
Read: How to Clean a Camping Cooler: Get Rid of Smells, Gunk & Mold!
The YETI Roadie 24 is too expensive: do you recommend any other coolers?
Look, there are plenty of lower-budget options, but the fact is that they will not come with the same quality and durability as YETI products.
You can look at the Igloo BMX which has great value for the money and an even bigger capacity at 49.2 liters. But the biggest difference between the Igloo BMX and the YETI Roadie is the construction.
Some users have complained that cracks run down the sides, and you can tell by handling the materials that there is no comparison. YETI's rotomolded construction is extremely impressive and of high quality.
Other coolers just don't come close in terms of quality and durability, but we've also had coolers that we bought for 35 dollars at the grocery store that last for decades, so sometimes you just never know.
If it's not in your budget, check out other top coolers and make the best pick for you.
YETI Roadie 24: Frequently Asked Questions
Can you sit on a YETI Roadie 24?
Yes, you can! The YETI Roadie 24 is designed with a sturdy construction that can double as a seat. It's even tall enough to be comfortable too!
How long does YETI Roadie 24 Keep ice?
The YETI Roadie 24 is designed to keep ice for up to 2-3 days under optimal conditions. This can vary depending on the outside temperature and how often the cooler is opened.
Is YETI Roadie 24 bear-proof?
While YETI coolers are known for their durability and resistance to wildlife, the Roadie 24 is not officially certified as bear-resistant. It's always best to secure your food and cooler when in bear territory.
How many cans does a YETI Roadie 24 hold?
The YETI Roadie 24 can hold up to 18 cans with a 2:1 ice-to-can ratio by volume.
Does YETI Roadie 24 have a drain?
No, the YETI Roadie 24 does not feature a drain plug. Instead, it has a lighter, more compact design that can be easily tipped over to drain any melted ice.
Can you fit wine bottles in the YETI Roadie 24?
Yes, the YETI Roadie 24 is designed with an internal height of 13 inches which can accommodate up to 8 standard wine bottles.
How much can you fit in a Yeti Roadie 24?
In addition to the 33 standard cans or 8 wine bottles, the YETI Roadie 24 is also capable of holding up to 26 pounds of ice alone.
Is the Yeti Roadie 24 Made in USA?
YETI coolers are designed in the USA, but they are manufactured in facilities in the Philippines and China. This includes the YETI Roadie 24.
Our Verdict
Whether you're packing drinks for a beach trip or going camping for the weekend, the YETI Roadie 24 is the ultimate cooler for any outdoor enthusiast.
With its "goldilocks" size and its excellent quality construction, it's a cooler that you'll own for decades to come.
We highly recommend it!
More Cooler Reviews: