This is our review of the BougeRV 30 Quart Portable Freezer and Refrigerator.
One of the biggest issues that arises whenever my family uses a regular cooler is the constant replenishment of ice.
I can't tell you how many times we've been out camping or even just at a hotel where one of our main priorities is to procure more ice, rather than spend more time enjoying ourselves.
Now that power stations abound and can provide amble power for several days, we were able to put our ice issues behind us when we tested the BougeRV Portable Refrigerator.
Taking it out for a test drive, we were astounded at the units cooling capacity and longevity. Never again will we use a regular old cooler. They are relics of the past!
BougeRV 30 Quart Portable Freezer and Refrigerator Review
Cooler Type: Electric hard-sided | Weight: 22.8 lbs | Capacity (L): 28 | Materials: Various
BougeRV 30 Quart Portable Refrigerator – Here's what's inside
After spending two days in the wilderness with the BougeRV 30 Quart Portable Refrigerator, I can tell you that without a doubt, I'll never be leaving home with another cooler again.
The LED display makes temperature control a breeze, and with a powerful enough portable battery the BougeRV can last for days using its ECO Mode of 45W.
Storage wise, the cooler can hold up to 40 cans of soda, but we were able to get two full days worth of food in the 28 liter cooler and it stayed as cold, if not colder than our fridge at home.
When traveling, the BougeRV Fridge plugs right into your car's 12v power supply, and upon arriving to our campsite, we switched over to our portable battery station.
The BougeRV 30 Quart Portable Refrigerator is one of their smallest  portable refrigerator models and is their entry level product
At 30 quarts it is classified more as a medium sized cooler, but this was actually a benefit because it was smaller than our other coolers that we typically use and gave us more space in our car.
The BougeRV 30 Quart is a highly durable portable refrigerator that we can't recommend enough, especially based on its $299 price point (as of publishing).
BougeRV 30 Quart Portable Refrigerator – Features & Specs
BougeRV 30 Quart Portable Refrigerator – Pros & Cons
Are there any cons? We're not too sure.
Probably the biggest con is that you'll need to have a constant power supply with you.
Sure, you can leave the unit unplugged for a little while and it will hold its temperature, but I wouldn't go more than an hour.
Pros:
Shockproof design works allows you to take this bad boy on forest roads and beyond
Extremely energy efficient – uses less than 45W in ECO mode, and MAX Power mode uses less than 1kWh per day
Operates between 40-45 dB making it completely unnoticeable outdoors
Cools to 32 degrees within 16 minutes
A 2-year warranty that can be upgraded to 3 years.
Cons:
Slightly less capacity than some of the other similarly sized coolers
Best for: Pretty much anywhere you'll have power or be bringing it with you.
Hotel Stays
Camping Trips
Beach Days
Fishing Trips
Boating
Off-roading
Road Trips
BougeRV – Other Sizes
lf you aren't sure what size cooler you will need, read this article on what size cooler you should bring camping?
From there you'll be able to make a better decision and see if you should be looking for a slightly larger (or smaller) sized cooler.
| | | |
| --- | --- | --- |
| | | |
| | | |
| | | |
| The next size up at 42 quarts | | Biggest sized unit at 53 quarts |
| | | |
How We Tested, Reviewed, And Rated the BougeRV Portable Fridge
New for 2022, we've launched a new testing, rating, and review system across all of Wilderness Times.
We rated the BougeRV 30 Quart Portable Fridge across seven key categories:
Performance
Quality & Durability
Comfort & Noise
Value
Ease of Use
Portability
User Ratings
Overall Score
After thoroughly testing the product, all of the above metrics are factored into our algorithm to create an Overall Score.
The BougeRV model had great ratings across all of the categories, and came in with an 8.7 overall score.
Performance
The performance of the BougeRV 30 Quart unit was excellent.
When we first got the unit, I tested it out by plugging it in and setting the temperature to 38 degrees (the same temp as our fridge at home).
With its quick cooling technology, within 15 minutes the unit had cooled down and was ready for action.
When I first received the fridge, I was honestly a bit worried that it wouldn't be able to hold all of the food that we need for a family of four on a 2-day camping trip.
However, I was pleasantly surprised that I was not only able to fit it all in, but more than I expected. I think this is largely because you do not have to use ice or icepacks of any kind.
It really makes you think about how much space ice takes up to keep your food cold in a traditional cooler.
Thankfully, the back of our SUV has a 12v DC plug, and that was right where I needed to fit the cooler. I simply plugged in the DC plug that came with the unit and we were off and running.
I periodically checked the unit when we stopped for gas, and every time the unit held steady at 38 degrees. I should also mention that the unit has an internal memory, so it remembers the last temperature that you've set it to, even if it has been sitting in the garage for weeks.
Once we arrived at the campsite, I switched over to our power station and we were off and running.
Frankly, it was night/day compared to traditional camping with a cooler that needs constant ice replenishment. Never again, will we camp (or travel) without a portable refrigerator.
We gave the BougeRV 30 Quart a 9 out of 10 rating on Performance. 
Quality & Durability
Using a product from a brand that we've never heard of can always be a bit disconcerting.
But I found the quality, craftsmanship, and durability to be quite solid.
Now, is this on par with something like YETI or Pelican? No.
Some of the casing is a bit flimsy and I can see the unit easily busting if you dropped it.
But the refrigerator does require an exhaust for the internal electronic components and so I can see why the material isn't as sturdy as some regular coolers. This is a refrigerator after all.
We gave the BougeRV 30 Quart an 8 out of 10 rating on Quality & Durability. 
Comfort & Noise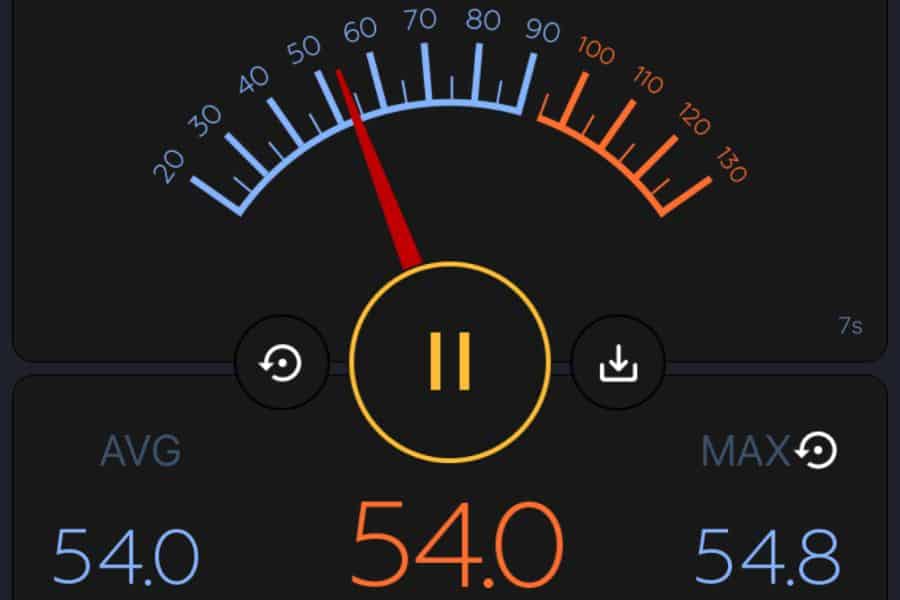 In this case, there isn't so much a comfort rating, as a noise rating.
The BougeRV unit claims to run between 40 and 45 decibles. We actually found this to not quite be true.
Typically the unit runs between 53 to 60 dB when cooling down. Once it has cooled it can maintain its temperature without making as much noise, but this is something we wanted to point out.
I wouldn't say this is a deal breaker, because even out in nature we couldn't hear it, but it is not as quiet as claimed.
BUT – it is still quieter than our power station when it is charging, and even my computer that I am typing on right now is running at 48 decibles. So we are going to give them a bit of a break on this one.
We gave the BougeRV 30 Quart an 8 out of 10 rating on Comfort & Noise. 
Value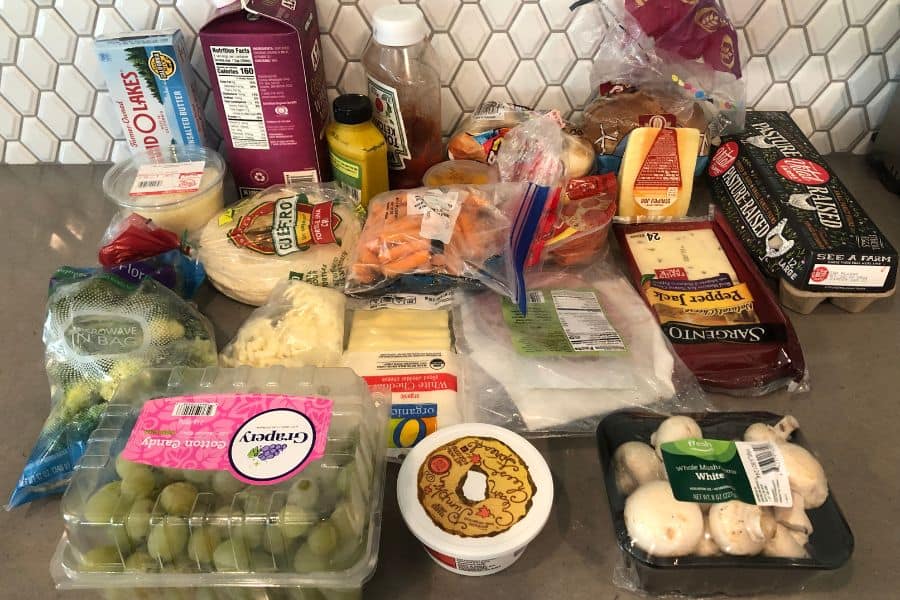 The value for this unit is really impressive. Comparable portable refrigerators go for $475 and above.
The GoSun Chill 40L for example is currently $489, and while that cooler has a larger capacity, many of the other high end coolers like the YETI Tundra 45 or the Pelican Elite Cooler run $325 and $270 (current pricing as of publishing) respectively.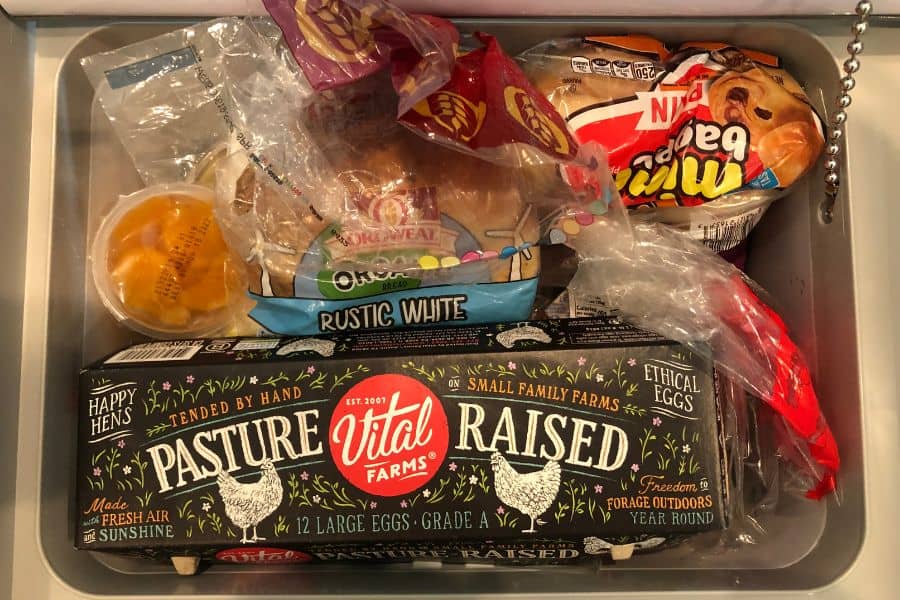 On a dollar per dollar you are getting a huge value by purchasing the BougeRV cooler. You can not only store a ton of food in the cooler, but you no longer need ice to keep things cold which frees up additional space.
You no longer have to worry about your food packaging getting drenched from water in the cooler, or worse water getting into your food packaging.
With a portable refrigerator, you can easily keep all of your food temperature controlled and nicely packing without any adverse affects.
We gave the BougeRV 30 Quart a 10 out of 10 rating on Value. 
Ease of Use
Sporting a light gray color, the cooler is designed to take up as little space as possible.
It's 22.68 inches long by 12.6 inches deep and 15.55 inches tall.
A bit heavier than it looks, but that is to be expected considering this is a refrigerator.
The handles are probably the only downside ease of use wise, you definitely need to make sure you can get a good grip on the unit when hoisting around when full.
The controls are easy to use.  I left the instruction sticker on the unit, so that my wife and kids could easily figure out how to operate the unit without needing to grab a manual. But basically you hold the "Settings" button down for a few seconds to lock/unlock the unit and then can easily modify the temperature.
Plus, the unit also comes with a built in memory, so it will remember your last used temperature setting and cool down to that temperature every time you plug it in.
We found the food divider to be unnecessary and simply removed it to utilize the extra space.
We gave the BougeRV 30 Quart a 9 out of 10 rating on Ease of Use. 
Portability
We found the BougeRV Portable Refrigerator to be extremely portable. Due to its smaller size, we were able to squeeze it into our SUV much easier than previous coolers that we've tested.
This fit right in on top of our Blackstone grill, and right next to the 12V charger (as seen on the right hand side of the picture).
When full, the refrigerator which already weighs near 23 pounds can be a bit heavy.
I figure we put probably at least 15 pounds worth of food in and so the entire fridge weighs close to 40 pounds all filled up.
It's not unmanageable, but certainly heavy considering the handles are a tad small.
We gave the BougeRV 30 Quart an 8 out of 10 rating on Portability. 
User Ratings
Last, but not least are user reviews!
We can get a lot of great feedback from user reviews, but they aren't perfect. The average cooler owner won't ever leave a review, so reviews are typically left by users who either have a really favorable or unfavorable experience.
In the case of the BougeRV 30 Quart, almost all of the reviews are favorable.
We read through all of the reviews, just to be sure, and even the bad reviews can have something good to say. After taking that all into account, we were able to finish off our rating.
We gave the BougeRV 30 Quart an 9.2 out of 10 rating on User Ratings. 
FAQs
Is BougeRV Portable good for camping?
Yes, so long as you have access to a reliable power source (electric, car, or power station), then the BougeRV Portable Refrigerators are excellent for camping.
How long do portable fridges last?
Depending upon its wear and tear, most portable refrigerators can last up to 20 years.
Check the warranty provided by the manufacturer as that will show an indication into the units possible long-term performance and the manufacturers confidence that it will remain working as intended.
How long will a 12 volt battery run a mini refrigerator?
Depending upon the capacity of the battery and the size of the mini refrigerator, you can get anywhere between 18 to 80 hours of run-time.
We found that our 1024Wh portable power station was able to keep the BougeRV 30 Quart powered up for 48 hours until we were able to re-charge it.
How big of a portable refrigerator do I need?
We found that a 30 Quart or 28 Liter fridge can hold enough food for a family of four for 2 days.
Depending upon your unique needs, you may want to go bigger, but in most situations, you can easily make it two days between re-stocking a fridge.
Can I clean a BougeRV electric cooler?
Yes, you can. Cleaning the BougeRV should be pretty straightforward to clean just like any other cooler, but DO NOT HOSE IT DOWN.
Due to the electronic components, you'll want to be extra careful to wash only the internal and external areas by hand. Simply use a sponge and mild-dish soap. Then dry with a microfiber cloth.
Our Verdict
We love the BougeRV 30 Quart 12V Portable Refrigerator and won't be leaving home without it for our next trip.
With 28 liters of capacity and no need for ice, we can fit all we need in this medium-sized fridge.
From road trips to camping trips, the BougeRV unit will be traveling with us for years to come.