There are so many great bloggers, YouTubers, podcasters, and photographers out there creating amazing outdoor content on a daily basis.
Not only did I want to personally get to know them better, but I also wanted to explore their outdoor influences and passion for nature.
Thus, we've launched the I Love The Outdoors Interview Series.
If you are interested in participating in the series, please contact us and let us know!
Bugsy Sailor
1. Tell us a little about yourself.
I grew up in Baraga, Michigan, a small community along Lake Superior at the base of Michigan's Keweenaw Peninsula.
My childhood consisted of an obsession with hockey, that obsession tendency later bounced to snowboarding and skateboarding.
An interest in photography was instilled in me from my mother, and her father.
I found my love for photography as a teenager when friends and I would explore old mining ruins.
In those same years I would find my love for solitude in the outdoors, especially while snowshoeing at Canyon Falls with my mom's 35mm and black and white film.
I now reside in Marquette, Michigan, just 70 miles from where I grew up.
Here, I own a little store front called Upper Peninsula Supply Co. and help manage the annual Fresh Coast Film Festival.
2. What is your favorite outdoor activity?
Without question, my favorite activity is brief, but frequent walks at sunrise with camera in tow.
So frequent that I've watched and photographed every sunrise since January 1, 2019 meaning I am just shy of 1,500 consecutive sunrises.
The majority of these have been along the shore of Lake Superior, which includes whiteout blizzards, freezing rains, -30º wind chills, and of course beautiful summer mornings followed by sunrise swims.
3. Where is your favorite trail?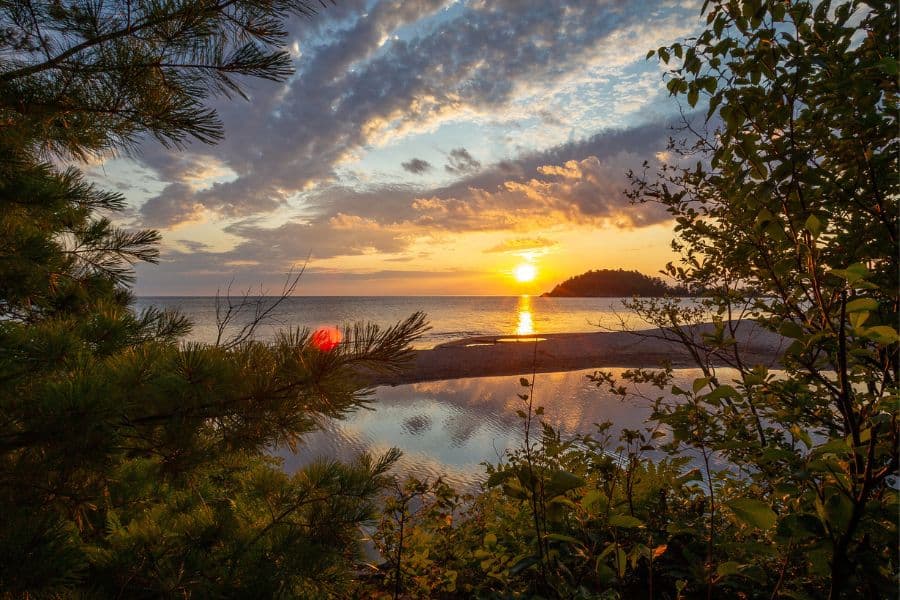 Broadly, and without question, it is the North Country Trail.
Admittedly, I've seen very little of the 4,800 mile trail.
More specifically, a few miles north of Marquette, is the Songbird Trail section of the NCT, which pops you out just north of Harlow Creek where you can see Little Presque Isle a half mile down the shoreline.
4. Where is your favorite camping spot?
I was reading over these questions with a good friend when she laughed at how I'm going to answer this question.
I'll admit I'm not much of a camper, or any kind of camper at all.
We grew up camping as a family, tent camping for many years, and eventually a pop-up camper that the family used until it wore out.
That seed has been planted and maybe I'll find my way back to camping again.
5. What was your first outdoor memory as a kid?
First? That's tough. There's this theme forming in my head as I think about all of this, beaches, cameras, and golden hours.
As a kid I remember those long days at Oval Beach in Saugatuck, Michigan followed by a second trip to the beach for sunset, my mom's camera always within her reach.
But there are lots of memories, camping at Norway Lake, endless hours running around the woods behind the house, fishing and canoeing trips with my dad.
It was never an intense or rugged outdoor experience, but they were frequent.
6. Who was your biggest outdoor influence?
My parents, full stop. My parents met as foresters, so they know their way around the trees.
We joke frequently, for Mother's Day my mom's tradition is to go see a waterfall, and I would whine and groan the entire way, "Ugh, another waterfall?!"
But I commend them for being patient and planting that seed, as it's something I do on my own all the time.
Of course my mom always has her camera with. My father is equally influential, especially during the times.
I joined him hunting, on a canoe trip, or marking property lines in the woods. The Sailor family aren't explorers or rugged adventures, but we were never short on time outdoors.
Today, I'm more inspired by my parents than ever. Now in retirement, they hike, kayak, and camp more than ever.
I can hardly keep track of where they are during the summer.
I was stunned a couple summers ago when they shared just how many dozens of miles they hiked in Glacier National Park.
It's wonderful to see their experiences in the outdoors aren't slowing down with age.
7. What was your all-time best camping or hiking experience?
A best is never easy to define. However, with the direction of this interview, lots of reflecting on childhood and my parents, one specific camping memory at Norway Lake comes to mind.
I couldn't have been more than eight years old and there was the loudest thunder and brightest lightning strike I've ever known.
The next morning, one camping site from ours, there was a mess of bark all over the ground and the scar of a fresh lightning strike as high as we could see on this massive white pine.
My parents were convinced I slept through it because I didn't make a noise, but I think I was just scared out of my mind.
But the power, wonderment, and awe of seeing that massive scar down the tree has always stood with me.
There's a more memorable experience from the same campground at about the same age, it was just a little more traumatic. That was when I tripped and fell toward the campfire.
To prevent me from falling entirely into the fire, I put my hand down to brace myself, where it went directly into the red hot coals.
Unlike the lightning strike, I wasn't silent on this experience, I let out the biggest blood-curdling scream of my life, terrifying my mom in a way.
I still can't imagine. You can still see a faint area of scarring to this day.
8. Who is your favorite person to camp or hike with?
In the present day, most of my outdoor experiences are a solo endeavor.
I put a lot of value on solitude, especially in nature.
Sunrise for me has become a place of meditation, to turn inward, reflect, and be with my thoughts so that I can prepare for the day.
As an introvert, I need those quiet moments, so that I can be extroverted in the way that my life often requires.
But yes, I can answer this. I recently saw a viral clip of Snoop Dogg accepting his Hollywood Star, "Last but not least, I wanna thank me."
In that same vein, my favorite person to hike with is me.
I can go to the outdoors to get away from friends, family, and foes, but I will never be able to go outdoors to get away from myself.
It's important that we like ourselves, that we like being with our own being, our own thoughts.
And I love being with me. That's a good thing, because there is no way to get away from that.
But if we avoid moments of solitude, it becomes a lot harder to love being with yourself.
9. What is your favorite piece of gear and why?
I am no gear junkie. Most of the gear I own, from jackets to cameras, is over ten years old.
I hardly replace anything until it's broken, and never replace something just because there's something better on the market.
However, I do have some brand new Columbia boots.
They were an emergency purchase as I went all of last winter in a pair of old boots with a massive hole in the sole and torn laces.
It meant wet feet every single morning after sunrise.
They're the newest piece of gear I own, and having dry feet after sunrise (other than the times I accidentally step too far into the wave action) is such a blessing.
Hopefully, I don't need to buy another pair of boots for a very long time.
I have worn through a lot of winter gear during these sunrise years, and it has me thinking of the Reduce, Reuse, Recycle slogan often.
We put so much emphasis on recycling, and we've gotten better, but we still put so little emphasis on reducing, and that's where it begins.
Recycling is the last step, not the first.
10. What do you love about the outdoors?
My love for the outdoors revolves around inclement weather.
I want record breaking snowstorms, freezing temps, ominous clouds, and strong winds.
It fills me with adrenaline and wakes up my soul in a way a calm, clear blue skies, 70º day never could.
This is where I like to challenge other outdoor enthusiasts and photographers. Most of the time our tendency is to go outside on the "nice" days.
There is a lot of beauty we miss when we skip a hike because it's raining or we forgo chasing the sunset because it's cloudy or too cold.
It's the -30º wind chills when I feel the most alive, it tests the body, kicks your ass a little bit, and honestly, it makes the hot cocoa taste so much better afterward.
11. What outdoor places are on your bucket list?
These sunrise years, though not exclusive to Lake Superior, have deepened my relationship with this lake.
Though there are endless places I'd love to watch sunrise (pretty much anywhere), my biggest dream is to do a sunrise circle tour around Lake Superior.
This reinforces my belief that we lose sight of the importance of traveling locally, it reduces our footprint, supports the people nearest us, and gives us a deeper and richer understanding of where we are.
That being said, I'd love to re-do my 50-state road trip by watching the sunrise in all 50 states.
Also, to celebrate hatsuhinode in Maine (and Japan), visit the sunrise coast of Australia, see the sun rise over the wheat fields of the Great Plains, or Boneyard Beach in South Carolina. The list goes on.
12. What is your goal as an outdoor content creator? How can we support you and where can we find your content?
Sunrise has been my focal point for over four years now. As sunrise goes, I'd love to inspire people to be more intentional about sunrise and the outdoors.
Most of the sunrises we witness are by happenstance.
It's something we see on our way to work, from the kitchen window preparing breakfast, or while we're still in bed pushing the snooze button one last time.
As far as my content, it ain't easy and it ain't cheap.
I recently launched what I've called BugsyLand, a subscription model to help support my content, which has become the equivalent of a full-time job, but without the pay and benefits.
I'd love to keep chasing sunrises, but unfortunately I can't pay rent with sunrise photos.
These sunrise years have been an incredible journey, and I don't know yet all the places it will go.
But aside from the beautiful moments, aside from the social media, prints, and arching it all online, this journey has slowed my approach to life, given me calm and grace, and allowed me to keep a solid footing in life when confronting adversity.
I've sought the sun, but what I've found is so much more.
Bugsy Sailor – thanks for the great interview and participating in the I Love The Outdoors Interview Series!
If you are interested in participating and sharing your story, please contact us and let us know!
Previous Interviews