There are so many great bloggers, YouTubers, podcasters, and photographers out there creating amazing outdoor content on a daily basis.
Not only did I want to personally get to know them better, but I also wanted to explore their outdoor influences and passion for nature.
Thus, we've launched the I Love The Outdoors Interview Series.
If you are interested in participating in the series, please contact us and let us know!
Justin Hikes
Tell us a little about yourself. 
Hi, I'm Justin Hikes.
I'm 50 and I'm married with two kids in college.
I'm originally from New Jersey but I've lived in Colorado for the last 10 years.
2. What is your favorite outdoor activity?
My favorite outdoor activity is hiking.
I love day hiking and backpacking in nature.
I also just love walking anywhere. It's where I get my thinking done! I try to walk 5 miles every day.
Often that's just a walk around my city. In 2021, I walked every street in Longmont, Colorado. All 1,100 streets. It was a fun challenge.
Here's a link to a newspaper story on my Longmont walks: Longmont resident walks 97 days, 586 miles and every street in the city.
3. Where is your favorite trail?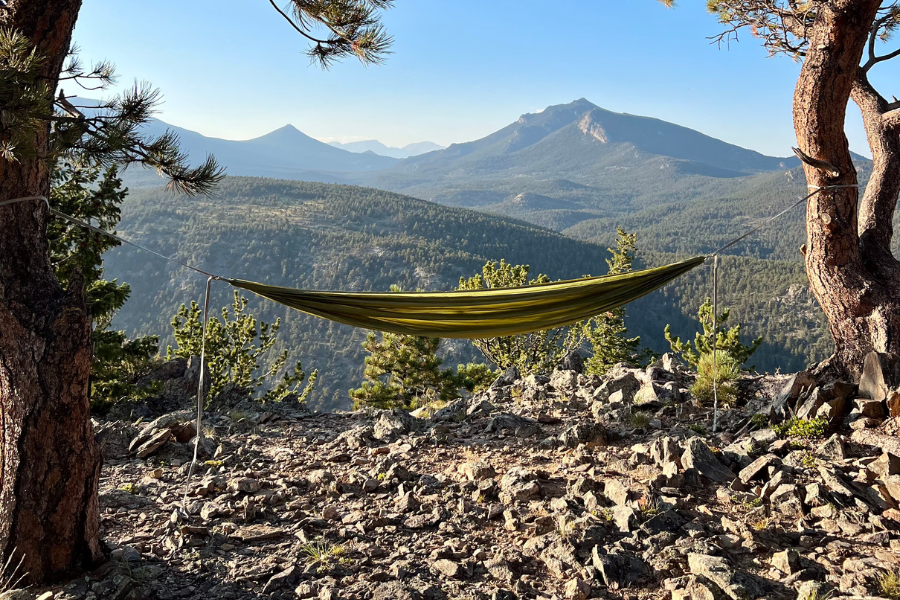 It's impossible to pick a single favorite. When things are going well, whatever trail I'm hiking is my current favorite.
However, some of my top trails have been:
The northern Washington section of the Pacific Crest Trail from the Canadian border to Stehekin.
The rim-to-rim of the Arizona trail through the Grand Canyon.
The Appalachian Trail in Autumn in the Berkshires of Massachusetts.
Note: I haven't thru-hiked the entirety of the PCT, Arizona Trail, and Appalachian Trail mentioned above but I've completed section hikes of at least 100 miles on each of them.
4. Where is your favorite camping spot?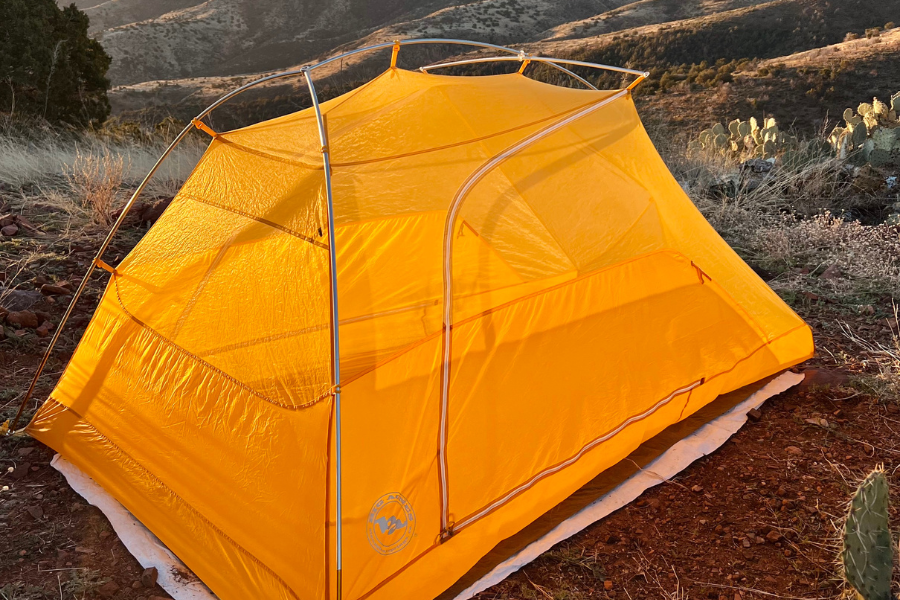 Another tough one!
For me the best camping spots were not necessarily the spots with the best views. It's the people I'm with that make them so memorable.
My wife and I did a big road trip through British Columbia in the late 90's. We had so many great campsites on that trip.
In particular, I remember camping in Jasper National Park surrounded by incredible mountains and elk calmly walking through our site. That was one of my favorite camping spots.
Another favorite camping spot was on the North Rim of the Grand Canyon when I was section hiking the Arizona Trail.
My friend and I had the place to ourselves and the setting sun lit up the Grand Canyon in a way I'll never forget.
5. What was your first outdoor memory as a kid?
I had an aunt who would take me hiking in the mountains of northern New Jersey.
Many people aren't aware that New Jersey truly has a lot of great hiking!
We would hike to a lookout and read children's books. I must have been in elementary school at the time.
6. Who was your biggest outdoor influence?
I had a college professor named Howard Horowitz. In the summer he led a 5-week program where we traveled throughout the American West learning about geography.
It was a once-in-a-lifetime learning experience.
Howard had spent many years traveling the American West before becoming a college professor.
He brought us to many less-traveled areas that I would otherwise never have been aware of. This was before the internet.
That kind of knowledge and experience was hard-earned back then. 🙂
In many ways, Howard was a huge influence on my appreciation of the outdoors. A few years ago, I was lucky to run into him at an airport.
We talked for a while and I introduced him to my family. I was able to tell him how influential he was in my life.
7. What was your all-time best camping or hiking experience?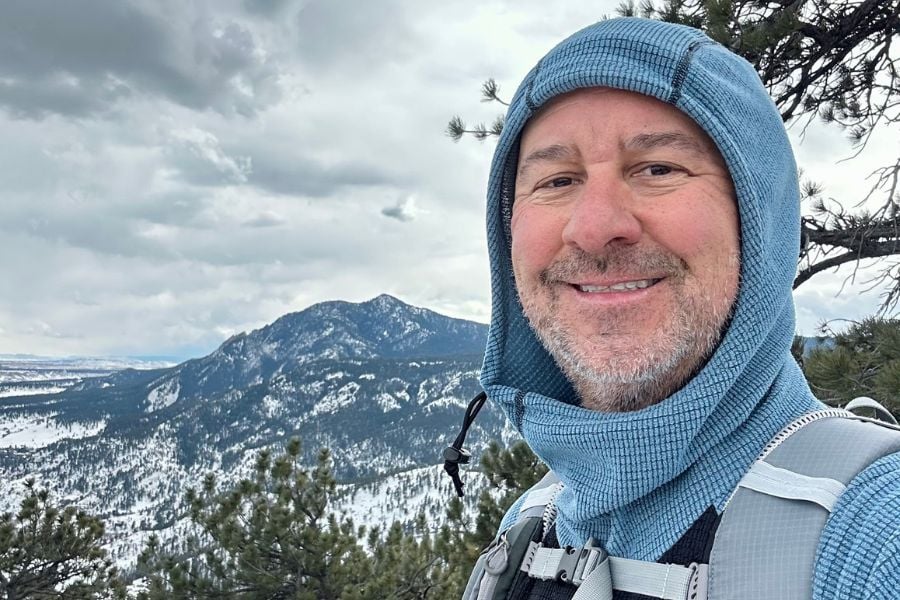 In the Autumn of 2020, I hiked around 200 miles southbound on the Arizona Trail from the Utah border to Flagstaff. It was a challenging hike.
Arizona is still hot at that time of year. It was over 100 degrees at the bottom of the Grand Canyon.
We had to plan our water access carefully and ended up carrying up to a gallon at times. It was a blast!
8. Who is your favorite person to camp or hike with?
My wife. I think she loves the outdoors even more than I do!
9. What is your favorite piece of gear and why?
I have gear that I've used for a long time but I wouldn't say anything is a particular favorite. I have a ULA Circuit backpack that has served me really well on many trails.
Instead of a favorite, how about I tell you the "luxury item" I take when backpacking? It's my PJ bottoms.
It might not sound like a luxury item but I think a lot of long-distance backpackers, particularly those who try to be ultra-lite, would skip packing pajama bottoms.
Hey, I sleep better with them so into the pack they go!
10. What do you love about the outdoors?
There's so much to love about the outdoors. Firstly, time spent outdoors is good for both my physical and mental health.
Second, longer hikes can be a challenge and can push me both physically and mentally.
They are not always fun in the moment, but I'm always glad I did them by the time I get home.
And lastly, there's just something special about being in the wilderness that is hard to explain but everyone who loves it understands.
11. What outdoor places are on your bucket list?
I'd like to finish the Arizona Trail.
I'd also like to hike in the Alps and New Zealand.
12. What is your goal as an outdoor content creator? How can we support you and where can we find your content?
My primary goal is that sharing my outdoor adventures will in some small way help encourage folks to get out in nature and spend more time walking.
The physical and mental benefits are profound.
My secondary goal is to share interesting history and geographical information about the places I visit.
It gives me reason to research and learn about places rather than only walk through them.
Lately, I've focused mostly on short-form videos that are 60 seconds or less. This time constraint actually helps my creativity.
Telling a story about a place in less than a minute forces me to focus on what's important.
If you are inclined, please check me out on the socials below. And please give me a shout if you found me from the Wilderness Times.
Justin Hikes thanks for the great interview and for participating in the I Love The Outdoors Interview Series!
If you are interested in participating and sharing your story, please contact us and let us know!
Previous Interviews