There are so many great bloggers, YouTubers, podcasters, and photographers out there creating amazing outdoor content on a daily basis.
Not only did I want to personally get to know them better, but I also wanted to explore their outdoor influences and passion for nature.
Thus, we've launched the I Love The Outdoors Interview Series.
If you are interested in participating in the series, please contact us and let us know!
1. Tell us a little about yourself.
We are Andrew and Becky Miller. We were born and raised in the Louisville, KY area, and still have Louisville as our home base.
Andrew works as an auto technician and Becky is an office manager and accountant for a security company. We've been married for 17 years this year.
No kids. We have a 1985 Vanagon Westfalia that we travel in as much as possible (44 US states and 5 Canadian provinces and counting).
Becky is also a photographer that documents all our travels for our blog and IG.
2. What is your favorite outdoor activity?
Becky: I like to travel. Specifically, I enjoy the journey. Seeing the country from our Vanagon has been very special. I also enjoy skiing and hiking.
Andrew: I really enjoy camping in our Vanagon. One of my favorite things is driving many miles deep into the wilderness and finding that perfect spot of solitude. Backpacking is also high on the list.
3. Where is your favorite trail?
We both agree that the Gunsight Pass trail in Glacier N.P. Is our favorite trail. That hike opened our eyes to what different areas of the country have to offer.
We realized the first time we hiked that trail that we wanted to see more. We made it a priority to travel and be outside more after hiking it.
4. Where is your favorite camping spot?
Both of us agree that Valley of the Gods in Utah is by far our favorite spot to camp.
There is a familiarity to the area that keeps drawing us back to it.
5. What was your first outdoor memory as a kid?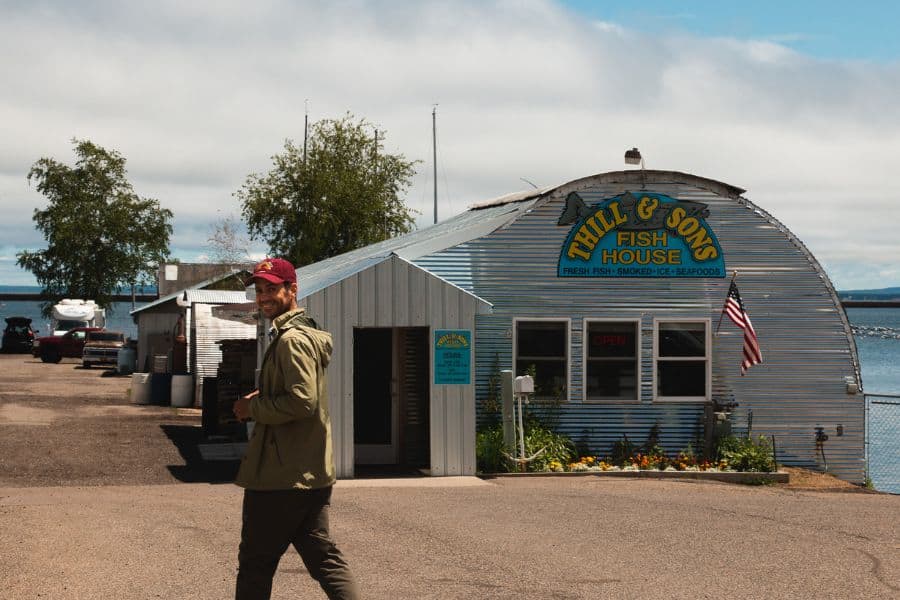 Becky: When I was 8 years old, my parents took me to the local ski hill for my first time skiing. I was an extremely small kid, so I was never really introduced into sports.
My parents took me to the bunny slope, pushed me down the hill, and told me not to fall. I got down the hill without falling.
And that kicked off 13 years of hardcore skiing, which transitioned into a love of most outdoor sports.
Andrew: I was enrolled into Little League baseball at 4 years old.
I played A LOT of baseball for the next 15 years. I didn't really get into camping, etc. until Becky & I drove to Vegas to get married.
We camped every night during that two weeks apart from our wedding night. I fell in love with the outdoors on that trip.
6. Who was your biggest outdoor influence?
Becky: Growing up and being around snow sports, Jake Burton was a huge influence on my life. How he started his company, what it stood for, and how it's become so huge.
He was a big inspiration for me when I was younger.
Andrew: Becky is the one who pulled me out of my comfort zone in the Louisville area to show me how much was out there to see.
She has been a big influence. Theodore Roosevelt is another. He would find the toughest challenge he could find, and then go out and conquer it.
7. What was your all-time best camping or hiking experience?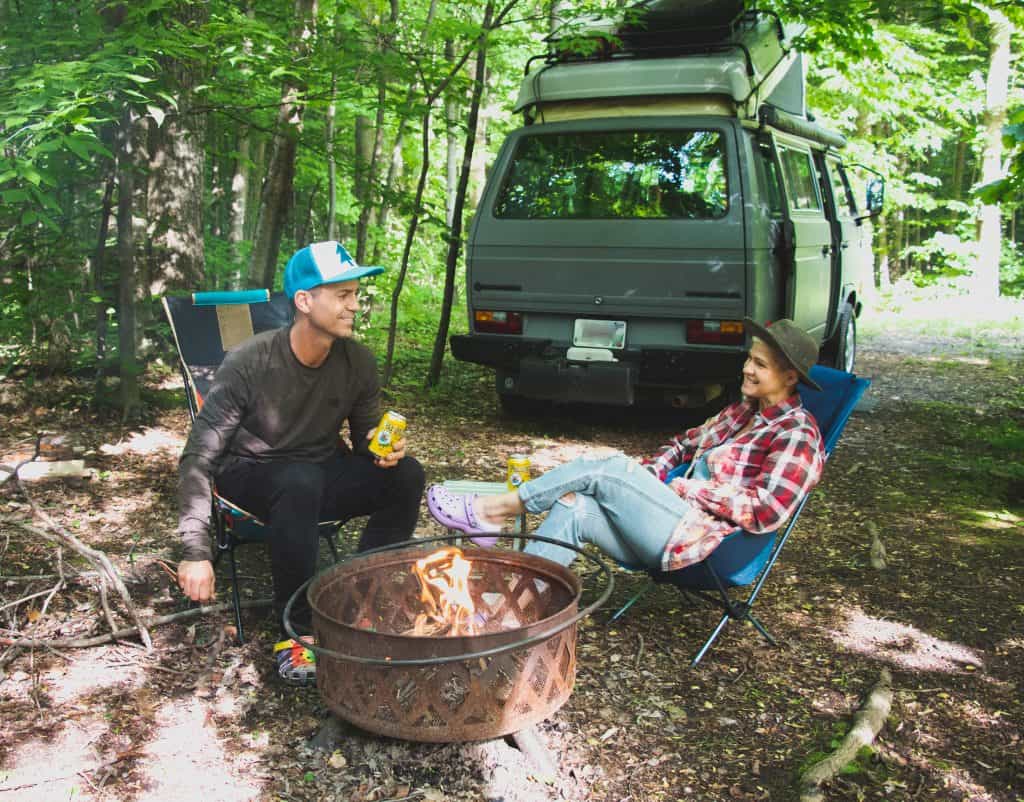 Our favorite experience was in the Grand Tetons. We spent 3 nights in the backcountry.
On the final day, we climbed Static Peak, which was a great accomplishment after the hiking we had done in the previous days.
After finishing the hike, we drove to Yellowstone and took a chance late in the afternoon at Old Faithful Inn.
They seemed to take pity on us there (we had not showered and looked a mess) and gave us the last room available. It was an unforgettable adventure!
8. Who is your favorite person to camp or hike with?
Not to sound cheesy, but we genuinely enjoy hiking with each other.
9. What is your favorite piece of gear and why?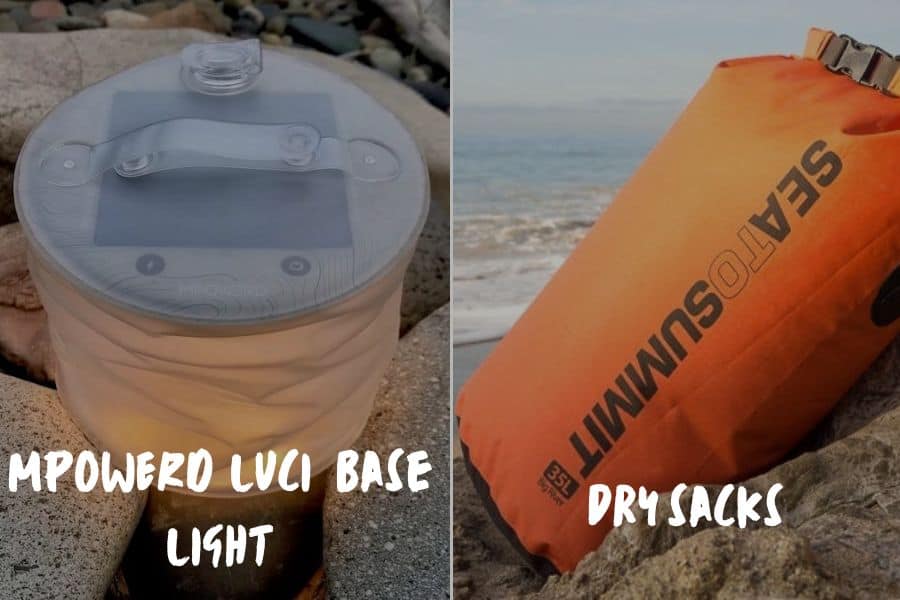 Becky: Our MPOWERD Luci Base Light is a relatively new addition to our gear, but it's quickly become a must have for our trips. It's an inflatable, solar powered light that packs away so easy for us.
It's super bright and has the ability to charge our phones with a USB plugin.
Andrew: I love dry sacks! We have so many, and all are used for different things.
My favorite has to be our 65-liter Sea To Summit eVac Dry Sack. We can pack our Vanagon's memory foam mattress topper down so small! That sack opened up a ton of storage room in our van.
10. What do you love about the outdoors? 
Becky: I love the solitude and peace the outdoors bring to my brain. I work in a very high stress job and being outdoors gives me the space to regroup and recharge.
It also gives me the opportunity to help me reset my creativity and look at things in a different way.
Andrew: Spending time outdoors is like giving my brain a hot shower.
My job can be quite stressful, so time in the wilderness allows me to clear my head and decompress.
I also enjoy exerting myself physically to the extreme, so I love a long, difficult hike.
11. What outdoor places are on your bucket list?
Becky: Alaska, Norway, Germany, Patagonia.
Andrew: Iceland, Alaska, Patagonia, Swiss Alps
12. What is your goal as an outdoor content creator? How can we support you and where can we find your content?
We hope to inspire people to get out of their comfort zone, travel with an open mind and learn new things.
We love people asking us about a certain location we've been to and hearing how they got to visit it and enjoyed themselves based on our recommendation.
You can find our travel blogs and portfolio at binkvisualstudio.com.
We are most active on Instagram, @binkadventure. But you can also find Bink Adventure on Facebook, Twitter, and TikTok.
Bink Adventure thanks for the great interview and participating in the I Love The Outdoors Interview Series!
If you are interested in participating and sharing your story, please contact us and let us know!
Previous Interviews