There are so many great bloggers, YouTubers, podcasters, and photographers out there creating amazing outdoor content on a daily basis.
Not only did I want to personally get to know them better, but I also wanted to explore their outdoor influences and passion for nature.
Thus, we've launched the I Love The Outdoors Interview Series.
If you are interested in participating in the series, please contact us and let us know!
Vincent Ledvina
1. Tell us a little about yourself.
My name is Vincent Ledvina, I'm currently a first-year Ph.D. student at the University of Alaska-Fairbanks studying Space Physics.
My research concentration is on the physics of the aurora, although in the past I have focused on topics in solar physics and space weather.
I'm 23 years old, I'm from Maplewood, Minnesota, and I currently live in Fairbanks, Alaska! I am currently not married or have any kids.
I love the outdoors, photography, and educating people on how space weather affects our planet and technological society.
My mission through social media and content creation is to inspire others to go outside and enjoy nature, especially the northern lights!
2. What is your favorite outdoor activity?
I really like hiking and biking!
I also love photography, and since I primarily take photos of the aurora, I'm usually outdoors with my camera.
3. Where is your favorite trail?
One of my favorite trails is right in town here in Fairbanks!
I'm not sure if it's a designated trail, but in the winter, snowmachines pack down the snow so you can walk without sinking down to your waist.
The spot is right off of Nordale Rd and you can hike right into some pristine boreal forests.
Otherwise, I really like the hike at Twelve Mile Summit in Alaska, it's one of the closest places to Fairbanks where you can experience tundra.
4. Where is your favorite camping spot?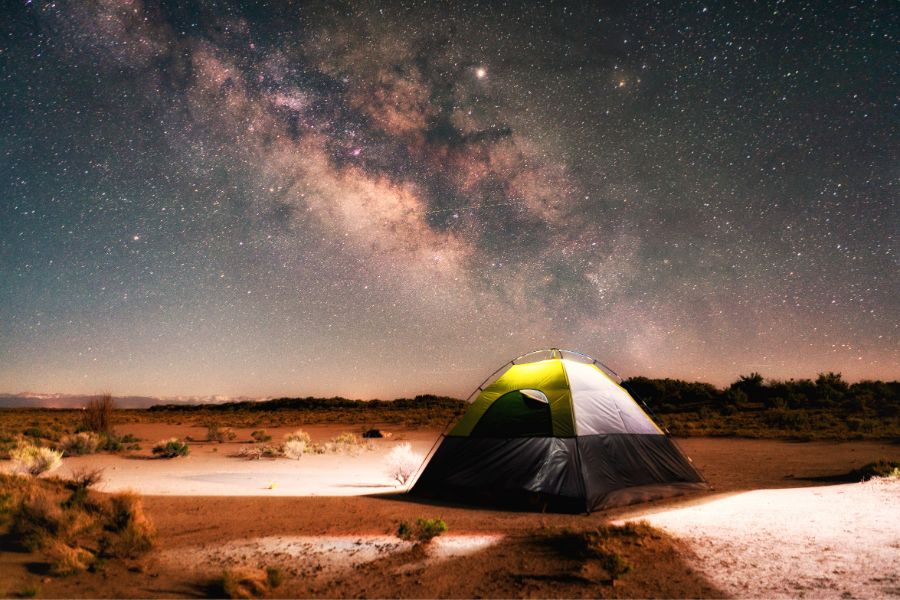 My favorite camping spot and one of the only times I've truly gone wilderness camping was on Third Beach in Olympic National Park.
Something about pitching a tent on the sand and building a campfire using driftwood you find on the beach is so raw and pure – you're really out in nature.
5. What was your first outdoor memory as a kid?
I have many memories of camping as a kid.
My parents used to take my sister and I camping in our pop-up camper, but I wouldn't call that truly camping.
My first tent camping experience I can remember was in Cub Scouts, I think it was a quick trip to Afton State Park in Minnesota.
I was probably around ten years old.
6. Who was your biggest outdoor influence?
I didn't like camping as much as a kid – I enjoyed being in nature, but I was really sensitive to the heat and hated bugs.
My dad encouraged me to push myself and embrace the outdoors. He encouraged me to join Scouts which I did when I was just ten years old.
Through Scouts, I was required to go camping, and I think this helped work out some of the quirks I had as a kid, because before long I loved camping and being outside!
My dad and I are pretty close and think the same way – he's an environmental engineer and taught me basic principles of environmentalism like Leave No Trace.
I owe a lot of my outdoor knowledge and respect for nature to him and his support.
7. What was your all-time best camping or hiking experience?
One of my favorite camping trips was in 2019 at Black Canyon of the Gunnison National Park.
At the time, I was living in Colorado while completing an internship at the National Solar Observatory.
We decided to drive down to Black Canyon one weekend without a campsite reservation.
Arriving at around 8 pm right before sunset, we thought we were out of luck since all the campsites appeared to be taken until we went close to the canyon and saw one campsite right at the edge of the cliff that hadn't been claimed!
Either no one wanted to camp there due to the danger or they didn't see the campsite number, but either way, it was just what we needed.
For the next couple nights, I had about as thrilling of a time as you can have sleeping in a tent knowing a 2,000 vertical cliff was just ten feet away from me!
Those types of experiences that make you feel truly alive are what I crave.
8. What is your favorite piece of gear and why?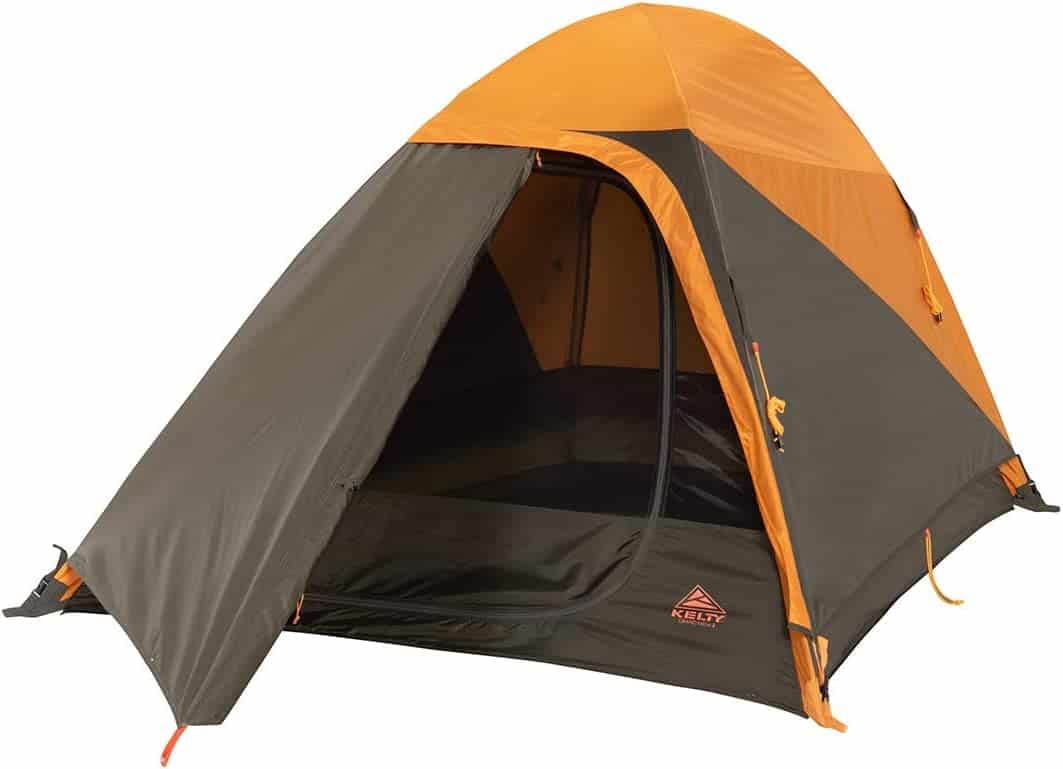 Long underwear if we're just talking about being outdoors since it's crucial to staying warm in the cold Alaskan winters.
But for camping specifically, I love my Kelty Mesa 2 Tent.
It's not the lightest or the fanciest tent out there, but it's lasted me forever and I've never had any leaks in it despite camping in all sorts of conditions!
9. What do you love about the outdoors?
I love the feeling of being completely surrounded by nature away from civilization.
Up here in Alaska, you can quickly find yourself in some of the most remote areas in the United States, and it feels amazing.
Of course, I always bring a satellite phone with me in case anything goes terribly wrong, but being in the middle of nowhere kicks in the survival instinct and makes you feel like you're truly alive.
Also, this goes without question, but being outside is a beautiful experience.
Graduate school, research, and social media create a hectic and sometimes stressful lifestyle.
Nature is a way for me to escape all this, slow down, and enjoy the beauty of our natural world.
It's a great way to center my mental state and I find that after camping or being outside, I approach problems with new and often unique perspectives.
10. What outdoor places are on your bucket list?
I love remote Arctic locations. One of my top destinations right now is Greenland – I want to capture aurora borealis with icebergs and sea ice and travel somewhere seldom visited.
Specifically, I want to visit the extreme northwestern side of Greenland which is extremely remote.
Another top destination, perhaps the one I think of the most, is Nááts'įhch'oh National Park Reserve in the Northwest Territories, Canada.
It is one of the most remote mountain ranges in the world with zero roads or towns in the national park. It's also one of the least visited parks in all of Canada.
My dream would be to either hike into the park and camp atop one of the jagged mountain peaks or take a helicopter and mountain hop, camping in unique locations every day.
The high latitude also means I would see auroras from those mountains, and as a photographer, I dream of dramatic mountain peaks backdropped by gorgeous auroral displays.
11. What is your goal as an outdoor content creator? How can we support you and where can we find your content?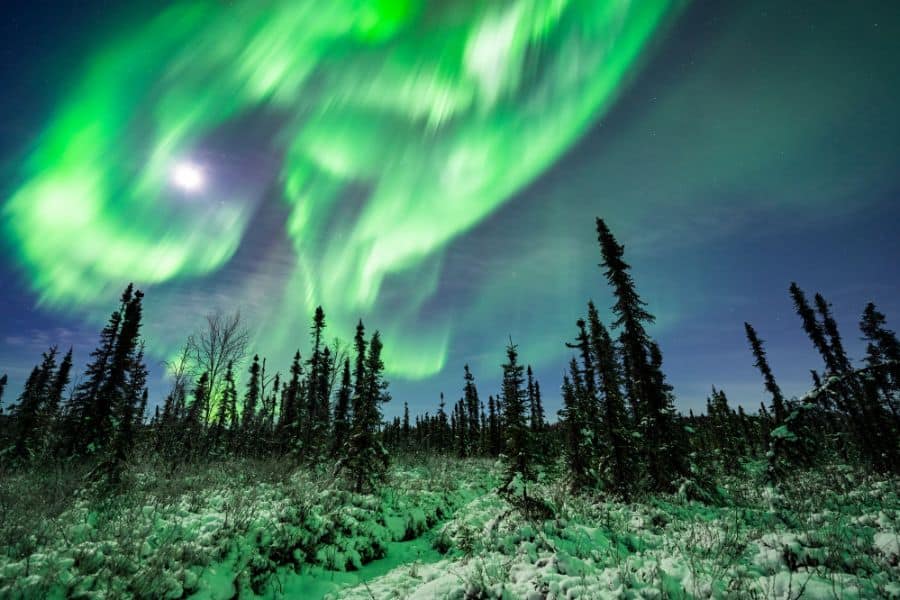 My goal is to inspire others to get outside and enjoy nature.
My niche is aurora chasing and going to extreme Arctic locations to view the northern lights.
I enjoy educating others about how to see auroras and helping them photograph the lights so they can preserve the memory and share it with others, inspiring even more people to see one of nature's most spectacular wonders.
Currently, I am sharing my travels, outdoor adventures, and photography on, Instagram, Twitter, Facebook, and TikTok, creating content to help share the beauty of the aurora, which has inspired my entire life's journey.
Of course, my goal is to show these views and share my life story with as many people as possible so that my message can be shared and used as encouragement for others to step outside their comfort zones and see what unique experiences life offers.
What's most important to me is for people to realize that the outdoors is accessible to everyone – you don't need to be a mountain climber or a world-class athlete to have an unforgettable experience outside.
In fact, almost all my camping and outdoor experiences have been relatively straightforward and simple, booking campsites online or finding popular trails.
Of course, some of the more memorable experiences have come from more daring adventures, but just taking a walk down my street is enough to make me feel connected to nature.
I encourage anyone looking to add more nature into their life to take small steps and see how big of an impact that can have.
Vincent, thanks for the great interview and for participating in the I Love The Outdoors Interview Series!
If you are interested in participating and sharing your story, please contact us and let us know!
Previous Interviews