Cabin camping for the first time?
That's surely going to be a lovely adventure, as long as you know what to pack.
That can be tricky for a first-timer, but that's why we're here today.
In this article, I'll share with you a list of all the necessary things you should pack with you on your trip.
I'll also share some important tips and hacks that will make your job a bit easier.
Let's dive straight in.
Downloadable Cabin Camping Checklist
Cabin Camping Checklist
Cabin Essentials
Reservations
Directions & GPS Coordinates
Cell phone charger
Firewood
Extension cord(s) and power strip
Rice cooker to double as a fast-acting crock pot
Coffee Maker or French Press
Portable tent heater (if needed)
Portable tent air conditioner (if needed)
Sleeping
Sheets (if warm enough)
Extra Blankets
Full-size pillows
Camping Gear
Flashlight or headlamps
Lanterns
Paracord
Air pump
Multi-tool
Emergency blanket
Mallet or Hammer
Camp Kitchen
Fuel
Cutting board
Dish detergent and sponge
Aluminum foil
Paper towels
Cooking oil
Hand towels
Ziplock bags
Chip slips
Roasting sticks
Food & Beverages
Bags of ice/Frozen water bottles
Water filter or purifier
Water containers
Food containers
Plates and bowls
Mugs
Cutlery
Tablecloth
Bottle opener
Can opener
Trash bags
Jugs of Water
Clothing & Footwear
Inner layer
Nightwear
Hiking boots or shoes
Socks
Pants/shorts
T-shirts
Sweatshirts
Waterproof jacket
Insulated shell
Sandals or flip flops
Swimwear (during warmer months)
Cold weather protection (during colder months)
Ponchos
Sunglasses
Bags for dirty and clean clothes
Toiletries
Biodegradable soap
Biodegradable toothpaste
Toothbrush
Deodorant
Hairbrush
Hand sanitizer
Wet wipes
Sunscreen
Feminine products
Portable shower
Shampoo (or Dry Shampoo)
Insect repellent
Hand towels
Toilet Paper
Sunscreen
Medications
Entertainment
Maps and guides
Portable speaker
Camera
Action camera
Instruments
Cards and board games
Projector and DVD Player
Surfing gear (if near the beach)
Fishing gear (if near water)
Hammock
Bochi-ball, frisbee, football, etc.
Drone
Additional Items
Solar power bank
Chargers
Backup Batteries(AA, AAA, etc.)
Binoculars
Bear spray (if in bear country)
Duct tape
Working gloves
Notepad
Umbrella
Dust Pan & Broom
Missing Anything? Let us know!
Printable Cabin Camping Checklist
Cabin Camping Tips and Hacks For a First-Time Cabin Camper
When you're doing something for the first time, you're naturally worried about forgetting something.
But don't worry, that shouldn't be the issue. In this section, I'll share with you a couple of tips and hacks every first-time cabin camper needs to know.
Book Ahead
In the last couple of years, spending time in nature has become increasingly popular.
But more campers means a busier season, and some places might be booked in advance (especially state campgrounds).
So if you rely on booking a place on the spot, you might be out of luck. So why risk it?
It's always better to book your trip in advance.
If you plan on camping during the less busy season, aim for spring or fall, when there are fewer people but the weather is still nice. During summer, weekdays are less crowded compared to weekends.
Also See: Best Time to Go Camping (For EVERY State)
Consider What's Included with the Cabin
Don't associate cabin camping with glamping. Glamping facilities usually offer all amenities you need for an enjoyable camping trip.
But that's not always the case with cabins – it's usually more a reflection of the price you pay for a certain place.
Sort your priorities and check that the cabin you're booking has at least those at the top of your list.
Does the cabin come with its own bathroom, or does it feature a shared facility with other cabins?
Is there a fire pit outside, and who's responsible for providing firewood?
What about a grill?
If you can cook inside, does the kitchen come with all the necessary equipment for making the meals you want? Some cabins may be supplied with pots and pans, but that's not always the case.
Another important factor to consider is electricity. Check whether the cabin has normal electricity, as well as if it comes with any appliances like a fridge or a stove.
Finally, don't forget about the bedding. You want to know upfront if the cabin doesn't provide liners. Otherwise, you'll arrive only to figure out you have no bedding to use.
To find out precisely what you do or don't need to bring, it's always best to check out the campground's website or call them directly.
Kid Friendly Cabins
If you're camping with kids, make sure the cabin you choose is kid-friendly.
At the very least, this means that the cabin should be away from the road, as well as other places that are not safe for children.
Of course, that also means that the inside is kid-friendly.
So no stairs without handrails or very high bunk beds.
You'll also want to check that bunk beds have proper safety rails appropriate for both kids and adults.
Don't Forget Your Canine Companion
Dogs love being outside as much as we do, so bringing them cabin camping would be an amazing experience for them.
But you should be aware that not all accommodations are pet friendly. That's definitely something you don't want to find out when you arrive at the spot.
Even if the place is pet friendly, you should always let the campground know you're coming with a pet.
Some campgrounds may charge an additional fee and/or have separate cabin accommodations for pet families.
Also See: Our Best Dog Camping Tips For Enjoying Nature With Your Best Friend
Plan Your Meals
Even if you have a store nearby, you should already have a general idea of what you could cook for the duration of the trip.
Try making a simple list for every meal of the day, for each day of your stay.
No need to go extra complex with the recipes. Some of the best camp meals out there are also the simplest ones to make.
Knowing what you'll be cooking allows you to pack the condiments you need.
That means you don't need to bring the entire spices rack with you just to figure out what you'll use on the spot.
At the same time, meal planning gives you a good idea of what pots, pans, and other utensils you'll need.
Finally, planning means you won't end up with too much or too little food for the entire trip.
Don't Let the Weather Destroy Your Trip
Always check the forecast before you set out for your trip – well in advance.
You don't want to be surprised with rain or even snow, causing you to spend the entire camping trip inside the cabin by the fireplace (if there is one).
But if you know what weather to expect, you can pack accordingly. Keep in mind that nights are always colder in the wilderness, so you'll need layers.
You'll also want to bring plenty of blankets, and don't forget your sleeping bags.
Even if your camping cabin has heat, it may not be adequate to keep things the way you normally would at home.
Plan Your Activities
Don't wait until you arrive at the spot to plan what you'll be doing for the entire trip.
Instead, take your activities into consideration when choosing the cabin.
If you like fishing, find a place situated close to the lake or river.
If you plan on hiking, then you should be situated close to a trail.
Once you're set on a place, explore all there is to do and see in near proximity. Maybe there's a beautiful sightseeing spot you wouldn't want to miss.
Pack Extra Trash Bags
Now, I'm pretty sure you'll be provided with some at the cabin, but you'd be surprised how much trash can be accumulated during the trip.
And the garbage disposal area might not be close to the cabin, due to wild animals being attracted to the smell.
For that reason, make sure not to leave the trash bag out at night.
Also See: Bear Necessities: The Ultimate Guide To Camping In Bear Country
Have All the Info Ready Before Arriving
Finally, heading to the cabin?
Make sure you have the campground's number, address, and driving directions on hand.
You don't want to get lost somewhere along the way and struggle to find the location, especially if it's a fairly remote one.
What Is the Difference Between Camping and Cabin Camping?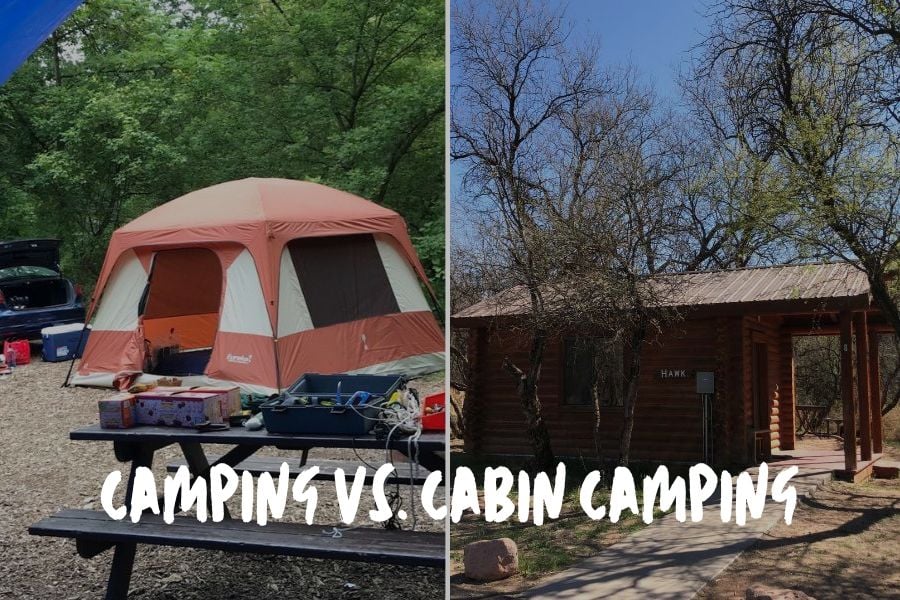 Simply said, cabin camping is a specific type of camping involving sleeping in a cabin.
Now, cabin camping is great for beginners, as you're surrounded by nature, yet have most commodities you have at home, such as electricity, heat, bed, and possibly a toilet.
More basic cabins won't offer all of these elements, but paying for more typically gets you everything you want.
Is cabin camping better than regular, tent camping?
There's no better option. It all comes down to your preferences and how close to nature you actually want to be.
How Do I Find and Reserve a Camping Cabin?
Nowadays, everything is easier with the internet. You can find info on practically any cabin rental at national and state parks, as well as at the US Forestry Service.
One of the best websites for finding cabins is Recreation.gov. You can find destinations by state and filter your search to narrow it down.
Each location on the website has its own page, with details including reservation policy and facility information.
The platform also has a phone app, which might be easier for you to use when you're on the road.
You may also find cabin rentals on the websites of each state, within the department of natural resources.
Finally, KOA has a huge base of campgrounds, and you can use the website to search for those offering cabin rentals.
The website has all the info you need on each option and allows you to book your cabin many months in advance.
FAQs
How do I make my camping cabin cozy?
One thing that makes any cabin instantly cozier is a fireplace. Just light it up, and you'll feel warm and comfy (if there is one).
Additionally, you can bring some soft, warm blankets from your home that perfectly blend in with the atmosphere.
Finally, it's always nice to bring some LED string lights to string up around the cabin. It can give it a romantic and cozy feel.
How do you organize a small camping cabin?
First things first, keep everything tidy. With small spaces, clutter is much more noticeable and takes up precious space.
Use every bit of free space, be it under the stairs or bed.
Use compression sacks to pack things and bring a foldable shoe organizer for your boots and slippers.
Do camping cabins have air conditioning?
Typically, they don't. In most cases, camping cabins are pretty basic in terms of equipment.
However, cabins designated for glamping will usually include such appliances you might want to use, including air conditioning.
You also might find air conditioning units in warmer climates such as the Arizona desert.
Do camping cabins have heat?
That also depends on how "luxurious" a cabin is considered to be.
Basic camping cabins have neither heat nor air conditioning, but they might feature an electric outlet, so you can bring your own.
But for a somewhat higher price tag, you can find a cabin with all the necessities, including some type of heating.
To Sum Things Up
Cabin camping brings you the best of both worlds.
You can enjoy the comfort of a dry and warm shelter while still enjoying the outdoors, away from fast-paced city life.
With a checklist by your side, you'll always remember to bring all the necessary things for an enjoyable camping trip.
And with our tips and hacks, you'll easily get into it, as if you're an experienced camper.
More Camping Checklists