There are so many great bloggers, YouTubers, podcasters, and photographers out there creating amazing outdoor content on a daily basis.
Not only did I want to personally get to know them better, but I also wanted to explore their outdoor influences and passion for nature.
Thus, we've launched the I Love The Outdoors Interview Series.
If you are interested in participating in the series, please contact us and let us know!
On The Adventure Trails Scotland
Tell us a little about yourself.
Dave: Helloo. Apparently, I'm 50 years young…don't feel it upstairs but the body probably does!
Spent time in the military, the Parachute Regiment, and now working as a security consultant in high-risk environments.
My home is Edinburgh where Lisa (MrsO) and I live. She won't marry me but that's okay, we're happy with how things are.
We've got two beautiful, but bonkers grandsons. Would be amazing to hopefully inspire them to get outdoors and enjoy it the way gran and grandad do!
Lisa: Hiya! Well, I'm not quite as old as the other half of OTAT Scotland.
It'll be another three years before I get to the big 5-oh!
I work for a social care charity.
It's been a tough few years with everything that's gone on in the world recently but we're hopefully getting things back on track.
Love looking after the grandkids when not out making adventure memories.
Every six weeks another child comes home, that's when life gets really tough! (hehe)
2. What is your favorite outdoor activity?
Dave: I don't think we have any specific favorite outdoor activity, we just like being outdoors!
If I had to pick one though, I'd say packrafting because it can combine biking, hiking, wild camping, and paddling.
It also allows us to reach places using different routes. Often packrafting can be tougher though.
There's the extra weight of carrying all the kit for that, even though the Alpacka Rafts we use are really quite lightweight.
Lisa: My favorite would be bikepacking. Simply put, we can cover more ground and see more of our beautiful country.
I wouldn't say we're the most lightweight bikepackers as we like a little comfort, but I think bikepacking reminds you that you don't really need much "stuff" to live in life.
The more you carry, the tougher it is! Could that be a little life lesson perhaps?!
3. Where is your favorite trail?
Dave: My favorite trail, or more specifically, area, is by far and away the Inverpolly Nature reserve, Wester Ross in the Northwest Highlands of Scotland, just north of Ullapool.
For me, this area has everything, water, wilderness (or as close as we can get to wilderness today) magical mountains, and a wonderful feeling of remoteness.
Lisa: Glen Affric!! Absolutely beautiful area to be in. We'll soon be bikepacking the Affric Kintail Way and I'm so looking forward to it. My favorite activity in my favorite area!
4. Where is your favorite camping spot?
Dave: This is a tough one! The top of Suilven was special. Waking up to the northern lights on Aonach Mor was outrageous!
But what edges it for me was… Actually, NOPE! I'm sticking with Suilven.
We packrafted in and climbed this beautiful lump, that's what made the whole experience of camping on the summit even more special.
Lisa: Waking up, sliding out of my bivy bag on the mighty massive of Buachaille Etive Mòr to find that we were sitting above the clouds was mind-blowing!
The sun was also rising through the cloud and the moon was still out. We nearly had it all that morning.
There was a complete calmness about that morning that I'll never forget.
5. What was your first outdoor memory as a kid?
Dave: Building shelters in the woods of Sir John Clerk's Estate. (Hiding from the gamekeepers!)
Lisa: It's only in recent years that I've gotten into the great outdoors, particularly the mountains.
Playing in the fields when visiting my gran in Ireland has always stayed with me though.
That reminds me, I'm adding Ireland to my Q11 answer!
6. Who was your biggest outdoor influence?
Lisa & Dave: We wouldn't say we really had one in our younger days.
Today though, without a doubt, it has the be Nirmal Purja (known as Nims or Nimsdai).
Dave being ex-forces has probably influenced that but what Nims has done for the mountaineering community in Nepal is so extremely inspiring and equally heartwarming.
He really cares about looking after his people and his mountains with a huge helping of selflessness.
7. What was your all-time best camping or hiking experience?
Lisa & Dave: We are both united on this one.
We camped on Aonach Mòr and were treated to a breathtaking view of the northern lights!
A completely magical moment that I'm not sure we'll ever forget.
If it's okay, I'll link to the video we made from this trip. Video Link – Wild Camping Northern Lights
8. Who is your favorite person to camp or hike with?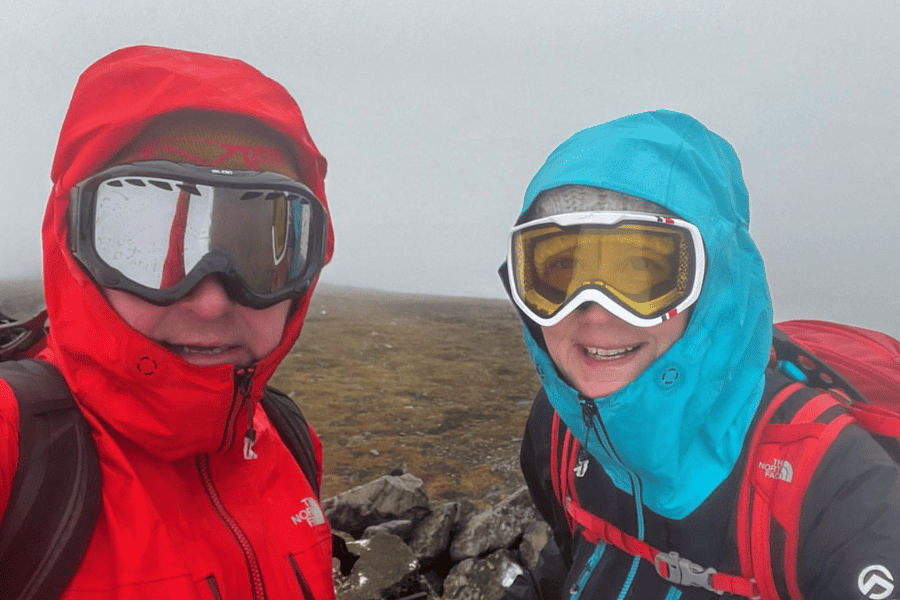 Dave: Absolutely, without doubt, Lisa! She's not afraid to get stuck in, get her hands dirty, or give me a kick in the conkers if I'm slacking!
She's super fit, determined, and gives most things a try (despite having a fear of heights).
Lisa: Anyone other than Dave. He's so unfit, lacks determination, won't try anything new, and won't get his hands dirty or get stuck in!
He's a terrible adventure buddy. Okay, not quite true! Dave is the one that dreams up most of our adventures, and a good job he does at planning them!
9. What is your favorite piece of gear and why?
Dave: Our Spot X (Satellite Messager/Tracker) – It's so important to have an option to contact someone if you're unable to self-rescue when things go wrong.
Not only that, it helps reduce the risk to anyone that's coming to look for you (MRT's).
It's not only useful if we get into trouble, but if we come across someone else that's having a bad day it can be used to help them too.
Yes, there's a cost, but when you're out as much as we are then I think the outlay is justified.
Lisa: My sleeping bags! I'm always cold. Even in the summer, I take either my Rab Ascent 700 (-9 rating) or my Alpkit Alp Dream 1000 (-18 rating) lol!!! Don't judge me! Hehe..
10. What do you love about the outdoors?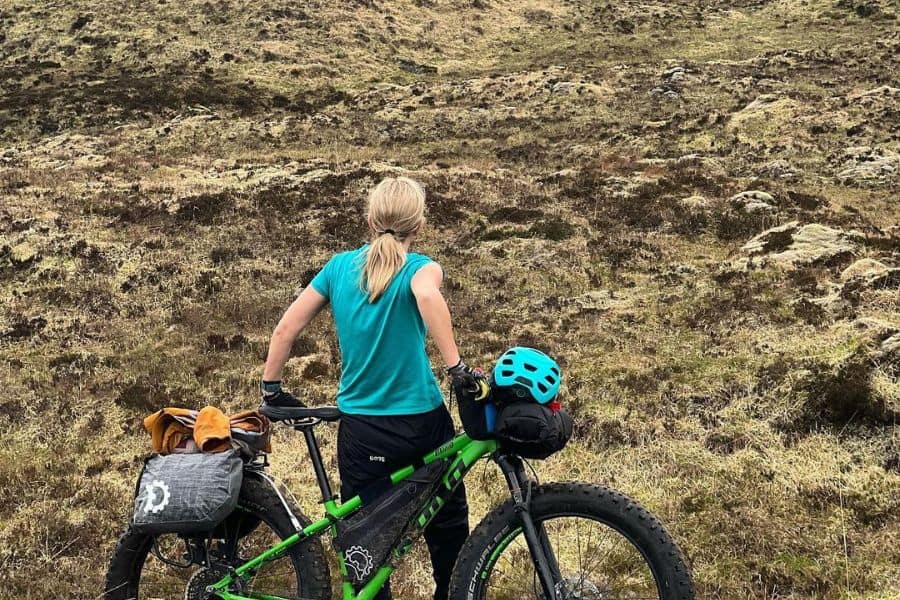 Dave: The chance to swap the bumps of life for the bumps of mountains, and escape for a while.
Working overseas and being pretty much confined to a single location for six weeks at a time really reminds me how fortunate I am to have free access to the Scottish outdoors, fresh air, areas of remoteness, midges, and unreliable weather!
What's not to love! It also helps me reset my mind between two vastly different environments quicker (work & home).
Lisa: It's nice to escape the city and the office as often as possible.
The outdoors has a way of making you clear out the grey and helps you refocus on what's really important.
You can be challenged physically and mentally in more positive ways in the outdoors.
Oh, and by the way, try hugging a few trees. There's definitely something in that, you need to choose the right one though!!
11. What outdoor places are on your bucket list?
Dave: Norway, Sweden, Iceland, Italy, and Nepal
Lisa: Iceland, Sweden and Norway, IRELAND and the (Maldives nudge, nudge Dave!)
12. What is your goal as an outdoor content creator? How can we support you and where can we find your content?
Our goal is to simply show off our beautiful country and let people see what's on their doorstep.
If someone takes a step outside of there comfort zone or takes up a new outdoor activity because they have been inspired by someone or something in our content, then that's all we can ask for.
We also hope to try and subtly reinforce the responsible use of the outdoors.
People don't want to be preached to but if we can get our message across to even one person, whether it be – Leave No Trace, or a topic from the Scottish Outdoor Access Code then that would be amazing.
We create YouTube videos of our adventures, not to become YouTube 'celebs' or make any income, any of that guff, but to show people what's out there.
We aren't interested in feeding algorithms or any of that nonsense. If you like what we produce, then absolutely awesome!
If you don't, then no harm done.
Our videos don't include product reviews and all of that, we don't do a lot of speaking, they are edited in such a way that lets the scenery tell the story with a relaxing vibe.
Well, that's what we hope they do anyway! We were really fortunate to find our YT channel shortlisted in the TGO Magazine Awards in 2023. A really pleasant surprise.
We've also a website that we try to keep up to date with where we've been and businesses and resources we've used.
We do our best to help drive trade towards small outdoor-related businesses in Scotland by linking them in our OTAT Tool Kit.
We don't expect or take anything in return. Its nice to be nice! You can find more On the Adventure Trails here:
Lisa and Dave, thanks for the great interview and for participating in the I Love The Outdoors Interview Series!
If you are interested in participating and sharing your story, please contact us and let us know!
Previous Interviews